'Trust issues' between Max Verstappen and Sergio Perez predicted to spill in 2023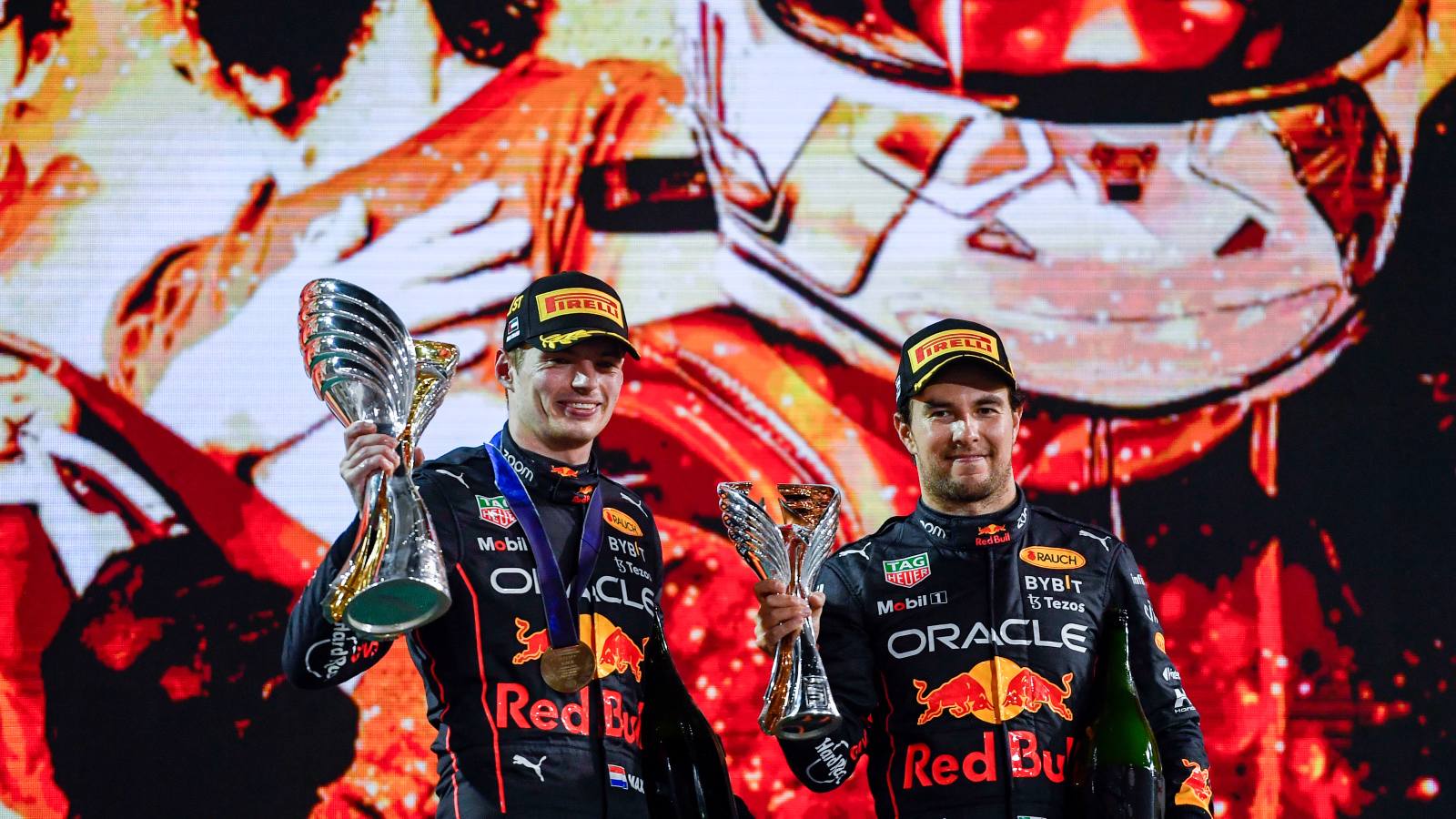 Sky F1 commentator David Croft believes there is an irreparable lack of trust between Max Verstappen and Sergio Perez.
What seemed like a harmonious Red Bull pairing hit a major bump in the road in Brazil, as Verstappen refused to yield P6 to his team-mate upon Red Bull's order, telling the team they knew his reasons.
Losing that position was rather meaningless to Verstappen, but to Perez it cost him the chance to go into the final race in Abu Dhabi ahead of Charles Leclerc on points, Leclerc ultimately securing the runner-up position to Verstappen in the Championship.
After Perez's initial fury, both drivers and the team later stressed that the issue was behind them, but Croft is not sure how it could ever be.
It was never confirmed nor denied, but it is believed that Verstappen's reason was Perez's qualifying crash in Monaco, which cost Verstappen the opportunity to improve his time and start higher than P4.
"There has to be trust issues there," said Croft in Sky Sports F1's 2022 season review.  "You need to be able to trust your team and as a driver, trust your team-mate.
"Whatever went on in Monaco, and the assumption is that there was something about Checo's crash that wasn't misfortune, shall we say? If it wasn't an act of misfortune, there is a trust issue there.
"And in the back of your mind, I don't care who you are, you're thinking 'will they do that again? I don't see how it gets repaired."
Broadcaster Natalie Pinkham also cast doubt over the united front which Red Bull tried to portray, the team coming together for a group photo outside their garage at the season-ending race in Abu Dhabi.
"They did a good job in terms of boosting team morale, they had that big team photo out in front of the garage in Abu Dhabi," she said. "It was certainly all talking the talk and presenting a united team.
"I'm not so sure, I mean, those sorts of moments live long in a racer's memory, and clearly Monaco was indelibly inked on Max's, because to remember what Monaco did to you, and use it in a battle for sixth and seventh all those months later, it clearly bothers him, this isn't going to go away."
Former F1 driver Karun Chandhok said that speaking as a competitor, he still remembers incidents from qualifying sessions in 2007, so can resonate with why Verstappen did not move on from whatever the issue was.
He believes we will not truly find out whether this issue has blown over until the first time in 2023 that Perez is asked to help Verstappen out.
"I, putting my driver hat on can tell you, I still remember drivers who have blocked me on a qualifying lap in 2007," said Chandhok.
"I think we'll only find out the true damage done by Brazil next year at a moment where Cecco is asked to help Max and I think that is going to be interesting.
"But ultimately though, Checo has got to lift his game, because he only outqualified Max three times this year, all three on street circuits, one of them Monaco, perhaps a bit of an asterix as well. He's got to lift his game if he's going to be in a position to fight."
Could Red Bull return to Max Verstappen and Daniel Ricciardo?
Regardless of who was potentially in the right or wrong, or at what times in this whole situation, what is effectively certain is that Perez is a more disposable asset for Red Bull than Verstappen.
So, if the drivers cannot stay on the same page in 2023, then the overall loser is always going to be Perez.
Red Bull's decision to bring Ricciardo back into the fold as a third driver, with heavy focus on marketing, set off a few alarm bells and posed the question of whether Red Bull were preparing themselves a Plan B, should Verstappen and Perez no longer be able to cohabitate.
Unlike last season, Red Bull now have an obvious replacement waiting in the wings, which can only be bad news for Perez if the relationship between he and Verstappen really is fractured.
Read next: Helmut Marko on 'tense' situation as Red Bull and Honda prepare to go separate ways