United States Grand Prix driver ratings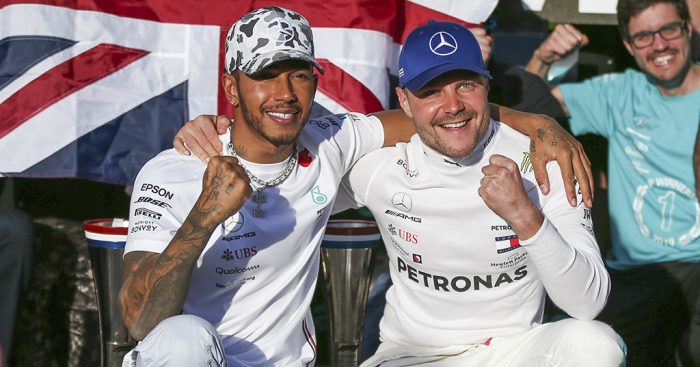 The Mercedes duo of Valtteri Bottas and Lewis Hamilton both had their moment in the spotlight in Austin. The United States Grand Prix driver ratings are in…
Late Braking cast their beady eye over the grid and some more big scores are handed in the midfield. For Ferrari…not so much.
Valtteri Bottas: His pole position and race win combination might have been overshadowed but that shouldn't take away from the epic performance that Bottas put in. Overtaking his teammate on track will have only made the win sweeter.
Many will remember that Nico Rosberg's 2016 championship win was fuelled by a brilliant late surge in 2015. Can Bottas, winner in two of the last three, go on a similar run?  9
Lewis Hamilton: Valtteri Bottas might have won the Texan battle but it was Lewis Hamilton who won the 2019 war. As his two rivals opted to stop twice in the race, it made sense for Hamilton to try a one-stopper and see if he could hold them back.
He 50% achieved that as Verstappen didn't quite have enough laps left to catch him but he was forced to surrender the lead to Bottas after putting up a good fight. Turned around a great performance after a mediocre Saturday. 9
Max Verstappen: One challenger against two Mercedes rarely goes well for the former but Verstappen can be more than happy with the fight he put up. Neither Bottas nor Hamilton were ever truly comfortable with Verstappen's presence looming.
There have been a lot of races in this second half of the season where Red Bull haven't quite been there in terms of pace so it is encouraging that they have been much improved in the last two races. In Austin, Verstappen made that pace count for a podium.  8
Charles Leclerc: A first qualifying defeat in seven races for Ferrari was not the ideal start to the race weekend but I doubt many would have predicted that would lead to one of their toughest races in the second half of the season.
From the off, Leclerc did not look like threatening the top three and at least for the first stint he did not look too comfortable ahead of the lead midfield runners. When it was all said and done, Leclerc was closer to Ricciardo than he was the lead.  6
Alex Albon: An unfortunate first corner incident for Albon who could do little to avoid damage and a first stop pit stop. However, this did give him the freedom to try a three-stop race and he proved that it was a workable strategy.
Albon was forced to overtake a lot of cars (many of which he had to do twice) en route to P5 and this demonstration of passing ability can't have hampered his chances for a 2020 seat. 9
Daniel Ricciardo: Renault might not have had the 2019 they were hoping for but they can be pleased with Ricciardo's performance in the US and it should give them confidence going forward. Whereas many around him opted to stop twice, Ricciardo stopped once and just about kept the charging Norris at bay. 9
Lando Norris: Opting for a relatively late pit stop was a great call from McLaren as Norris fought back to the position from which he pitted and then very nearly overtook Ricciardo to lead the midfield. 8
Carlos Sainz: A solid race from Sainz who got caught up in the first corner incident with Albon that was declared a racing incident. This forced him back a few positions and whilst he successfully undercut Gasly, he couldn't get to the top of the midfield like he has done many times this season. 7
Nico Hulkenberg: Starting on the hard tyres, Hulkenberg must have had visions of going a long way in the race but tyre degradation proved to be a bigger task than anticipated as he bailed out on lap 28. Even with a very short middle stint, the Hulk made it work and bagged himself some points. 7
Sergio Perez: Pit lane to points is a great achievement for Perez who has enjoyed a brilliant end to the season. It appeared as if points wouldn't happen as he crossed the line 11th behind Kvyat but contact between the two drivers saw Kvyat get a penalty and Perez get a point.  9
Kimi Raikkonen: It's sad to Alfa's performance has tailed off this season and whilst Raikkonen did everything he could to salvage a point or two, the 2018 winner of this race couldn't quite do enough. It's now seven races without a point for the Finn, he'll be hoping he can break that streak in the final two races. 7
Daniil Kvyat: It's rare to see a post-race penalty dump a driver out of the points but it's exceptionally rare to see it happen two races in a row. Kvyat proved to be much quicker than Perez at the end of the race but he was adjudged to get past unfairly, hence a five second time penalty.  6
Lance Stroll: Another race in which Stroll's team-mate shone and he was left to claim a spot outside of the points. Bailing on his medium tyres peculiarly early, Stroll managed to use all three dry tyre compounds in the race and actually went longest on the soft tyre. 6
Antonio Giovinazzi: There is no doubt that Giovinazzi is much closer to Raikkonen than he was at the beginning of the season but this was one to forget for the Italian who never threatened points from the Grand Prix. 5
Romain Grosjean: There were hopes that after a dismal weekend in Mexico that Haas might be able to turn it around at their home Grand Prix but those hopes and dreams very quickly vanished. Grosjean spent the majority of the GP behind his team-mate. 5
Pierre Gasly: It seemed as if Gasly was primed for another points scoring finish but a late collision with Perez forced Gasly to retire instead. Regardless, it was another strong showing and he continues to threaten the points on most weekends. 6
George Russell: The Haas car being so terrible in Mexico gave Williams someone to fight against but normality resumed in the United States as Russell was last of all cars that saw the chequered flag. 6
Did not finish
Kevin Magnussen:  The Dane held the advantage over his team-mate for most of the race before his car failed him just a few laps from the end. Magnussen even enjoyed a very brief time in the points but it was all downhill from there.  6
Robert Kubica: In only his second retirement of the season, Kubica struggled early on as he trailed his team-mate. Only two races to go now for Kubica at Williams and it seems incredibly unlikely he'll find much joy from either of them. 5
Sebastian Vettel: Starting P2 must have given Vettel the confidence he could win the race but that was far from the truth as he struggled for grip and fell back to P7 early on. Just as his pace was showing signs of returning, a suspension failure ended his afternoon prematurely. 5
The United States Grand Prix driver ratings are brought to you by the good folks at Late Braking. You can check them out in the following places:
Subscribe to Late Braking on YouTube
Follow Late Braking on Twitter