Bottas denies breaking gentleman's agreement in crash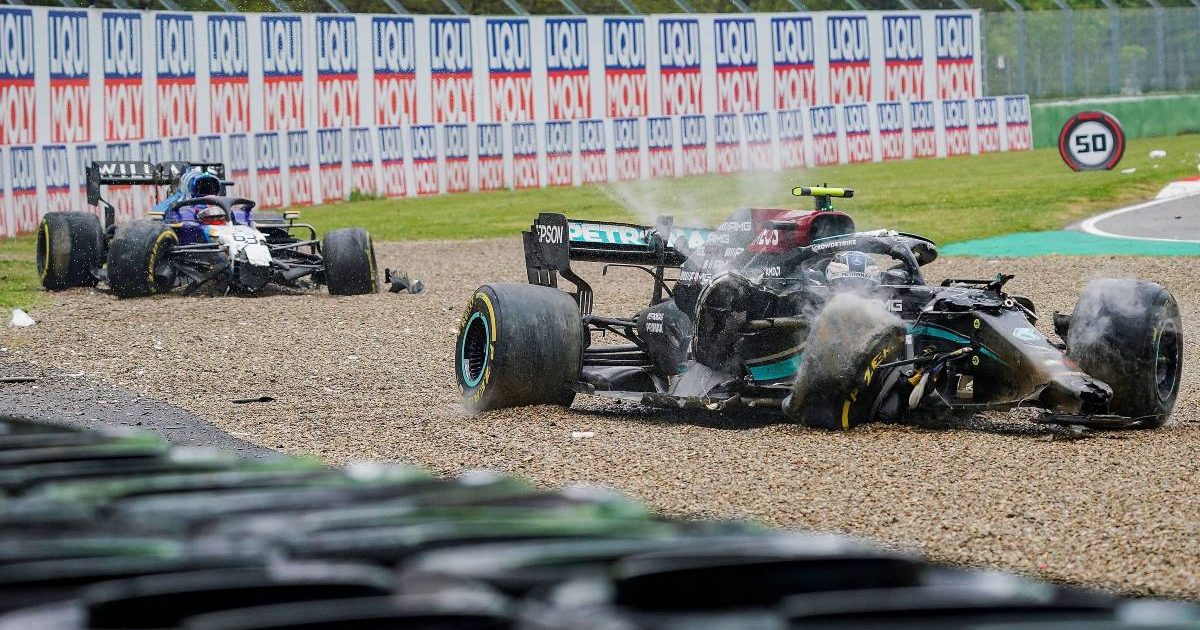 Valtteri Bottas insists he never made any "sudden moves" in his battle with George Russell, saying he didn't make room for him but he also didn't turn in.
Russell and Bottas clashed and crashed at the Emilia Romagna Grand Prix as the Williams driver tried to take ninth place off Bottas.
Gaining ground on the Finn with the help of DRS, Russell drew alongside Bottas but ran out of road.
Touching the grass on his right, the Williams driver lost control and hit Bottas at high speed.
Both drivers retired from the grand prix in a storm of debris with Russell confronting Bottas and even slapping at him in frustration.
The 23-year-old has since apologised for his antics, but on Sunday night had accused Bottas of jerking his steering wheel, forcing Russell onto the grass.
"Between all of the drivers, we've had this gentleman's agreement that when there's a faster car approaching with the DRS, you don't jolt the steering wheel at the very last moment," Russell said in the Imola paddock.
"It's the smallest of moves, but when you're going at 220 mph, and you're going 30 mph quicker than the car ahead, it's massive."
Bottas has denied that, adamant he didn't make any "sudden moves".
Check out all the latest Mercedes merchandise via the official Formula 1 store
Asked by Motorsport.com if he had broken any gentleman's agreement, the Mercedes driver replied: "No, I don't see it that way at all.
"I didn't make any sudden moves. I think it's quite clear from his onboard as well, I always left a space.
"No, from my side, it was clean.
"Of course I'm defending, I'm not going to make any room for him. But also when I race, I have respect. So I see it differently than him."
He added: "He knew that it was going to be damp there, because we have gone there lap after lap.
"I knew as well, and it was just not a place to go in those conditions on slicks. But he still went there.
"It was his choice to go there, I was doing my job trying to defend, and I'm not going to move away and give him the dry patch back. That's how it goes."
Follow us on Twitter @Planet_F1 and like our Facebook page.