Valtteri Bottas: Alfa Romeo 'at least 50%' better than last year's car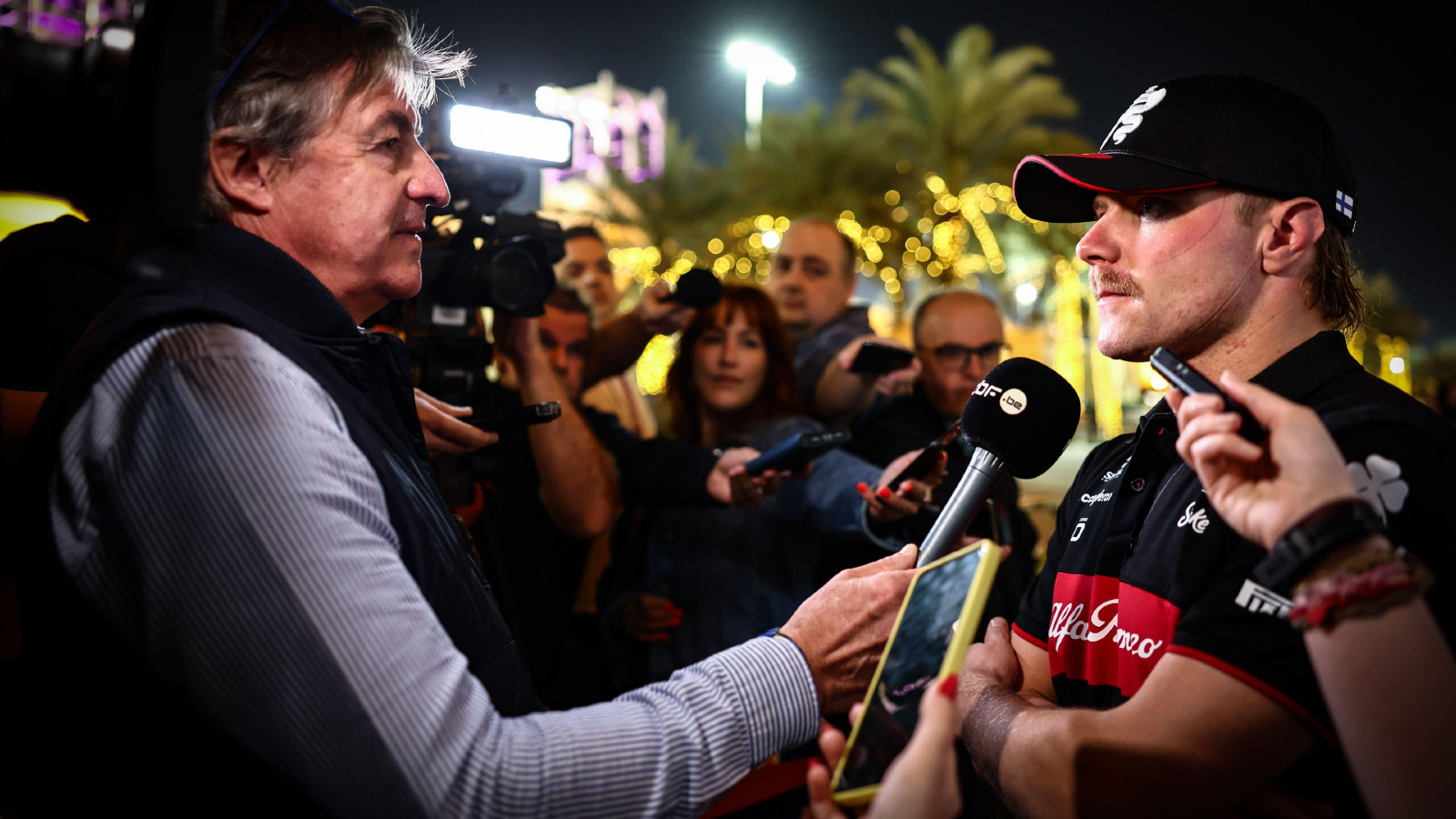 Alfa Romeo's Valtteri Bottas believes his overall confidence in the handling of his car has gone up by some '50%' compared to last year.
Bottas finished the final day of testing in the 'podium positions' as he claimed the third fastest time of the day with a 1:30.827 – that time being set on the C5 compound tyre.
While he completed 131 laps in total, it wasn't all smooth sailing for the Alfa Romeo driver as he brought out the red flags during the morning session after pulling over.
An Alfa Romeo spokesperson confirmed to PlanetF1.com the issue stemmed from the Ferrari power unit, although more extensive investigations will be needed.
Valtteri Bottas: Alfa Romeo 'way, way better' than last year
Bottas later returned to the track with different engine components fitted, and reflected on his day as he spoke to media, including PlanetF1.com, after the test ended.
"[We had] some issues, but it's part of testing, and way less than last year. The feeling with the car is quite positive," he said.
"But, as always in testing, it's impossible to read where you are exactly. But it seems like we're more or less on target.
"We had an issue, I stopped on the track. Something to do with the power unit, so they're still investigating. It caused a little bit of a delay, but we still got plenty of laps."
Having broken down on numerous occasions during last year's pre-season tests, Bottas said it was a relief to have so few issues this season.
"We're way, way better than last year at this point," he said. "I think we are well prepared – as well as you can with three days in the season."
Asked about what targets he is setting for himself and his team, Bottas said moving further up the order is a "realistic" goal.
"It's hard to say based on today and the last two days, but being better than last year as a team," he explained.
"For me as well, being in better positions than last year, I think it's realistic.
"I feel like we've stepped up as a team in terms of the quality of the car and we've had fewer issues by this point. The car feels better than last year."
Valtteri Bottas: The Alfa Romeo has 'no big limitations'
While Bottas finished at the sharp end of the timing sheets, the Finn was quick to downplay the significance of his fastest lap.
"I don't know how much fuel others have, and so on. But, at least, it seems like we're not at the back of the grid," he said.
"So that's good to see and the main thing is the feeling with the car – I definitely feel the improvements we've been trying to do for this year and the stability of the car is much better."
One of the main complaints about the 2022 Alfa Romeo was that of inconsistency between the low and high speed handling of the car – an issue Bottas says has been significantly improved.
"No big limitations," he said, when asked about the less positive aspects of the car.
"This track is always compromised with the balance, but there's nothing fundamentally wrong really with the car. So I think we managed to get the set up quite nicely in just three days and it's really, really nice to drive. So it's a good starting point for sure.
"It's much better than last year. Still, the tendency seems to be that anything on high-speed is a little bit neutral. At slow speed, it's really stable. There's still a bit of a difference high to low speed, but I would say, at least, 50% better than last year. So that opens up setup options."
F1 TV Pro* viewers can watch all the live action from pre-season testing and the entire 2023 season ad-free! Click this link to save 20% on an annual subscription.
*Offer valid until 26th February 2023. Available on web only for F1 TV Pro annual in selected territories. Promotion is available to new subscriptions only and discounted subscriptions will auto-renew to full price unless cancelled prior to the date of renewal. Full T&C available here.
Additional reporting by Thomas Maher