Bottas' car 'extensively damaged' after crash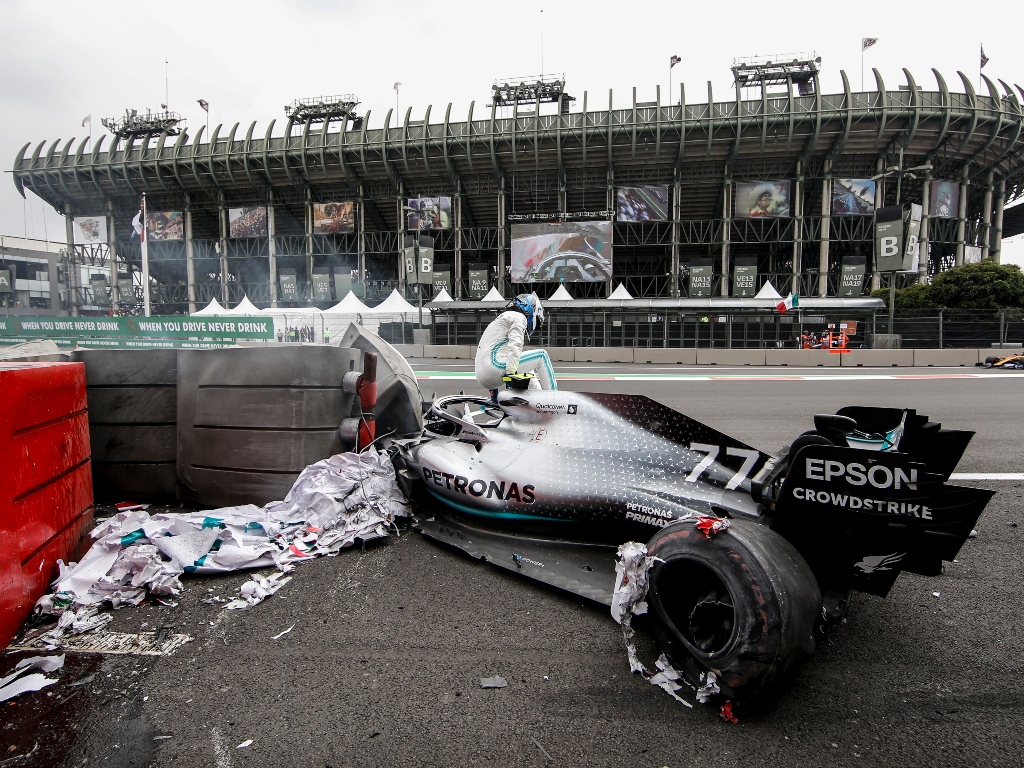 Mercedes have reported that Valtteri Bottas' W10 is "extensively damaged" and that they are assessing what work will need to be done on it.
The Finn brought an end to qualifying when he crashed out at the final corner of his last lap, sending his car into the barriers in the process.
While Bottas has been given the all-clear following a trip to the medical centre, his car is in considerably worse shape.
"The car is extensively damaged, we are assessing exactly what work needs to be completed for it to be ready to race," a Mercedes spokesperson told Sky Sports.
A BIG hit for @ValtteriBottas 💥😮 But the good news is he's OK! 👌pic.twitter.com/ZLKbi6z2vO

— Mercedes-AMG F1 (@MercedesAMGF1) October 26, 2019
If the team can repair the car without replacing the gearbox or chassis, Bottas will start P6 tomorrow. If they do have to replace either though, the Finn will most likely pick up grid penalties.
Bottas is still theoretically in title contention, but cannot afford to be outscored by Lewis Hamilton by 14 points or more, so starting from the back would be a huge blow for him, especially with the Brit P4 on the grid.
If his team-mate can fight his way to a podium, Bottas will have to finish in P9 at the least to prolong the title fight by a another week.
Speaking to reporters about the crash, Bottas said: "It was a decent hit, but all is well, no pain anywhere, but not an ideal end to qualifying for sure.
"Before the last run in Q3 I saw there was a bit of a margin to the cars behind, so I knew there was basically no risk from behind so I'd rather go hard and push for it, which I did.
"It was a good lap until then. I was three tenths up so I think that could have put me into third position, so that's what makes it pretty annoying.
"In the last corner, the exit I went a bit wider than I wanted and it was a bit dusty on the exit so that really got me and then it was too late, I clipped the wall and the wall really dragged me on, and at the end there was another barrier that finally stopped me."
Bottas knows there is the potential that he could be starting far lower than P6 due to the damage, and the Finn isn't sure how well his Mercedes would cope with coming through the pack.
"It's difficult to say. We know straight-line speed isn't our strength and you normally need that for the overtaking," he explained.
"But I think it's going to be a lot about tyre management and we've seen pretty much all the cars suffering with the graining of the tyres.
"If we can somehow avoid it then it will be good, but it's still all to play for, it's a long race ahead and normally it has been a race of many opportunities and many thing happening, so nothing is lost yet."
Follow all the action from the Mexican Grand Prix with the PlanetF1 live centre