Bottas bemoans Ricciardo 'ruining his day' in Mexico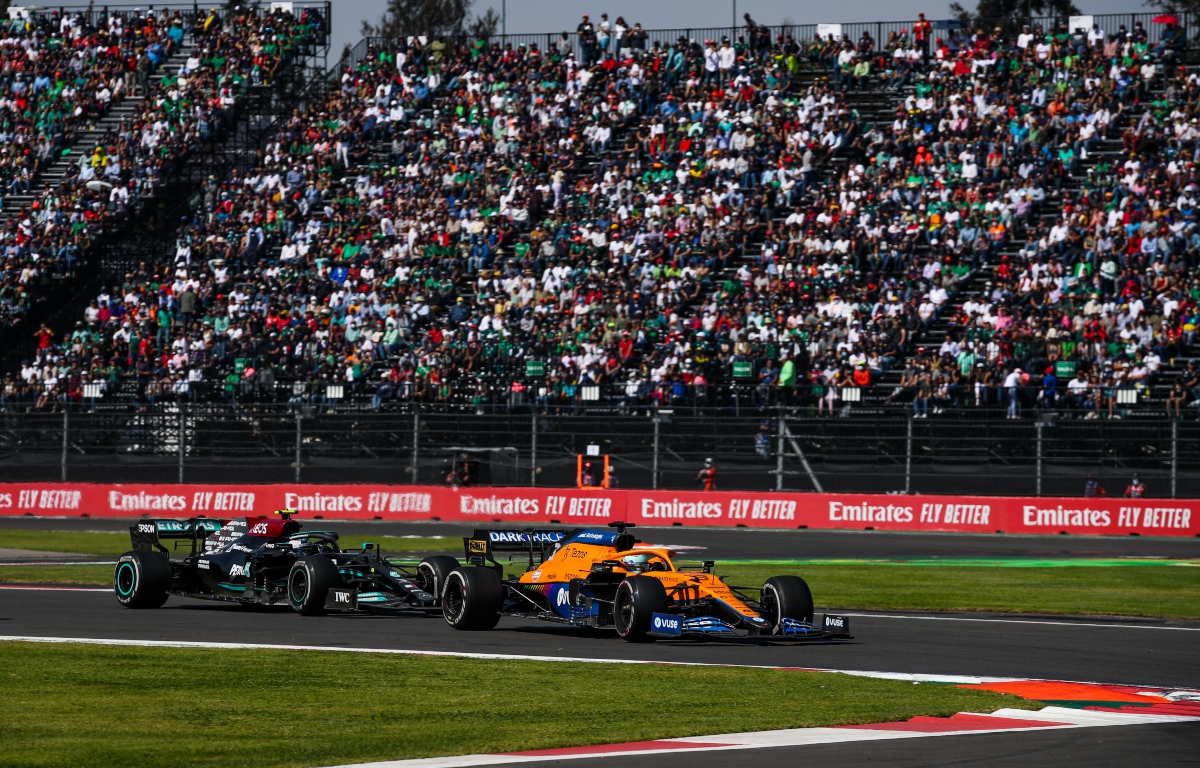 While he doesn't think it was on purpose, Valtteri Bottas says Daniel Ricciardo "ruined his day" at the Mexican Grand Prix.
The Mercedes driver's race weekend got off to the ideal start as he claimed an unexpected pole position, beating his team-mate while the Red Bull drivers encountered issues in Q3.
It didn't take long for things to go wrong on race day with the Finn dropping down to the back of the field after being hit by the McLaren of Ricciardo at the start.
A Safety Car then allowed him to catch up to the rest of the pack and gave him a chance of fighting his way back up the order, but his progress was halted by the Aussie who held him up for the majority of the race.
He says Ricciardo ultimately ruined his day when he hit him at the start.
Bottas summarised: "He really ruined my day but I am sure he didn't do the hit on purpose. It compromised his race as well but it was not ideal.
"Since the spin in turn one with the hit from Daniel, we were really compromised and the best chance we had to get by was stopping twice."
No points in Mexico 🇲🇽🏁

Disappointing race today. Got hit in 1st corner and even if I tried it all I could not make it back to the points today. Just not my day.

We take the learnings and let's come back stronger in Brazil next weekend @MercedesAMGF1 👊#VB77 #F1 #MexicanGP pic.twitter.com/L8v8IvLfvc

— Valtteri Bottas (@ValtteriBottas) November 8, 2021
Given that he was in the second-fastest car on the grid, many would have expected Bottas to still score points in Mexico even after the Lap 1 incident, but he never really looked like doing so, struggling to pull off overtakes.
He admits following and passing other cars was harder than he and his team expected with overheating being a real problem.
"Following other cars with the engine and brakes overheating it was just more difficult than we thought," he added.
"It was as hard as we expected, as it was back in 2019. The big thing here is to not overheat the engine or the brakes so you cannot push. We did a lot of lift and coast."
As if Bottas didn't have hard enough time at the start of the race, he has also been criticised by both his team-mate and boss for not defending harder against Max Verstappen.
Lewis Hamilton feels that he "obviously" left the door open for the Dutchman at the start and Toto Wolff is unhappy with him driver for "opening the sea" for Hamilton's title rival.