Bottas denies defying Mercedes team orders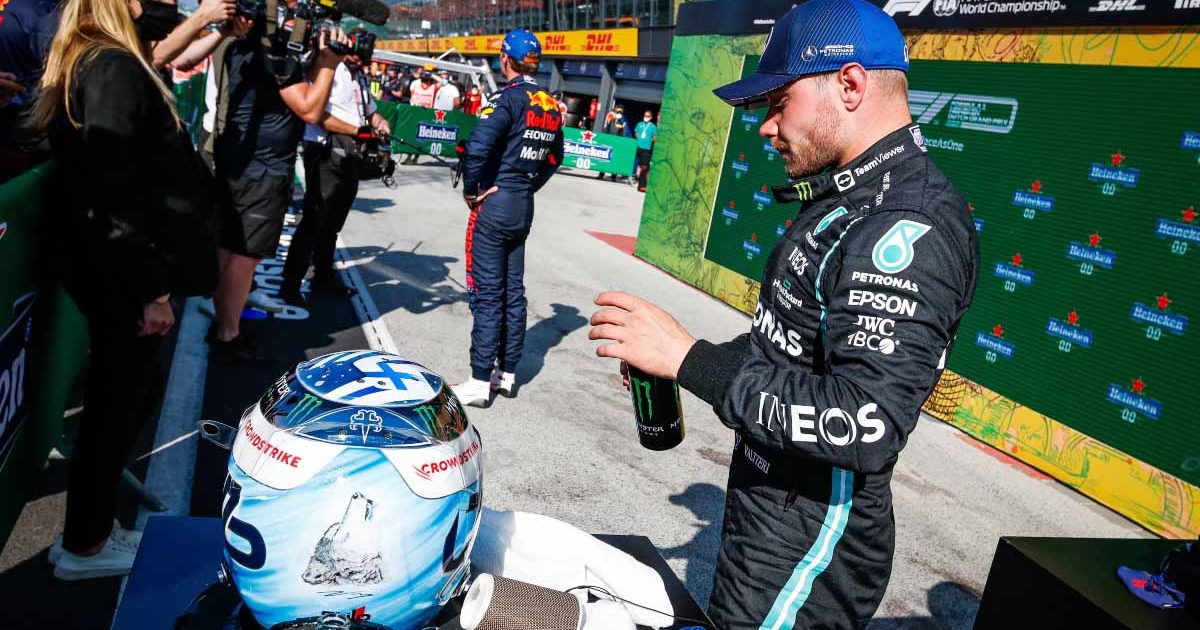 Valtteri Bottas has denied defying team orders from Mercedes to not take the point for fastest lap of the race away from Lewis Hamilton.
Hamilton had the quickest lap heading into the closing stages of the race, before Bottas was pitted by Mercedes to ensure he could make it to the end of the race safely.
However, after being told by chief strategist James Vowles to ease off after setting the fastest first and second second sector of the race, he ended up clocking the fastest lap anyway.
This prompted Hamilton to have to stop again, but the Brit managed to take that extra point with his final tour of Zandvoort, to minimise the deficit in the World Championship, after Max Verstappen's victory at his home race.
"I didn't go for the fastest lap, but Lewis got it – as a team, we got solid points," was Bottas' quick denial after crossing the finish line.
"I was pushing, but also knew that Lewis needed that one point more than me because he is fighting for the title.
"I was just playing around… all good," he said to Sky Sports.
Team principal Toto Wolff also wanted to play down any thought of Bottas defying the will of his team, saying to Sky Sports: "He was backing off, I just think wanted to make sure it was not happening. That's why we re-emphasised it politely on the lap, and then he backed off."
Valtteri Bottas right now…#DutchGP 🇳🇱 #F1 pic.twitter.com/82zIskEz4o

— PlanetF1 (@Planet_F1) September 5, 2021
View the latest Valtteri Bottas merchandise via the official Formula 1 store
Hamilton had complained over team radio at several points in the race over the condition of his tyres, with Mercedes trying several different strategic manoeuvres to get past Verstappen.
These extra pit-stops ultimately proved inconsequential, as the Red Bull driver had the measure of his rival throughout the race, as Verstappen re-took the lead of the Drivers' Championship, by just three points.
With everyone else bar Bottas lapped at some point in the race, Hamilton said that having to get through backmarkers made things tricky for him to stay on Verstappen's tail.
"It was very hard to navigate through all the traffic, but they just had that upper edge – it was very hard to follow here," he said.
But after expecting a partisan Dutch reception, the seven-time World Champion said he is already excited by the prospect of heading back to Verstappen's stronghold in 2022.
"What a race, what a crowd. Honestly, it's been an amazing weekend," he added. "Congratulations to him [Verstappen]. I gave it absolutely everything today, flat out, pushed as hard as I could but they were just too quick for us.
"I've had an amazing time here in Holland thanks to the crowd, so thank you so much for having us.
"The last lap was one of the best parts of the race for me. This track is just incredible on a single lap, low fuel, this is now one of my favourite tracks so I'm looking forward to coming back next year."
PlanetF1's verdict
Was Bottas right to set the fastest lap?
Valtteri Bottas almost stole an important point away from Lewis Hamilton, but if he is leaving Mercedes, we think he's within his rights to be a bit more selfish.