Bottas now sees funny side of big Imola crash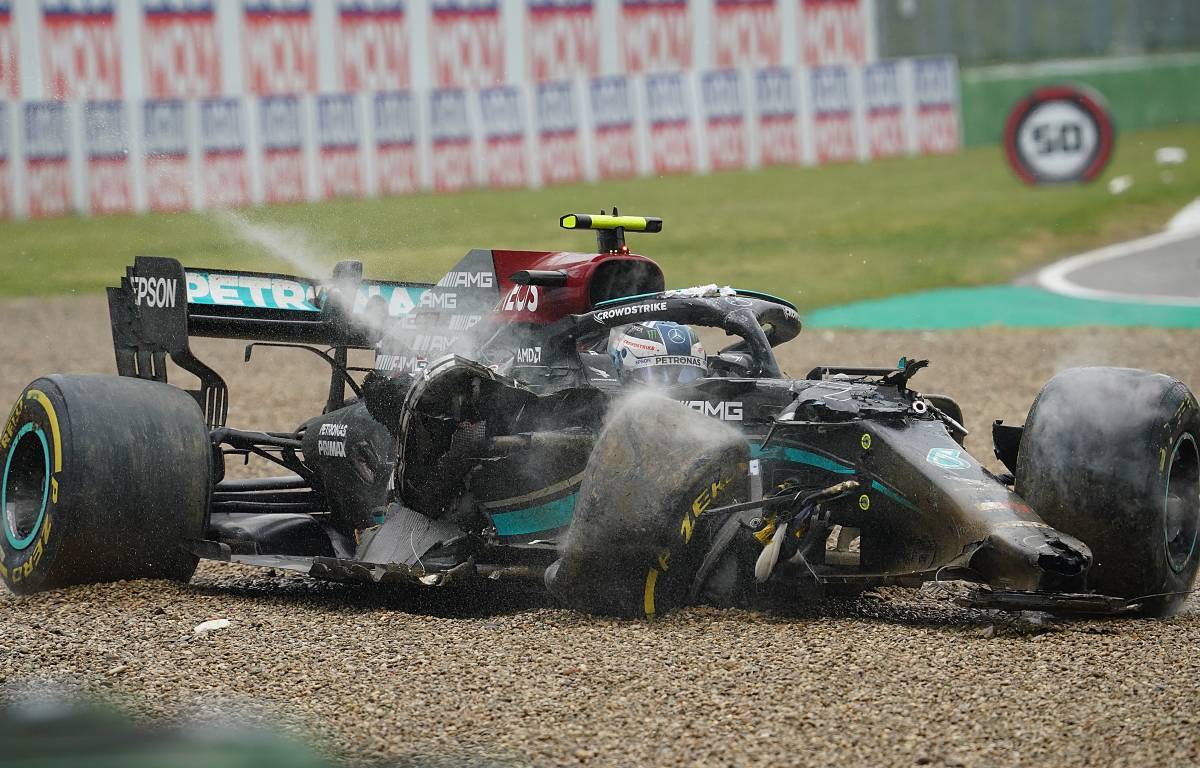 Valtteri Bottas says he can now "laugh" about the Imola crash that ended in an angry exchange with George Russell.
In the second race of the 2021 season, the Emilia Romagna Grand Prix, Bottas was struggling down in ninth position on a drying circuit when Russell tried to overtake him.
In doing so, Russell put the wheels of his Williams on the grass as Bottas edged his Mercedes slightly across and the two cars collided at high speed, sending both into the barriers with substantial damage and out of the race.
Each driver blamed the other and as Bottas sat getting his breath back in the stricken W12, Russell marched across and began remonstrating. He was met with a middle finger gesture from the Finn, who duly received a reactive swipe across the crash helmet.
Both were still annoyed with each other after the race, with Bottas saying: "I don't know what he was on about because it was clearly his mistake."
Nearly four months later, the duo remain rivals off the track for a Mercedes seat alongside Lewis Hamilton next year.
But at least now Bottas can see the funny side of what happened at the Italian venue, even though he knew it would be a big one as the incident unfolded.
"It wasn't fun. You know, I can laugh about it now but luckily nothing [serious] happened," said Bottas during an interview with Hypebeast.
"At those kinds of speeds and on that track where there's not really that much of a run-off area when you become a passenger, you're just waiting for the impact.
"You don't know where you will end up. You can't control the car and what you're going to hit next or which way to go, so it's not fun.
"But luckily, the final hit into the barrier was straight on and it was quite a big barrier, so it definitely took some of the energy away.
"It could have been worse, but it's not great. When you are caught in that situation, you basically say "oh sh*t" and wait for the impact."
Explore ⛰#VB77 @MercedesBenzUSA #GLS63 @MercedesAMG
📷 @tiffanycromwell pic.twitter.com/Hzuul8WDEC

— Valtteri Bottas (@ValtteriBottas) August 10, 2021
View the latest Valtteri Bottas merchandise via the official Formula 1 store
That race was one of several that have not gone as planned for Bottas this year – he also had Sundays to well and truly forget in Monaco, Azerbaijan and Hungary, all for different reasons.
Monaco was completely out of Bottas' control as his race was ended by a botched pit-stop in which a wheel got stuck on the car.
Asked how tough it is to deal with such a situation, he said: "It's not fun. Sometimes I don't know if I should cry or laugh because it almost feels like there's been an incredible amount of bad luck happening.
"But what can you do? Sometimes there will be things you can't affect, so you just need to try and move on.
"What hurts the most is if I make a mistake myself and if I have a bad weekend because I haven't performed at the level I should be performing at. That's more painful and I'm always trying to learn from each situation.
"It's not been the best season with mixed results and lacking pace, but here we are and there's still a long year ahead."