Bottas, Russell hint they know more than we do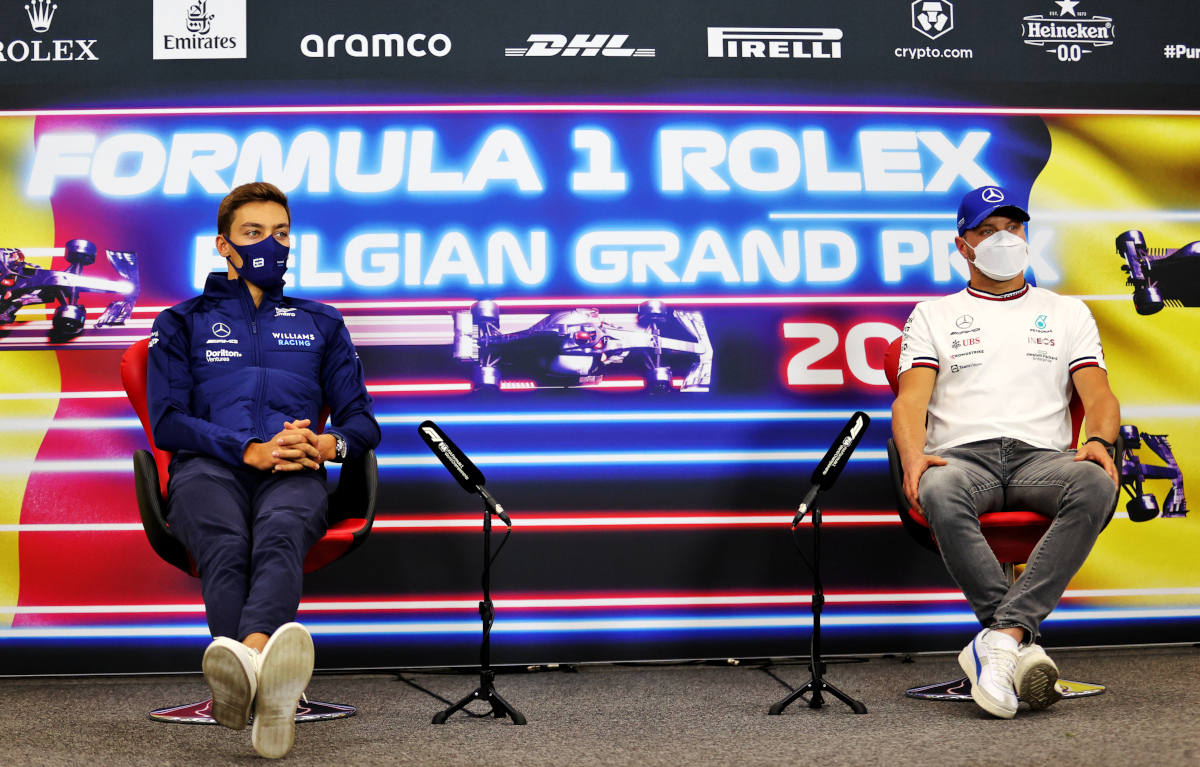 George Russell and Valtteri Bottas were similarly tight-lipped over their futures when they shared the stage at the Belgian Grand Prix press conference.
But did they know more than they were letting on? Their choice of words could be construed that way.
Formula 1 kicked off the second half of the season in mischievous fashion by opening the press conferences at Spa with a pairing of the two drivers vying for a Mercedes seat in 2022 alongside Lewis Hamilton.
A decision from the team was expected during August but has not been forthcoming, indeed Mercedes team principal Toto Wolff suggested recently an announcement may not be imminent.
Certainly the duo were giving away no clues about which way the verdict would go, but the fact they used the same words – "no news to share" – perhaps suggested there was an update they had not been allowed to disclose.
Bottas intriguingly added, when asked if he was surprised nothing had yet been confirmed: "Not really. Who knows, maybe I know something, maybe I don't, but like I said, there's no news to share."
Russell echoed the Finn and expanded a bit further, saying: "No news to share at this stage.
"Obviously in discussions over the summer break but there's nothing to announce one way or another this weekend and probably not next weekend either, to be honest.
"I think it's no problem. Everything is 'do things right rather than quickly', let's say."
F1 TV Pro is half price for two months! In order to claim this fantastic discount, click the following link and use the promo code SPA50 at checkout!*
*Offer expires at 23:59 on Sunday, August 29. Offer only available on Pro. Customers will need to take out a monthly subscription and this offer can only be redeemed on web. Offer not available in NL, FR or NZ.
Quoted by GPFans, the Williams driver added: "We are both fortunate that we are looked after in ways by Mercedes.
"We both trust them to look after our futures one way or another. From my side, there are no real problems and whether it's tomorrow or after Abu Dhabi [in December] I guess you have to trust the people who are looking out for you."
Bottas, who has been with Mercedes since 2017, said: "From my side, it's not problematic.
"It's nothing new for me and the situation overall I'm fine with it completely, so it's really head down and focus for the weekend.
"I'm sure the three weeks will fly by with the triple-header and we have a pretty good battle with the team, so that's the main focus.
"Things eventually will sort themselves out."
Bottas goes into the Belgian Grand Prix with a five-place grid penalty after causing a first-corner melee at the previous race in Hungary, where Russell secured his first points for Williams by finishing eighth.