Hamilton's qualifying edge 'p*sses off' Bottas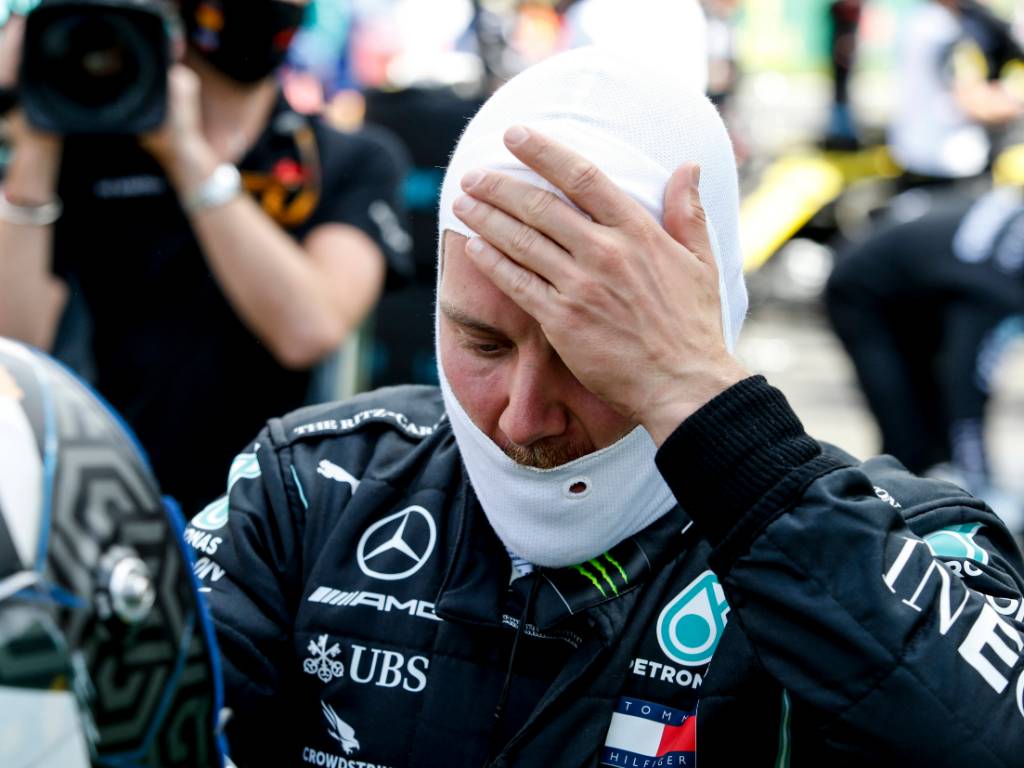 Valtteri Bottas admits he is "p*ssed off" that Lewis Hamilton has the edge on him in qualifying – for it's harming his chances of becoming World Champion.
Hamilton has outqualified his Mercedes team-mate 5-2 this season, with no other driver away from the Silver Arrows duo having been on pole position.
Each time Hamilton has started from pole, he has converted it into a race victory to put him 47 points clear of Max Verstappen in the World Championship standings. Bottas is a further three points back in third.
Although the Finn refuses to give up hope of bridging the deficit, he knows his only chance is to have plenty more race weekends like the season-opening Austrian Grand Prix when he too bagged both pole position and the race win.
"When that one lap counts, Lewis has been really consistent, not making any mistakes in qualifying," said 31-year-old Bottas in the press conference after the Belgian Grand Prix.
"As you look at the numbers, he has had the upper hand this year in qualifying, which honestly p*sses me off. But of course I'm trying and I do enjoy the challenge and I can't wait for the next qualifying session next weekend (Italian Grand Prix)."
My 51st podium in @F1 yesterday. Matching my friend and childhood hero @F1MikaHakkinen in number of podiums 🏆#VB77 #F1 #Mika #Suomi @MercedesAMGF1 pic.twitter.com/MUEGFrQzxW

— Valtteri Bottas (@ValtteriBottas) August 31, 2020
Get your hands on the official Mercedes 2020 collection via the Formula 1 store
The Belgian Grand Prix was a snapshot of the season as Hamilton led throughout from pole position with Bottas initially keeping pace but ultimately finishing over eight seconds behind in P2.
"I will still keep trying to find anything from myself that I can and just really trying to perfect everything," added Bottas.
"On Saturday, I didn't in qualifying. Lewis was on pole, he was faster on that lap and then in the race with that pole he could turn it into a win.
"I think (in qualifying) I found it hard to match. Of course it always comes from so many details, the out-laps, getting the tyres in the perfect window, front and rear, the set-up and driving style.
"Of course the weekend really starts with qualifying, trying to be on pole and then those weekends that don't go for you, you really need to maximise the points."
Bottas insists he would rather "stay home" than give up the title fight, even if the possibility of him dethroning Hamilton is looking increasingly distant.
"Of course I'm trying everything I can," he added. "The fact is it's not over. There's 10 races to go.
"Obviously I had that one kind of a DNF with a puncture at Silverstone, lost points with that. If I would give up now then I would rather stay home, so I will keep pushing.
"Actually this week has been at least like a smooth weekend without any issues, just the qualifying wasn't good enough but I'm working on everything.
"I'm trying but there's still many positives I can take. I feel my race pace this year has been better than any year before, so that's a positive, so I feel like always in the race I'm there and I can fight for it, so now it's just about trying to perform better and more consistently in qualifying sessions."
Torquing Point - Bottas playing Second Fiddle
Finley and Michelle form www.planetf1.com podcast 'Torquing Point' discuss the two Mercedes drivers and whether or not Bottas will ever really challenge Lewis Hamilton.
Follow us on Twitter @Planet_F1, like our Facebook page and join us on Instagram!