Mercedes explain lengthy Bottas stint before puncture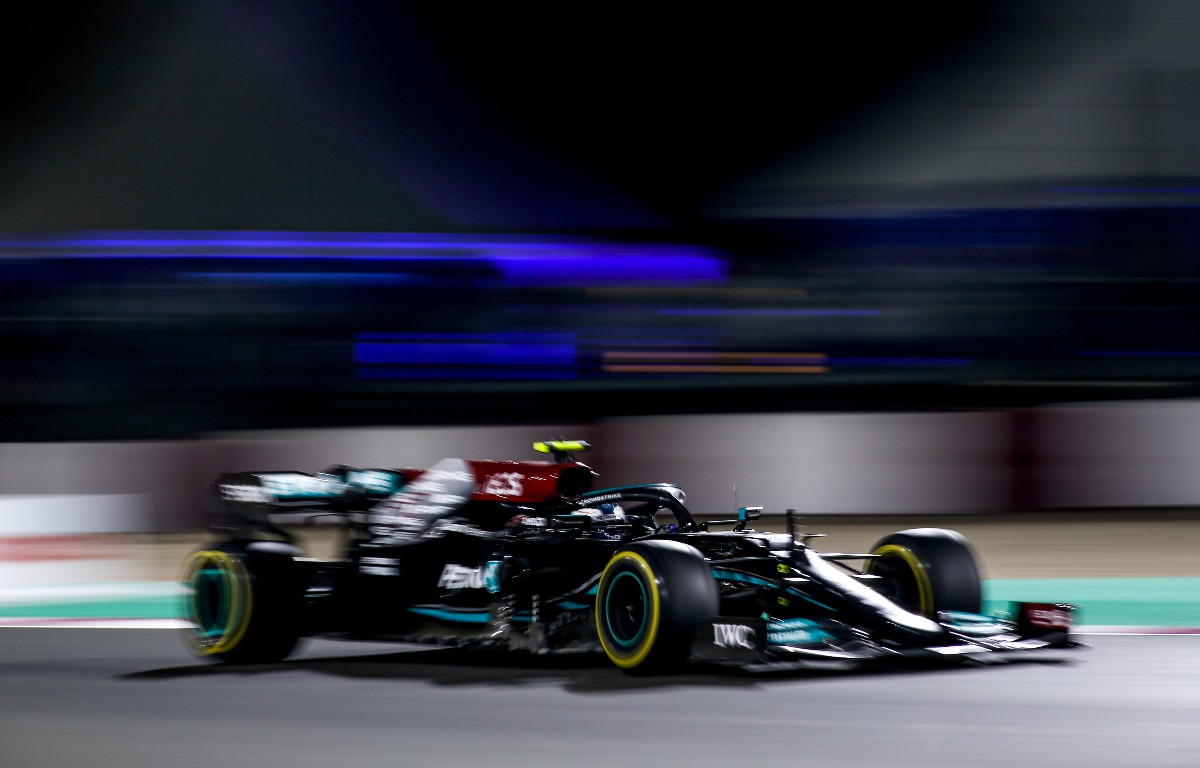 Mercedes were trying to clear Fernando Alonso by extending Valtteri Bottas' opening stint in Qatar, but it ultimately backfired.
Looking to go long on the medium compound tyres, Bottas became one of four drivers to get struck by a tyre blowout, sending him for a trip into the gravel as part of a slow and painful recovery to the pits.
The damage caused by the puncture resulted in Mercedes later deciding to call Bottas back to the garage to retire.
It was a race weekend when the Pirelli tyres were on the brink of what they could cope with, Bottas of course being an example of sending them over it, but Mercedes saw stretching out that stint as their best chance of denying Alonso a spot on the podium.
Asked during Mercedes' Qatar GP debrief why Bottas was left out so long, Andrew Shovlin, the team's trackside engineering director, said: "Well, specifically we were trying to clear Alonso. He was on relatively fresh hard tyres in our pit window.
"Valtteri was faster, he was finding a few tenths a lap and if we had stayed out another three or four laps, we would have been able to build that window to Alonso, pit Valtteri for fresh hard tyres and drop out in front. That was the plan.
"As you saw, we had that puncture. The timing of that was really unfortunate. Valtteri felt it at around the same time we were seeing it on the data, and it was too late for him to get into the pit lane.
"So he had the whole lap to do and when you lose the pressure in one tyre, effectively you've a three-wheeled car, it's got no grip in the right-handers and ultimately the in-lap was very costly from a race time point of view.
"But not only did it cost us race time, it also cost us performance and that's because when you haven't got the wheel holding the car up, the wing is dragging on the road, getting damaged, the floor as well and a lot of the aero furniture around there is getting damaged just from its contact with the road.
"So ultimately, we had quite a big performance hit from that. When we got out, we could start to establish that in the data. Over the course of the next few laps, we were understanding how much performance we'd lost. We were also getting a view of the race picture and it was becoming evident we wouldn't get Valtteri back into the points.
"The damage was too much for him to be able to challenge anyone, so that was why we decided to retire the car."
Before the puncture, Bottas had been on the ascent, pushed on over the radio by team boss Toto Wolff, having dropped from P6 to P11 after a poor start.
But as for the reasons behind that terrible opening few corners for the Finn, Shovlin put that down to a lack of tyre temperature and more so due to starting on the dirty side of the grid.
"First and foremost, that dirty side of the grid didn't have anything running on it the whole weekend, there were no support races and Valtteri wasn't alone in starting on that side and losing positions as a result," Shovlin explained.
"A lesser problem was the tyres weren't quite up to temperature, that cost him a bit of grip off the line, it also cost him a bit of grip in the opening corners. So it gave us a bit of a challenge.
"At the end of that first lap Valtteri had dropped down to P11, but from there he actually mounted a really good recovery drive and our simulations were showing he would finish P3 or P4, but looking like a really solid drive when unfortunately we had that puncture that took him out of contention."
Bottas on Wolff's hurry-up call
Valtteri Bottas thinks Toto Wolff's radio message in Qatar was bad timing but understands why.