Bottas refutes suggestions he's in Hamilton's 'shadow'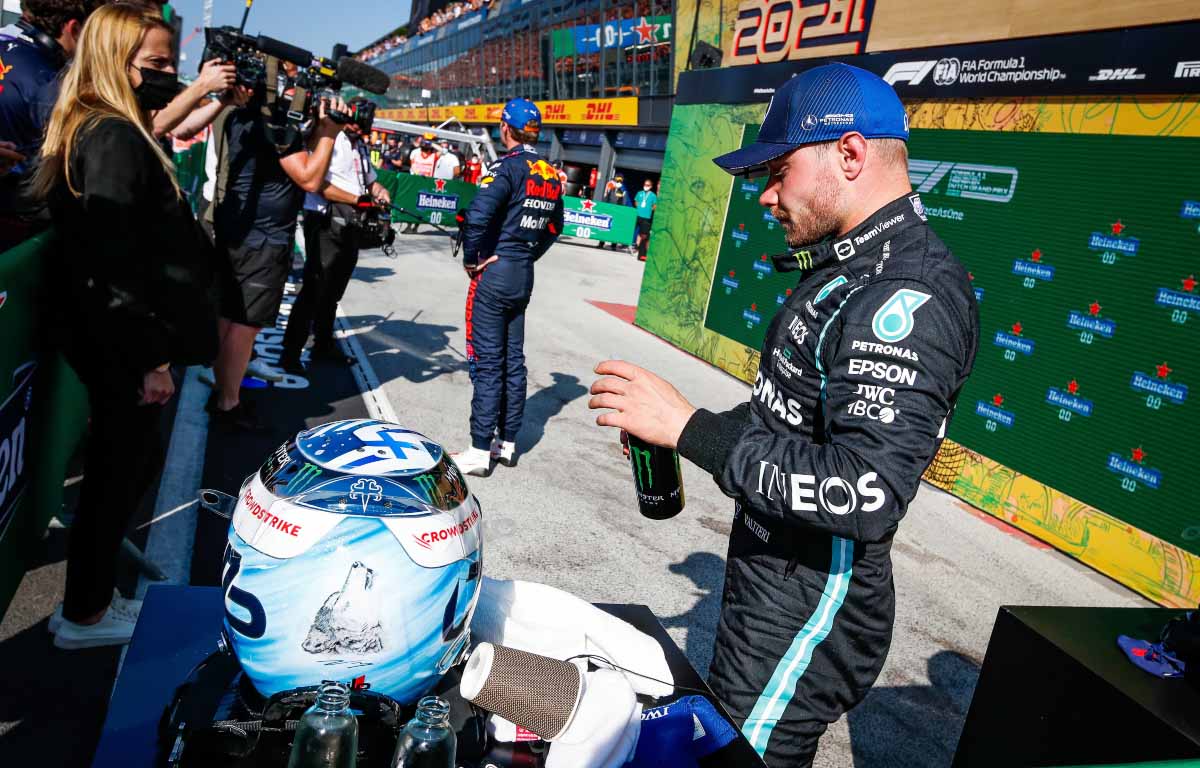 Valtteri Bottas has denied that he has been in Lewis Hamilton's "shadow" during their time as team-mates, saying they were in it "together".
Bottas joined Mercedes in 2017, and quickly slipped into the role of "wingman" as he was once called by Toto Wolff.
But the dynamics worked for Mercedes, Hamilton taking the World title year after year while Mercedes extended its run of Constructors' Championship titles to seven.
The partnership will conclude at the end of this season, their fifth year together, with Bottas off to Alfa Romeo and George Russell replacing him.
Bottas has already been told by his 2022 team boss Fred Vasseur that he'll be the "team leader", a role that the Finn is looking forward to.
That, however, doesn't mean he feels 2022 is an opportunity to step out from Hamilton's shadow.
Asked by The Race how it felt to be team leader and out from 'Hamilton's shadow', Bottas replied: "That's why it's really exciting and interesting for me to be in that kind of role and try to help the team forward and work together.
"I don't know about the shadow.
"Obviously if you look at the results overall, Lewis has been able to beat me every year, so in that sense yes, I've been in a shadow.
"But honestly now I don't really feel it that way.
"We are a team, and we're now in this together. Unfortunately, I'm not fighting for the Drivers' World Championship anymore this year, so I'm just fighting for the Constructors' and that's the way it is.
"This is going to be a fresh start for me and whoever my team-mate is going to be I hope we're going to work well together.
"This is an interesting new era for me."
Welcome to Alfa Romeo Racing ORLEN, VB77! 👋🏻 pic.twitter.com/ZW9VoRRJif

— Alfa Romeo Racing ORLEN (@alfaromeoracing) September 6, 2021
F1 TV are offering PlanetF1 readers 10% off both monthly and annual subscriptions! ! In order to claim this fantastic discount, click the following link and use the promo code PLANETF10 at checkout!*
*The offer ends at midnight on September 12 and excludes Netherlands
With it looking ever more likely that he would lose his Mercedes race seat, Bottas revealed he was talking with several teams before deciding on Alfa Romeo.
"I did talk to some other teams," he. "I don't want to say many names but in the end, that was the way I wanted to go.
"I'm glad that we could make it happen and also thankful for them to trust that I'm going to be the right fit for the team.
"It's exciting, it's a great brand, they have a great history in motorsport.
"Based on the information I know they can have a bright future, and hopefully I can help that.
"It's something new, something exciting for me and it's a bit of a project. No doubt there's going to be work to do but I will give all my expertise I can to try and improve from this season.
"I can't tell you everything but they are serious about the future. Alfa Romeo as a brand itself has committed for quite a few years.
"I don't want to share too much but we have high expectations, high goals and for me that is really motivating."
Planet F1 verdict
Will Valtteri Bottas continue to play the team game?
With George Russell being confirmed as a Mercedes driver for 2022 will Valtteri Bottas still play the team game to help Mercedes win the Constructors' Championship?