Valtteri Bottas reveals incredible new off-season look in Australia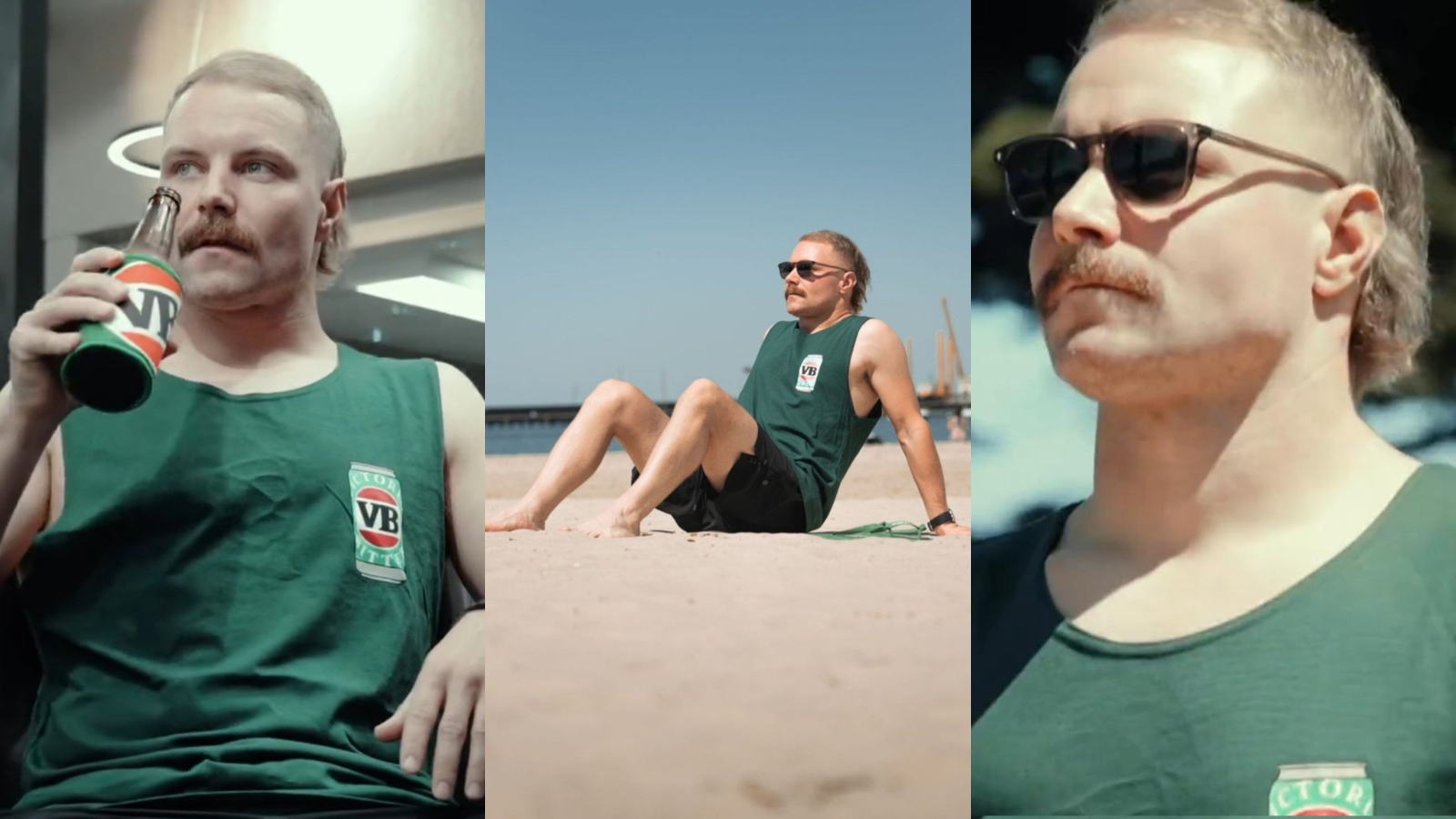 Valtteri Bottas has embraced the Australian way of life by giving himself a mullet and moustache as he enjoys his off-season.
In the past few years, the once-reserved Bottas has been revealing what he gets up to during his free time and revealing appears to be the correct choice of word.
From flashing his naked backside on Drive to Survive to skinny-dipping in an American stream, Bottas has embraced life off the track of late.
While his activities this off-season have so far been a little more wholesome, including living up to his Finnish heritage with some ice hockey, he has now revealed his latest look following a move Down Under.
His partner Tiffany Cromwell is an Australian cyclist and given the cold weather in the Northern Hemisphere at this time of year, it is no surprise to see the pair head to Australia in search of some sun and it seems Bottas has dived headfirst into Australian culture.
He posted a video on his Twitter account which showed him googling 'Aussie starter kit' while sipping on a cup of his beloved coffee.
#offseason pic.twitter.com/FfRVuIL7pK

— Valtteri Bottas (@ValtteriBottas) December 3, 2022
Bottas mentions to his girlfriend that it is good to be back in Australia but says he feels like he "doesn't quite fit in." When Cromwell asks how he is going to fix that, the video cuts to a montage of the Finn's transformation.
Firstly he heads to a barbers where he is given a full mullet and moustache to go with it. As the apron whips off him in slow motion, Bottas is revealed to be holding a bottle of Victoria Bitter lager and has a sleeveless shirt bearing the company's initials, the same as his own.
With his shades on, the transformed Bottas heads to the beach where he kicks off his flip-flops (or thongs) and gives his best 'Straya accent as he exclaims "you beauty".
Party at the back. pic.twitter.com/k9B3KVjlvE

— Valtteri Bottas (@ValtteriBottas) December 4, 2022
The look Bottas adopted has become popular across the world in recent years but specifically in Australia and is called being a 'bogan'.
According to a local on Reddit, to be a bogan means a person who is "simply living their life. A bit rough around the edges, not usually with the times, somewhat uncultured but generally friendly and a definitely not backwards in coming forwards. Loves a good swear."
Whether the new look sticks around for the start of the 2023 season remains to be seen but for now, good on ya, Valtteri.
Read more: Valtteri Bottas v Guanyu Zhou – Experience crushes the rookie at Alfa Romeo