Bottas 'talks a good game but you never see fight'
Valtteri Bottas has been told he "talks a good game" but "ultimately you never see fight from him in the race" following the Tuscan Grand Prix.
Bottas has lost further ground in the World Championship title fight after team-mate Lewis Hamilton bagged a sixth win of the season and opened up a 55-point gap at the top.
The season opener in Austria still remains Bottas' solitary win of the revised 2020 campaign and, while he is pushing Hamilton very hard in qualifying, he then doesn't deliver on a Sunday.
That's according to ex-driver turned pundit Jolyon Palmer, who feels Bottas is "talking it up a lot" on team radio recently during races.
"Bottas doesn't like challenging Hamilton," Palmer said on BBC 5 Live's Chequered Flag podcast.
"He talks a lot on the radio. He really talks it up a lot. [At Mugello] he was like 'I want to do whatever Lewis doesn't do' and before [at Spa] he was like 'why didn't you give me the overtake option? You didn't talk about this in the briefing'.
"He talks a lot but ultimately you never see fight from him in the race. He talks a good game, he's a fast driver, he pushes Lewis really hard on Saturdays but on Sundays he just doesn't. It just looks all too easy for Hamilton."
That was a race 😅 First part of the race was good. Then chasing game but couldn't get the lead again. Gave it all I had! Will keep pushing – one day it will click 💪🏼

Read about it: https://t.co/uhG8X8hFOh#VB77 #F1 #TuscanGP@mercedesamgf1 @f1
📸 Etherington #NeverGiveUp pic.twitter.com/MxmkssERFr

— Valtteri Bottas (@ValtteriBottas) September 13, 2020
In the post-race interviews at Mugello, Bottas suggested that he has had more of his fair share of bad luck, but Palmer reminded the Finn some things went his way too and he still failed to capitalise.
Palmer added: "He said at the end of the second stint 'I'd love a Safety Car about now', three laps later, Safety Car, bingo! It's gone your way.
"He might as well have been there end of lap 46 saying 'I'd love a bit of luck right now' and then it just happens for him but couldn't do anything with it.
"It's not luck for Bottas, it's just skill. He's only just behind Hamilton in qualifying but it is skill that is putting Hamilton ahead and it is a bigger chunk of skill that is putting him ahead in the race."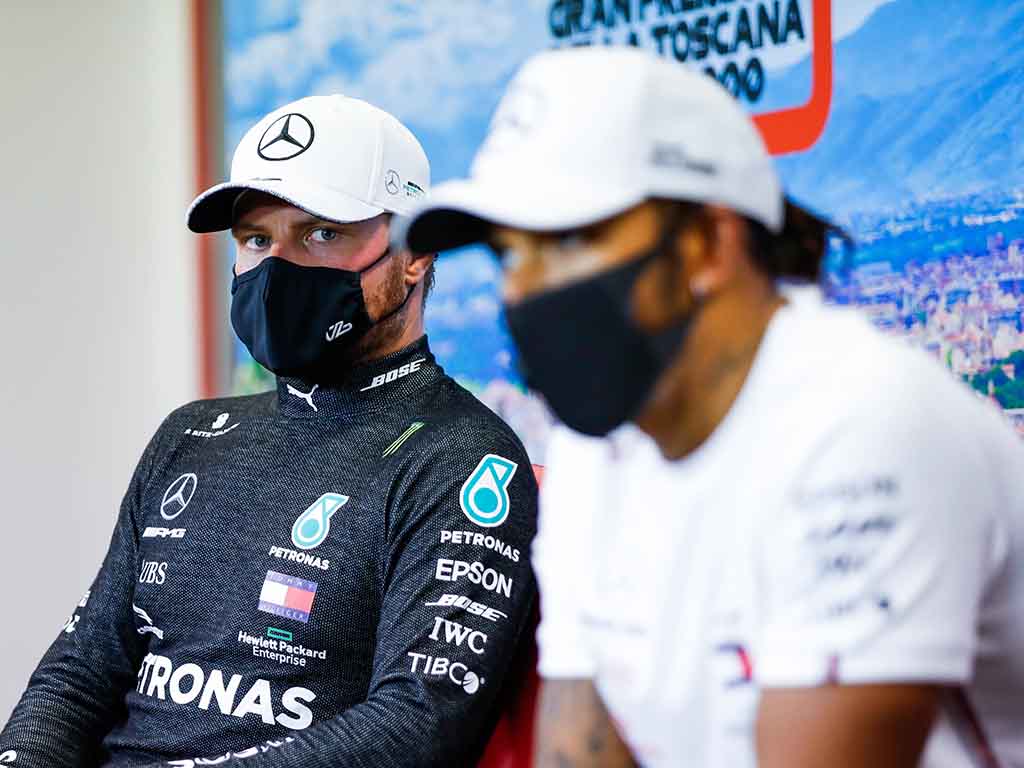 Bottas also initially came in for some criticism for his restart procedure after the first Safety Car period as a huge crash happened behind in the midfield.
But Hamilton has since defended his team-mate, while Bottas himself said he played the situation within the letters of the law.
"We're allowed to race from the control line, which has been there for a while, I think," said the Finn, who finished runner-up to Hamilton at the Tuscan GP.
"Just the difference this year has been the Safety Car, they are putting the lights off quite late, so you can only build the gap pretty late on.
"So, of course when you're in the lead you try to maximise your chances and I'm not at all to blame for that.
"Everyone can look at everything they want for it. I was doing consistent speed until I went.
"Yes, I went late but we start racing from the control line, not before that.
"So the guys behind who crashed because of that, they can look in the mirror. There's no point whining about it."
Follow us on Twitter @Planet_F1, like our Facebook page and join us on Instagram!