Bottas 'willing to play' the team game in Abu Dhabi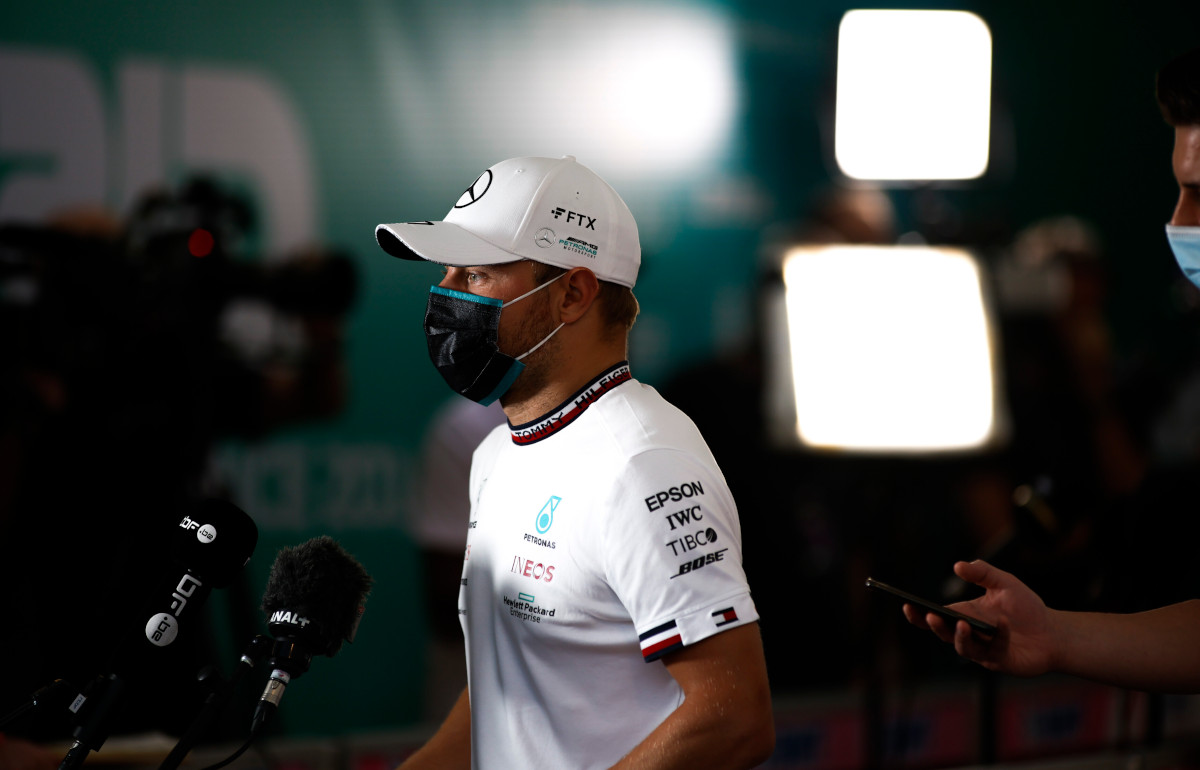 Having secured P3 in the Drivers' Championship, Valtteri Bottas says he is "willing" to play the team game in Abu Dhabi no matter what it costs him on the day.
Bottas' Mercedes team-mate Lewis Hamilton has a shot, and a good one, at an eighth World title, all he has to do is beat Max Verstappen in Sunday's season finale.
The two are tied on points, 369.5, which means whichever of the two finishes ahead, they will be crowned the 2021 F1 World Champion.
Bottas, Hamilton's wingman for the past five seasons, says he'll do whatever he can to ensure the title it is his team-mate who wins.
"It will depend on the situation," he said. "Lewis doesn't actually need to win the race; he needs to finish ahead of Max, that's how it goes.
"I am willing to play it as a team, because I secured my third place, as long as we can get the Constructors' then I would rather have my team-mate win than the opposition.
"It will depend on the situation, but he has got my support."
💙🤍 No, you're crying about @ValtteriBottas' last Mercedes helmet. 🥲 pic.twitter.com/GfvjkJ5MRb

— Mercedes-AMG PETRONAS F1 Team (@MercedesAMGF1) December 9, 2021
He also had Bottas' support at the previous race in Saudi Arabia where the Finn admitted he played a tactical game with Verstappen as he deliberately slowed down behind the Safety Car to hold up the Red Bull driver.
It was within the rules.
"As long as you get to the [start] line in a reasonable delta [time difference], it doesn't matter how slowly you drive in between because you just need to be positive," said Bottas.
"I think I ended up a few seconds positive, which is fine, that's allowed.
"Obviously that allowed Lewis to have a bit more of a margin, because we did a double stop, so you need that few seconds gap. That's just what you do."
This weekend's race is the 32-year-old's final grand prix as a Mercedes driver, Bottas off to Alfa Romeo for 2022.
He bids farewell to Mercedes with 10 race wins, 58 points and having assisted the team is bagging four successive championship doubles.
This year it could be five with Mercedes 28 points up on Red Bull in the Constructors' Championship.
"Everyone feels it's the final race of the season and for me, it is actually crazy that Lewis and Max are equal points.
"It's like the dream finish, for sure, for us, anyone involved in the team and for the fans as well.
"Definitely, there is excitement and I feel that every team member is just really enjoying being part of it.
"This is what we love to do, we love close battles, close racing, and now we are getting exactly that.
"The hope for the weekend is that we get both the Constructors' and the Drivers' titles for our team.
"That's the focus, but how to get there is not that different to any other race.
"First of all, it is learning the new track profile, what it needs from the car set up and go from there. The preparation is like any other races, it's no different."
PlanetF1 Verdict
Bottas 'willing' to play team game
Valtteri Bottas is willing to play the team game to help his team-mate Lewis Hamilton.