Two-time World Champion Mika Hakkinen places Valtteri Bottas' victory in Turkey up there among his compatriot's best in Formula 1.
Bottas had been waiting for a first grand prix victory in 2021, his final season before departing Mercedes to join the Alfa Romeo team.
And with Bottas moving increasingly into a support role to team-mate Lewis Hamilton in his title bid, it was starting to seem as though Bottas did not have another victory in him as a Mercedes driver.
That thought was dispelled emphatically at Istanbul Park as Bottas went from pole to a dominant win, crossing the line 14.5 seconds up the road from Hamilton's title rival Max Verstappen in P2.
For Bottas it was a tenth win of his Formula 1 career, and Hakkinen is struggling to think of one more impressive.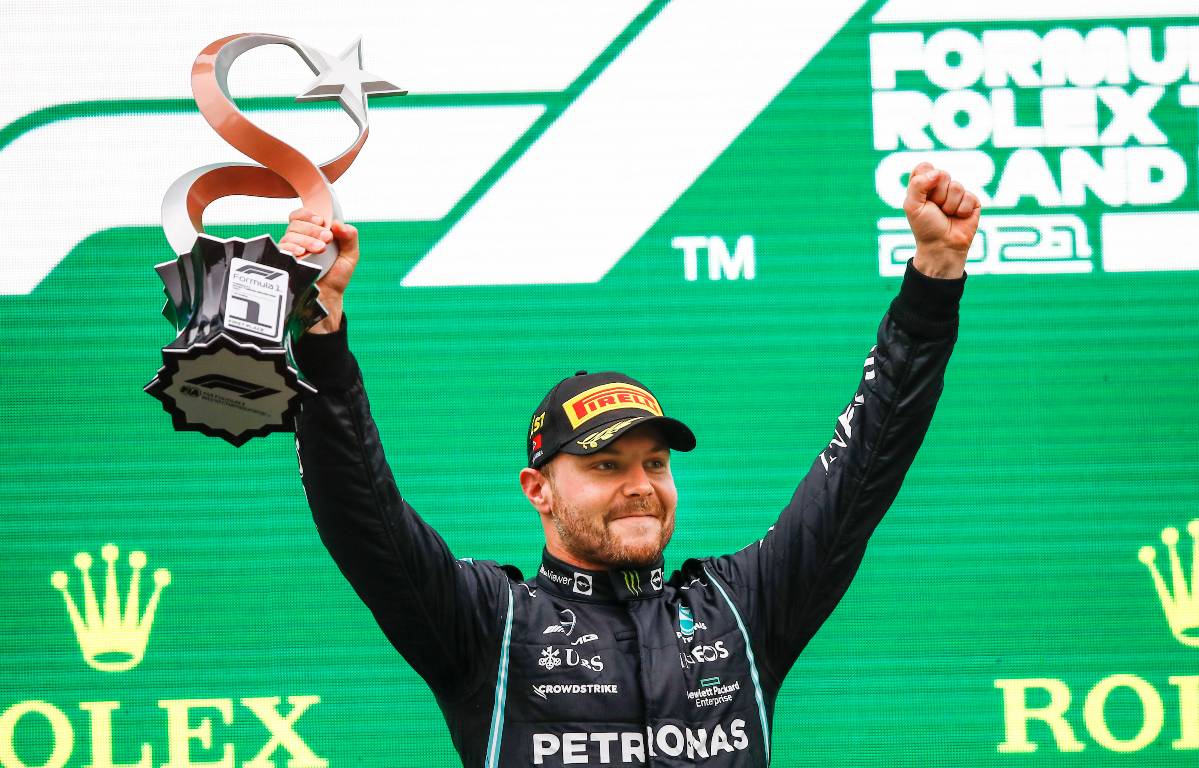 View the latest Valtteri Bottas merchandise via the official Formula 1 store
"That was a really brilliant performance from Valtteri Bottas on Sunday in Turkey," Hakkinen wrote in his Unibet column.
"A very strong victory, his 10th in Formula 1, and an important result because he scored the maximum possible points for Mercedes and kept Max Verstappen's Red Bull behind.
"With team-mate Lewis Hamilton finishing 5th, it was critical that Valtteri prevented Max from scoring the win, so his domination of the race was great to see.
"Valtteri showed great skill in managing the intermediate tyres which were used throughout the race due to the damp conditions. Particularly at the start of the race and then again after his pit stop.
"It is so easy to destroy the grip levels on a set of intermediates by pushing too hard straight from the pits, which is what happened to both Lewis Hamilton and Charles Leclerc later in the race.
"Valtteri just focused on beating Max off the start-line, protecting his tyres until they were ready to be pushed, and drove a perfect race.
"There is no doubt that this was one of his best victories in Formula One, so I am not surprised at how happy he and Mercedes were after the race.
"On a day when Lewis Hamilton had to take a 10 place grid penalty as the result of an engine change, Valtteri did everything that his team could hope for."
With further performances like that Bottas can still play a major role in the conclusion of the season, especially if Mercedes' pace advantage over Red Bull persists beyond Turkey.
And Hakkinen fully expects Bottas to be a factor, as well as Sergio Perez in the Red Bull who finished P3 in Turkey, putting on a fearless defensive display to shut the door on Hamilton's attack.
"What is also clear from the weekend is that the Mercedes car has moved ahead of the Red Bull in terms of performance," Hakkinen stated.
"Lewis and Valtteri were quickest in qualifying, and Max is admitting that Red Bull have some work to do if they are to win this World Championship.
"As we move into the final six races in the World Championship I think that Valtteri and Sergio will come to play an increasingly important role in providing Lewis and Max with the right level of support and strategy options.
"Max only leads the World Championship by six points, so with 156 points available during these final races the title could swing one way or the other very quickly."