Valtteri Bottas wants retiring Sebastian Vettel to continue in GPDA role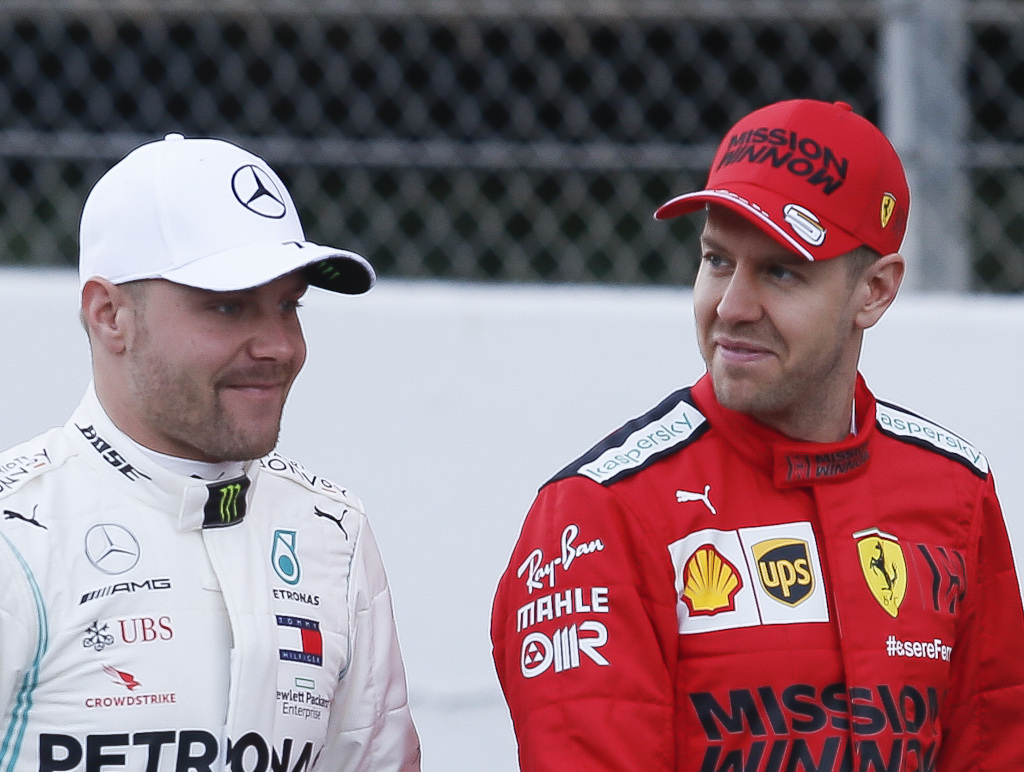 Valtteri Bottas hopes Sebastian Vettel continues on in his role as one of the Grand Prix Drivers' Association's directors, despite the German retiring at the end of this season.
The four-time World Champion announced his decision to leave the sport last month and one of the many questions brought as a result was would he retain his place on the GDPA board.
Vettel has been a director since 2010 and is currently in the role alongside George Russell, Anastasia Fowle and chairman Alex Wurz.
The Aston Martin driver is also known as being one of the most outspoken when it comes to standing up for causes he believes in and has not been afraid to speak publicly about issues such as equal rights and the environment.
Vettel rated 7.5/10 for Hungary recovery
An eight-place rise for Sebastian Vettel was overshadowed by confirmation of his retirement.
A recent example of this came during the 2022 Austrian Grand Prix when Vettel walked out of a drivers briefing as he was unhappy with a lengthy discussion on track limits when he believed there were greater issues facing the drivers that needed discussing. He was handed a €25,000 fine as a result.
He was also outspoken following the missile strike during the Saudi Arabian Grand Prix weekend, a race he did not take part in as a result of having COVID, saying it can be hard to objective when you are "a paid guest."
It seems Vettel's no-nonsense approach has proven popular with the drivers having served as a director for 12 seasons. So much so that drivers are backing him to continue in the role even after he leaves the F1 grid.
"I feel like it's quite hard to replace Seb in that kind of role, because of the way he is," Valtteri Bottas said in the press conference preceding the Hungarian Grand Prix. "He's really straightforward and direct and doesn't go around things.
"He just says things as they are and questions many things loudly, so I hope he continues. I'm not sure if he's keen but it would be great if you can continue."
voting pic.twitter.com/DDBCAqt4Tq

— alex wurz (@alex_wurz) July 30, 2022
It would not be the first time a non-driver has served as a director with legal and strategic advisor Anastasia Fowle currently on the board. Daniel Ricciardo was also full of praise for the former Red Bull driver.
"Maybe we'll see if he wants to continue!" Ricciardo said in the same press conference. "He's certainly done a good job. Seb, he's a guy that a lot of the time just says it how it is. That's not in an aggressive way. He's just very honest and direct.
"When we're on topics like safety then we don't need to beat around the bush. So I think his character is really good for that position."
What is the GPDA and who has been a director before?
The Grand Prix Drivers' Association (GPDA) was initially established in 1961 but disbanded only to return at the 1994 Monaco Grand Prix after the deaths of Ayrton Senna and Roland Ratzenberger in the previous race.
In 1996, it became a registered company and adopted a constitution as well as establishing a permanent office in Monaco.
The GPDA works as a trade union for the drivers, working to protect their best interests and can be a strong voice when influential decisions are made within the sport.
While membership is not compulsory for F1 drivers, since December 2017 every current driver has been signed up which grants them voting rights on the association's leadership. This breaks down to four directors, one of which serves as chairman.
The first ever chairman was Stirling Moss and the current incumbent is former Benetton, McLaren and Williams driver Alex Wurz who has been in place since 2014. In the past, the likes of Michael Schumacher, David Coulthard and Rubens Barrichello have all served as chairman.
The four directors tend to be current drivers but that is not a rule as shown by Fowle. The other two current directors are Vettel along with Russell. Fernando Alonso, Mark Webber, Felipe Massa, Jenson Button and Romain Grosjean have all been a director in the past.
Vettel's 12-year run as a director is the longest in the association's history.