Stewards deliver verdict on Bottas/Russell crash
The stewards have decided that no further action was necessary after Valtteri Bottas and George Russell collided at Imola.
In what was a difficult Sunday afternoon for Bottas in Imola, the Mercedes driver found himself battling in the midfield when Russell attempted an overtake.
But on the approach to Tamburello the pair made contact as Russell took the outside line, sending the pair into a high-speed incident with the wrecked W12 and FW43B coming to a stop in the gravel.
Thankfully neither driver was hurt, but tempers flared as Russell went over and gave Bottas a slap on the helmet, to which Bottas gave him the finger.
The fallout continued post-race as Bottas claimed the incident was "clearly" Russell's fault, while the Brit revealed he had asked Bottas if he was trying to "kill" the pair of them.
However, the stewards have declared it a racing incident and will take no further action.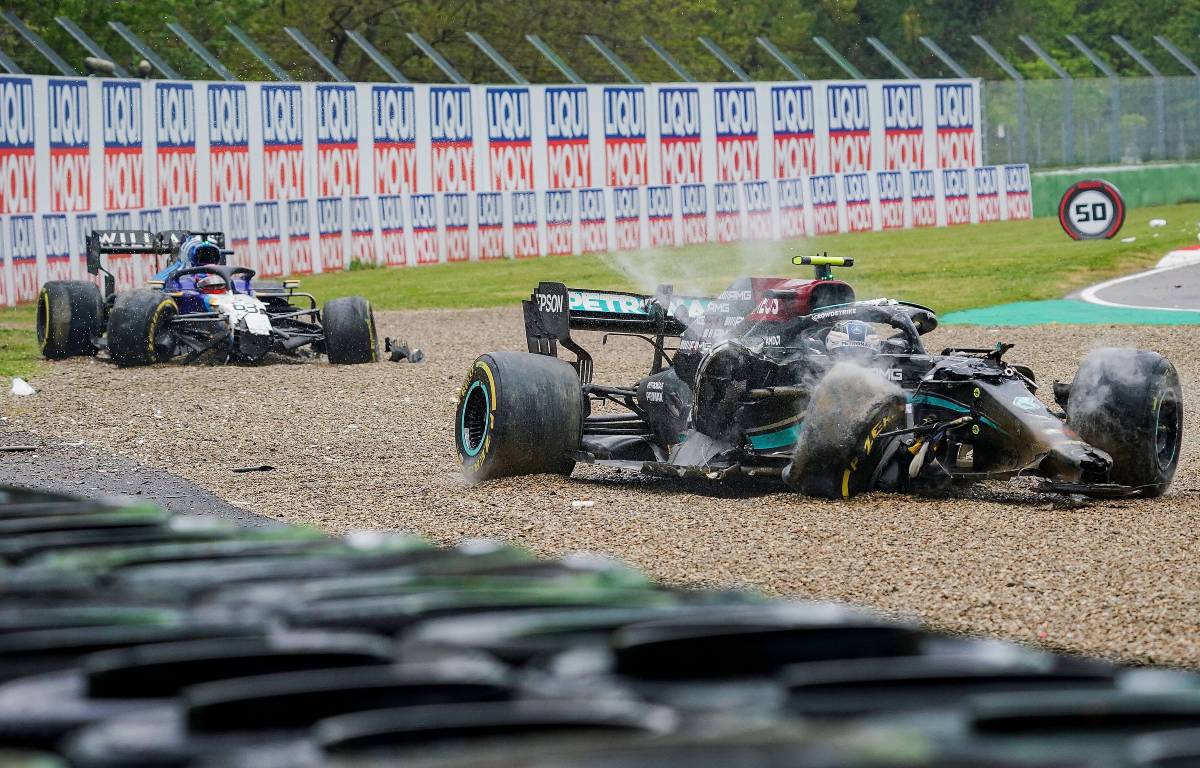 Check all the latest 2021 teamwear via the official Formula 1 store
"The Stewards heard from the driver of Car 63 (George Russell), the driver of Car 77 (Valtteri Bottas) and the team representatives and reviewed multiple angles of video evidence and telemetry.
"Car 63 approached car 77 to pass after the front straight a few laps after the restart when DRS had recently been enabled. Car 77 maintained his line throughout the incident along the right hand side of the dry line, leaving at least a full car's width to the right at all times.
"Car 63 approached with a significant speed advantage. He moved to pass on the right. As the cars approached the kink of turn 1, the gap between them and the right hand side of the track decreased. At no time did either car manoeuvre erratically.
"The track appeared to be not especially wet through turn 1 but at the point of closest approach to the right hand side of the track, the right hand side tyres of Car 63 hit an especially damp patch and the car snap yawed, bearing in mind that the car had low downforce in the rear with the DRS open.
"The Stewards conclude that the accident was a racing incident considering the conditions and take no further action."
Follow us on Twitter @Planet_F1, like our Facebook page and join us on Instagram!