Verstappen angers Italian press with Ferrari comments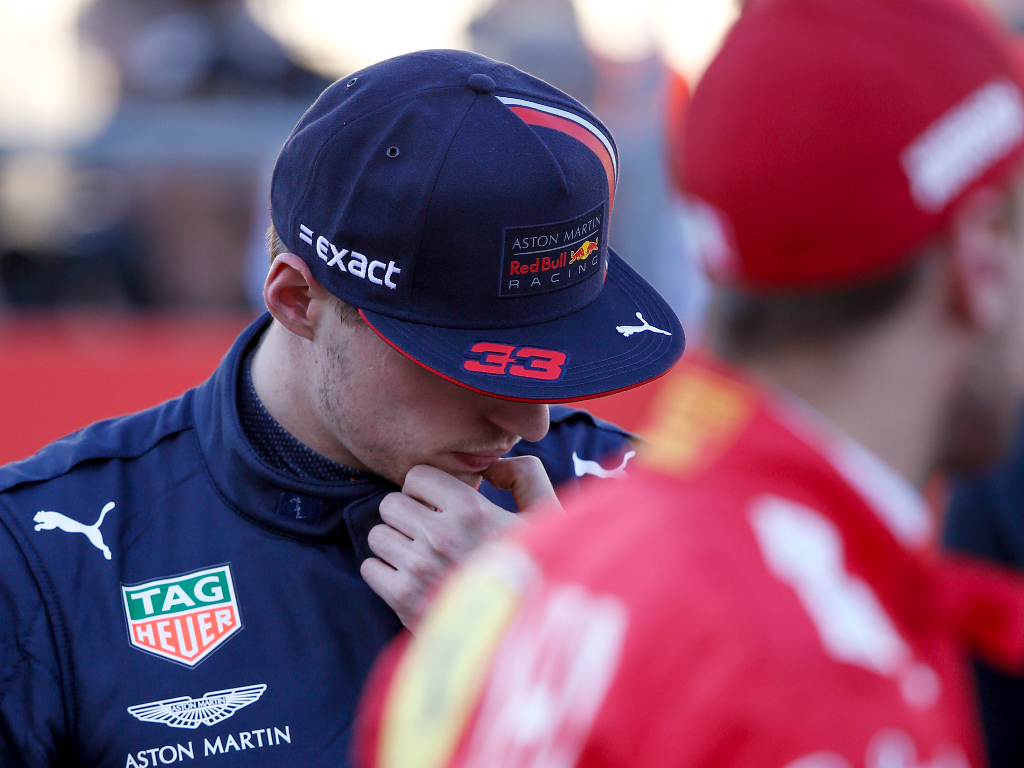 Max Verstappen has annoyed the Italian F1 press contingent, who have told the Red Bull driver to keep his mouth shut or bring evidence of cheating claims to light.
Verstappen had a go at Ferrari in the wake of the United States Grand Prix, a race weekend in which the Scuderia lacked pace with Charles Leclerc finishing 45s off the podium.
Verstappen believes the Scuderia's drop-off was because of an FIA's Technical Directive regarding fuel flow that forced them to stop "cheating".
He told Ziggo Sport: "That's what happens when you stop cheating, of course. But yeah, they had a good look at it. So now we have to keep a close eye on it, of course."
Ferrari, as to be expected, were not impressed with the Dutchman's comments – and neither was the Italian media.
"Simple one: Motor racing is not politics and opinions don't count," reported Autosprint.
"Only the truth counts and there are specific, credible and quick procedures to ascertain it.
"In the racing world, if someone believes that a rival is cheating, you can be sure that two seconds later he will make a complaint (to the FIA).
"But for now, before checking, there is only unsportsmanlike behaviour from Verstappen who said a very serious thing without having or providing any supporting evidence.
"Perhaps the best thing for a driver would be to keep quiet and keep his foot down, leaving it to others to investigate these alleged delicate matters.
"In football, an episode of this kind would be punished harshly, with a lot of money and disciplinary consequences. It would be good if in F1 things worked in the same way.
"If Red Bull has something to say about Ferrari, do it now or hold it forever."
FormulaPassion.it's Mauro Forghieri feels Verstappen's criticism is a sign of an "unpleasant" personality.
"Today I consider Verstappen to be the true prototype of the new Formula 1 World Champion, but also a great champion to dislike, at least for me," he wrote.
"Perhaps he does not know how to relate to others because he is too young.
"To be unpleasant to rivals is normal, especially when you beat them all, but just being generally unpleasant is exaggerated.
"When I say that the Red Bull driver is not very intelligent, I refer to his recent statement in which he accuses Ferrari of 'cheating'.
"A true champion, a public figure, cannot express himself in that way, he must not allow himself to criticise others like this.
"Either he has the courage to substantiate his statement, or he should shut up."
Flavio Vanetti from Motorsport.com's Italian edition, said the Red Bull driver needs to be kept on a "leash".
"In Max we recognise the personality, character, hardness, probably – I would add – even a good dose of cynicism: in this respect he is even more 'complete' than Michael Schumacher," he said.
"But now the Flying Dutchman is exaggerating and the impression is that he is a character to be kept on a leash, both as a driver and as an external speaker."
FormulaPassion's Alberto Antonini feels Verstappen could learn from Lewis Hamilton's behaviour.
He addedL  "I only note that when Vettel won at Spa in 2018, the current World Champion said that the Ferrari driver had resorted to all his 'tricks'; which does not necessarily mean an accusation of illegality and is a far cry, apart from language barriers, from the 'cheating' used by Verstappen.
"Perhaps it is no coincidence that Lewis Hamilton won his first title in the second season in F1 and Max, after five, is still chasing his."
However, it wasn't only the Dutchman who earned his ire.
He added: "Of course in this whole affair we have never heard directly from Toto Wolff and co.
"A matter of style, some will say; in order not to get their hands dirty, the detractors will reply."
Follow us on Twitter @Planet_F1 and like our Facebook page.