Verstappen not worried after hydraulic issue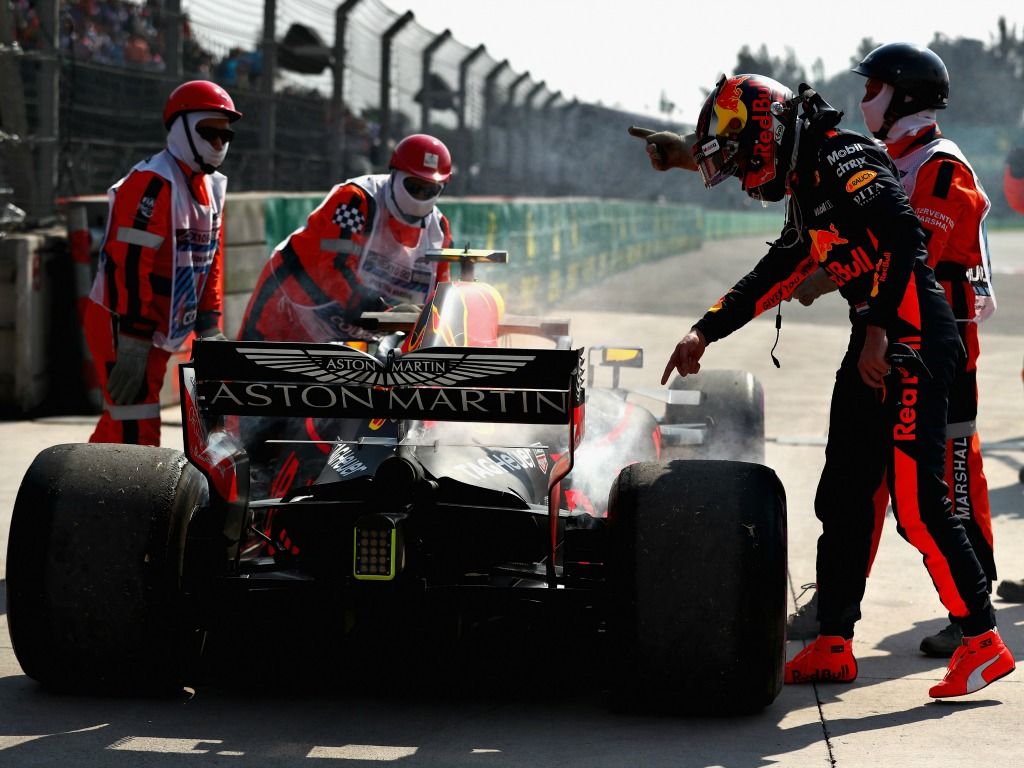 Max Verstappen is not too worried about his Red Bull after a hydraulic failure caused him to pull over and stop during FP2 in Mexico.
The Dutchman was travelling at full speed down the main straight when his dashboard cut out and his steering went heavy.
Verstappen managed to go straight on at the first chicane, and pulled his car into a marshal's post at the exit of the Turn 1-2-3 complex.
Before the issues, both he and his Red Bull team-mate, Daniel Ricciardo, had dominated the second practice session.
The pair were over a second quicker than the rest of the field in the qualifying sims run on the hyper soft tyres.
Verstappen explained that the pace is purely down to how good the car is, and that he is not too bothered by the issues.
"For the moment not [worrying]," Verstappen said.
"I think it was a hydraulic failure but we don't know what it is exactly because the car is still over there, but we will find out.
"We have a good car, good downforce, good mechanical grip. We knew that.
"I mean, you could already see that in Monaco, of course. Today, again, it worked really well."
Despite the pace, Verstappen is not sure whether it will be enough for Red Bull to take pole on Saturday, once the Ferrari and Mercedes 'party modes' are put to use.
"I hope so, but we will find out tomorrow," the Dutchman added.
"Obviously, today has been really good but we have to keep on working, of course, to be better."
Daniel Ricciardo finished in P2 in both sessions on Friday, and despite the gap between Red Bull and the rest, he still believes it will be a six-way fight for pole come Saturday afternoon.
"If it stays like this, then yeah, it's between us [Ricciardo and Verstappen for pole], but I don't want to be naive. I'm sure Ferrari and Mercedes will come on strong tomorrow," Ricciardo said.
"We'll see what happens. I hope they don't. It could be a close six-way fight for pole. I think that would be pretty exciting."
Red Bull team boss Christian Horner also expects Ferrari and Mercedes to bounce back on Saturday, but he is not quite sure that their 'party modes' will claw back the deficit in Mexico.
"They're, for sure, going to get their party modes going tomorrow but the question is how much will it give them at this altitude?" Horner questioned.
"Last year, we missed out by a tenth on the pole.
"This year it would be great to go one better.
"If Max could do it, it would make him the youngest ever pole sitter so there is everything to go for this weekend."
Horner, like Verstappen, is not quite sure of the exact cause of the problem to the 20-year-old's car yet though.
However, the team boss does not seem too worried, and does not think the Dutchman would need to take a penalty should his RB14 require an engine change.
"It is a hydraulic issue of some sort. So we need to get the car back to understand what has caused it," he added.
"Then if it is an engine change, he still has one in his pool so he should be alright. But we need to get the car back first to understand it.
"Well for him, it was immediate because the steering went heavy. The hydraulics run everything on these cars, the power steering, the throttle etc. etc.
"Everything went heavy for him so he brought the car to a sensible halt so we just need to get the car back now."
Red Bull will look to carry their good form into Saturday, having finished 1-2 in both FP1 and FP2 on Friday.
Follow us on Twitter @Planet_F1 and like our Facebook page.