Verstappen puts an end to Schumi's dream debut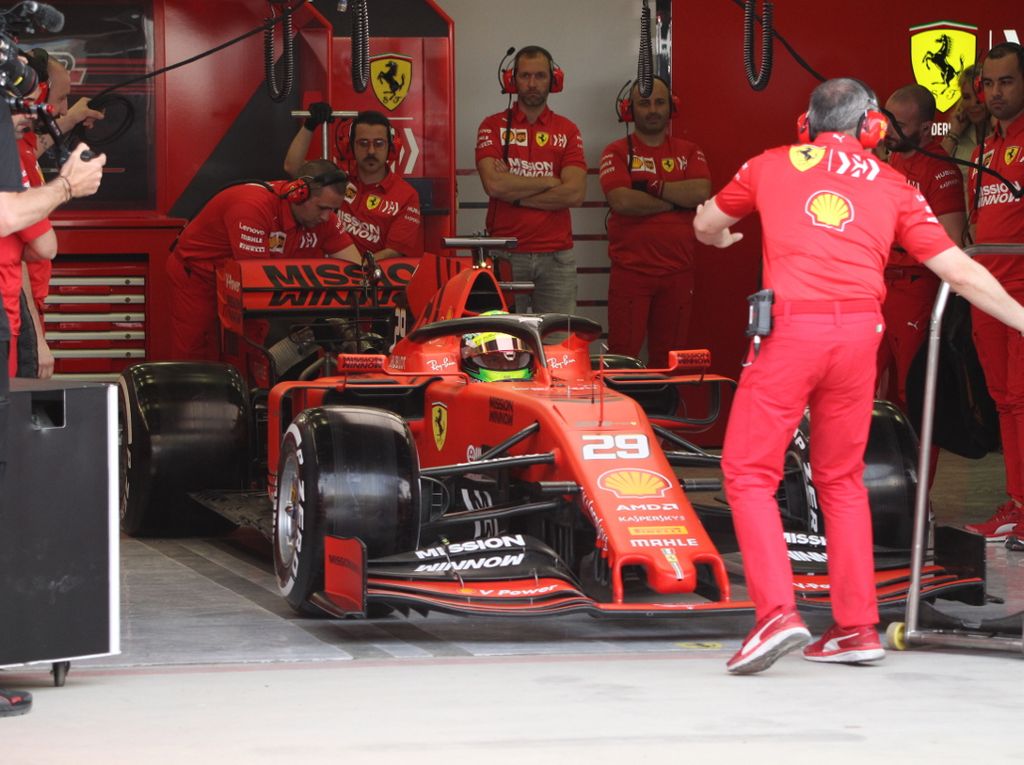 With five minutes of play left at the Bahrain circuit on Tuesday afternoon, Max Verstappen put an end to Mick Schumacher's dream debut as he pipped the Ferrari driver by 0.6s.
Schumacher, the son of seven-time F1 World Champion Michael, made his Formula 1 debut on Tuesday as the Ferrari young driver tested the SF90 at the Bahrain International Circuit.
Any first F1 test is special for the driver 🙏

This one is for a lot of you, too 👏@SchumacherMick on track in the @ScuderiaFerrari #F1 🐎 #F1Testing pic.twitter.com/xpS1xxTX0T

— Formula 1 (@F1) April 2, 2019
The day's action got off to a delayed start as a track inspection was carried out in the wake of Monday's sandstorm.
Fernando Alonso, back in action for McLaren as he conducts a Pirelli tyre test, briefly led the way ahead of Lewis Hamilton before Romain Grosjean seized control of the timesheets.
Fernando is out under the @BAH_Int_Circuit lights setting laps for @pirellisport. 👌 #F1Testing pic.twitter.com/nYoh6eCsEa

— McLaren (@McLarenF1) April 2, 2019
After two hours of running, the Haas driver was P1 with a 1:31.256 putting him 0.158s up on Verstappen. Alexander Albon in the Toro Rosso was third.
The Thai racer was the next to lead only for Grosjean to come back with a 1:30.982.
There was a momentary lull in the action as the forecast rain arrived at the circuit just after 11am with a short downpour making conditions ever more tricky as the water mixed with the dust and sand.
In the hour before the midday break, Schumacher improved to eighth place with a 1:32.552 as he covered 33 laps on Tuesday morning.
Moments later the rain returned, sending all the drivers back to their respective garages with the rain keeping everyone off the track for almost four hours.
Looks like we won't be running for a while then. That rain's back again. 😕#HaasF1 #F1Testing pic.twitter.com/0mGYgG5tkJ

— Haas F1 Team (@HaasF1Team) April 2, 2019
Hamilton broke the silence with 80 minutes left in the day's play, prompting a queue of cars – including Haas test driver Pietro Fittipaldi and Williams' Robert Kubica – to venture out.
The final hour saw a spate of drivers laying down fastest laps with Schumacher leading with a 1:30.222 before improving to a 1:29.976.
But with five minutes remaining, Verstappen crossed the line with a 1:29.379 to beat the Ferrari youngster by six-tenths of a second.
Any chance of beating Verstappen's time was brought to a premature end as Lance Stroll stopped out on track.
The Racing Point driver's red flag the only stoppage of the day.
Verstappen concluded the day fastest of all ahead of Schumacher and Lando Norris while the morning's P1 driver, Grosjean, fell to fourth.
Albon, Hamilton, Daniel Ricciardo and Stroll completed the top ten ahead of Carlos Sainz and Antonio Giovinazzi.
Times
1. Max Verstappen Aston Martin Red Bull Racing Honda 1m 29.379s 62 laps
2. Mick Schumacher Scuderia Ferrari 1m 29.976s 56 laps
3. Lando Norris McLaren F1 Team 1m 30.800s 22 lap
4. Romain Grosjean Rich Energy Haas F1 Team 1m 30.982s 42 laps
5. Alexander Albon Red Bull Toro Rosso Honda 1m 31.089s 71 laps
6. Lewis Hamilton Mercedes AMG Petronas Motorsport 1m 31.156s 77 laps
7. Daniel Ricciardo Renault F1 Team 1m 31.584s 45 laps
8. Lance Stroll SportPesa Racing Point F1 Team 1m 31.964s 33 laps
9. Carlos Sainz McLaren F1 Team 1m 32.059s 32 laps
10. Antonio Giovinazzi Alfa Romeo Racing 1m 32.067s 53 lap
11. Fernando Alonso McLaren F1 Team 1m 32.207s 64 laps
12. Pietro Fittipaldi Rich Energy Haas F1 Team 1m 32.708s 20 lap
13. Robert Kubica ROKiT Williams Racing 1m 33.290s 19 laps
14. Daniil Kvyat Red Bull Toro Rosso Honda 1m 33.653s 45 laps
15. George Russell ROKiT Williams Racing 1m 33.682s 27 laps
Follow us on Twitter @Planet_F1 and like our Facebook page.