Max Verstappen pitted five times on his way to the German GP win as Sebastian Vettel raced from P20 to P2, Lewis Hamilton lost his front wing and Charles Leclerc blotted his copybook.
After too many grands prix where the meteorologists said it would rain and it didn't, the rain forecast for the German Grand Prix fell in buckets – the first wet race of 2019.
That meant formation laps behind the Safety Car until such a time as the track was dry enough for a standing start – and wet weather tyres for everyone. After just one lap, Lewis Hamilton: "Safety Car needs to come in already, it's not even that wet, let's go."
Thankfully the FIA saw reason and, after a handful of formation laps behind the SC, a standing start for a 64-lap German GP was called.
UPDATE: Safety Car will enter the pits – it will be a standing start!

Let's do this, Team! 👊#GermanGP #Motorsport125 pic.twitter.com/3jykzSscDB

— Mercedes-AMG F1 (@MercedesAMGF1) July 28, 2019
Hamilton made a great start while Max Verstappen did not, allowing Valtteri Bottas up into second place while Kimi Raikkonen jumped to third ahead of Verstappen. Nico Hulkenberg and Romain Grosjean touched wheels with the Frenchman losing out while Charles Leclerc went from P10 to P6. Sebastian Vettel shot up from 20th to 14th on the opening lap.
Watching what could only be called a slo-mo grand prix as the driver adjusted to the conditions, Hamilton was flying with clear air and clear vision ahead while Verstappen took third off Raikkonen and Vettel overtook his former team-mate Daniel Ricciardo for P13. Sergio Perez was the first man to spin, and the first to crash, hitting the wall at Turn 11 with his SportPesa Racing Point.
Hockenheim has officially become the world's fastest waterslide park #GermanGP pic.twitter.com/mW1t3bvOKx

— iGP Manager (@iGPManager) July 28, 2019
Out came the Safety Car and in came drivers, including Vettel, swapping their full wets for inters. Hamilton was then told by Mercedes to "box" as others – except Magnussen, Stroll, Norris and the Williams – pitted.
The race resumed on lap 4 with Hamilton immediately pulling away on his inters with Bottas and Verstappen making short work of Magnussen with Leclerc and Hulkenberg following them through two laps later. Further back Vettel was up to P8, passing three drivers on one lap alone!
'Pass Magnussen' day continued at the Hockenheimring with Raikkonen the next to put his inters to good use with Vettel stuck to his former team-mate's rear wing and also through. Magnussen pitted, conceding Haas had made the wrong call and swapping the wets for inters. The other four who stayed out, pitted.
Ricciardo added his name to the retirement list – an engine failure for the Renault driver. The VSC came out with Leclerc and Hulkenberg into the pits, both swapping inters for inters.
LAP 16/64

And Ricciardo's race is over as his Renault comes to a halt#GermanGP #F1 🇩🇪 pic.twitter.com/K4lUiEg7am

— Formula 1 (@F1) July 28, 2019
Carlos Sainz almost joined Ricciardo in retirement as he spun off the track and somehow avoided the barrier. 10/10 for that pirouette! Just behind him Lance Stroll and Kevin Magnussen battled for position with the Racing Point driver introducing the Haas man the track limits. With very little to lose, Haas pitted Magnussen for slick tyres – the first to take the gamble.
A lap later Ferrari did the same with Vettel with Verstappen the next in. He was right on Bottas's rear wing when Red Bull pitted him, opting for the medium Pirellis. He came out P4, losing a position to Leclerc. That prompted furious action in the pits as many more came in, including Bottas. He came out ahead of Verstappen as the Red Bull driver had a rather impressive spin, so too did Stroll on his slick tyres.
Leclerc stopped a lap after Bottas, soft tyres for the Ferrari man who went P2 to P2 as VSC came out for Lando Norris' retirement. Hamilton then pitted from the lead but Mercedes pitted him as the VSC ended, negating the free stop. That, though, didn't matter as Leclerc, his closest rival, crashed. "No!" screamed the driver – and every Ferrari fan. The Safety Car came out, Vettel – Ferrari's only remaining driver – pitted for a new set of inters as Ferrari decided it was too wet.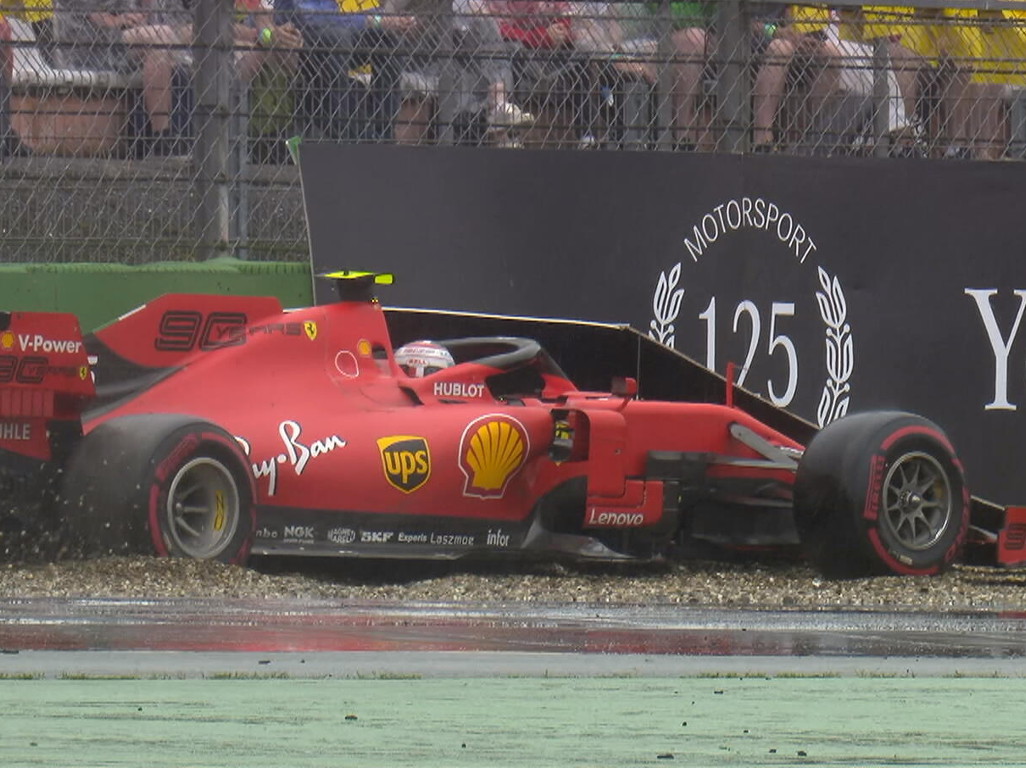 The drama continued as Hamilton was the next off the track, destroying his front wing. He had to return to the pits for tyres and a new nose but Mercedes weren't ready and the stop took 50.3s as there was also tyre drama as the team tried to figure which set belonged to the Brit. Hamilton came out P5 and facing a five-second time penalty for pitting on the wrong side of the bollard with Verstappen leading ahead of Hulkenberg and Bottas.
The race resumed on lap 34 with Verstappen relishing the clear air ahead and quickly building a gap over Bottas and Hamilton, who made short work of Hulkenberg. Hamilton, though, was under investigation – again – for his slow driving behind the Safety Car. The Safety Car made another appearance as Hulkenberg understeered off the track and into the barrier.
HULKENBERG JUST LOST ANOTHER CHANCE AT A PODIUM

THIS CRASH IS SO SLOW AND SAD I'M GOING TO CRY pic.twitter.com/FgkLipipLx

— iGP Manager (@iGPManager) July 28, 2019
This gave Verstappen and Vettel the opportunity to pit again for fresh inters, however, Hamilton was told if he stopped he would have to take his five-second time penalty. He stayed out and the race resumed on lap 46 with the Brit under pressure from Carlos Sainz and Pierre Gasly while Verstappen cleared away from Bottas with ease.
Another round of pit stops followed with Hamilton and Bottas swapping to slicks while Hamilton stayed out ahead of Raikkonen and Vettel. With slicks the better option the trio pitted, Hamilton took his penalty, and Lance Stroll led the German GP but for less than a lap as Verstappen easily powered past. Daniil Kvyat was third, make that second as his DRS'ed his way past Stroll.
While Bottas hounded Stroll for a spot on the podium – never thought we'd say that – Hamilton spun his way off the track. He pitted for a fifth time, rejoining in last place. But it turned out Hamilton's troubles weren't as bad as Bottas as, fighting Stroll, he spun and crashed into the barrier. Game over for the Finn. The Safety Car was out and Hamilton pitted for the sixth time.
#BOT crash!!! pic.twitter.com/GmPR1aKvIP

— Adrian Puente F1 (@TelemetricoF1) July 28, 2019
Five laps were all that was left when the Safety Car pitted with Verstappen easily ahead of Kyvat at the restart while Stroll was forced to defend from Sainz. His saving grace, Sainz had to defend from Vettel. A huge cheer from the German crowd as he made his way past the McLaren, into fourth, and chasing down Stroll for the podium.
Vettel caught the Racing Point on the third last lap and easily stormed by to run P3. His next target was Kvyat and then went off without a hitch, or even a minor drop in momentum. The drama, though, wasn't over as Gasly retired his RB15 having tagged the Toro Rosso of Alex Albon.
His team-mate Verstappen raced to the win, his second of 2019, while Vettel was second at home having started P20. Kvyat competed the podium in third place.
Stroll, Sainz, Albon, Raikkonen, Giovinazzi, Grosjean and Magnussen completed the points. Grosjean and Magnussen collided, again, although this time neither retired.
Oh and Hamilton, pitting six times and penalised, still beat the Williams drivers.
The drama did not stop there as, a few hours after the race, Kimi Raikkonen and Antonio Giovinazzi were both slapped with 30s penalties after Alfa Romeo were found in breach of the rules relating to driver aids at the start.
That put Hamilton into the points and, quite incredibly, Robert Kubica and Williams!
Result
1 Max Verstappen Red Bull
2 Sebastian Vettel Ferrari 7.333s
3 Daniil Kvyat Toro Rosso 8.305s
4 Lance Stroll Racing Point 8.966s
5 Carlos Sainz McLaren 9.583s
6 Alex Albon Toro Rosso 10.052s
7 Romain Grosjean Haas 16.838s
8 Kevin Magnussen Haas 18.765s
9 Lewis Hamilton Mercedes 19.667s
10 Robert Kubica Williams 24.987s
11 George Russell Williams 26.404s
12 Kimi Raikkonen Alfa Romeo Racing 42.214s
13 Antonio Giovinazzi Alfa Romeo Racing 43.849s
Did not finish
Pierre Gasly Red Bull crash
Valtteri Bottas Mercedes crash
Nico Hulkenberg Renault crash
Charles Leclerc Ferrari crash
Lando Norris McLaren hydraulics
Daniel Ricciardo Renault engine
Sergio Perez Racing Point crash
Follow us on Twitter @Planet_F1 and like our Facebook page.