Sebastian Vettel has defended Ferrari's "aggressive" strategy at the Singapore Grand Prix, saying if it worked it would have been "great" – but it didn't.
Ferrari arrived at the Marina Bay circuit with many predicting a fifth Singapore win for Vettel.
It didn't happen.
He lost out to Lewis Hamilton and Max Verstappen in qualifying and it was more of the same in Sunday's 61 lap grand prix.
Read more: Conclusions from the Singapore Grand Prix
Ferrari tried for an aggressive strategy to give their driver a chance at the win, pitting him early and putting him onto the ultrasofts while his main rivals all went with the softs.
It didn't work out as they had hoped.
"I will always defend the team," Vettel told Autosport.
"The decision we took in the race to try and be aggressive, if it works then it's great.
"Today it didn't work. It didn't work by quite a bit. So we need to look into that.
"But we saw something and that's why we went for it.
"Inside the car it's difficult to keep on top of everything because you cannot see where you come out etc.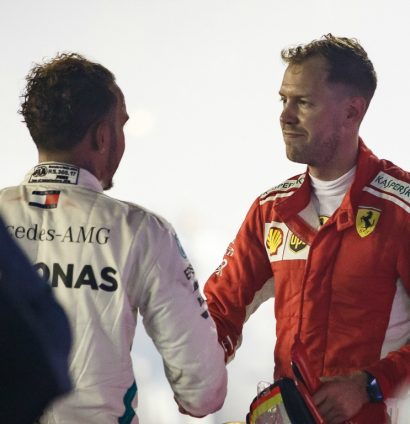 "Overall if you see the gap at the end it was clear that we were not fast enough in the race. We need to understand why.
"It's largely down to how we decided to race and which tyres and for how many laps, etc.
"With what we did, we tried to get to first position and get ahead. But Lewis was too quick.
"Once you are ahead you can control the pace around here, but we never got ahead."
Sunday's result means Vettel trails Hamilton by 40 points with just 150 still in play.
"Overall I think we had a very strong package, both Kimi and I looked very competitive throughout practice," Vettel added.
"In the end if you look at the race result we finished third and fifth. Like yesterday probably not where the speed of our car belongs."
Follow us on Twitter @Planet_F1 and like our Facebook page.