Sebastian Vettel was concerned by the contributing factors which led to Romain Grosjean's horrific crash at the Bahrain Grand Prix.
Starting from 19th on the grid, Grosjean tried to make up positions but was forced to take avoiding action as a piece of debris from Lance Stroll's Racing Point lay on the track.
Moving across, he made contact with Daniil Kvyat and shot off the track and into an Armco barrier where his Haas, sheered in half by the impact, burst into flames, immediately bringing out the red flags.
As the drivers made their way back to the pit lane, the Medical Car was on the scene within seconds with the Dr Ian Roberts and Medical Car driver Alan van der Merwe assisting the Haas driver as he leapt from his burning car.
Grosjean was airlifted to hospital with confirmed minor burns and possibly broken rib/ribs but it is a miracle he was able to walk away from the huge crash at all.
The rest of the Formula 1 grid have all been reacting to the shocking accident and Vettel was one of the first to question how an accident of such dramatic fashion was able to happen in the first place.
"I haven't looked at the images a lot as I didn't want to, but the main thing is he got out," Vettel said via Sky Sports F1.
"Obviously the guardrail is not supposed to fail like that, I mean it's good the cars are safer than they used to be in the past but the guardrail shouldn't fail and the car shouldn't catch fire in that fashion.
"I don't know what happened there. I think it's difficult to say at this stage but the main thing is obviously that he got out."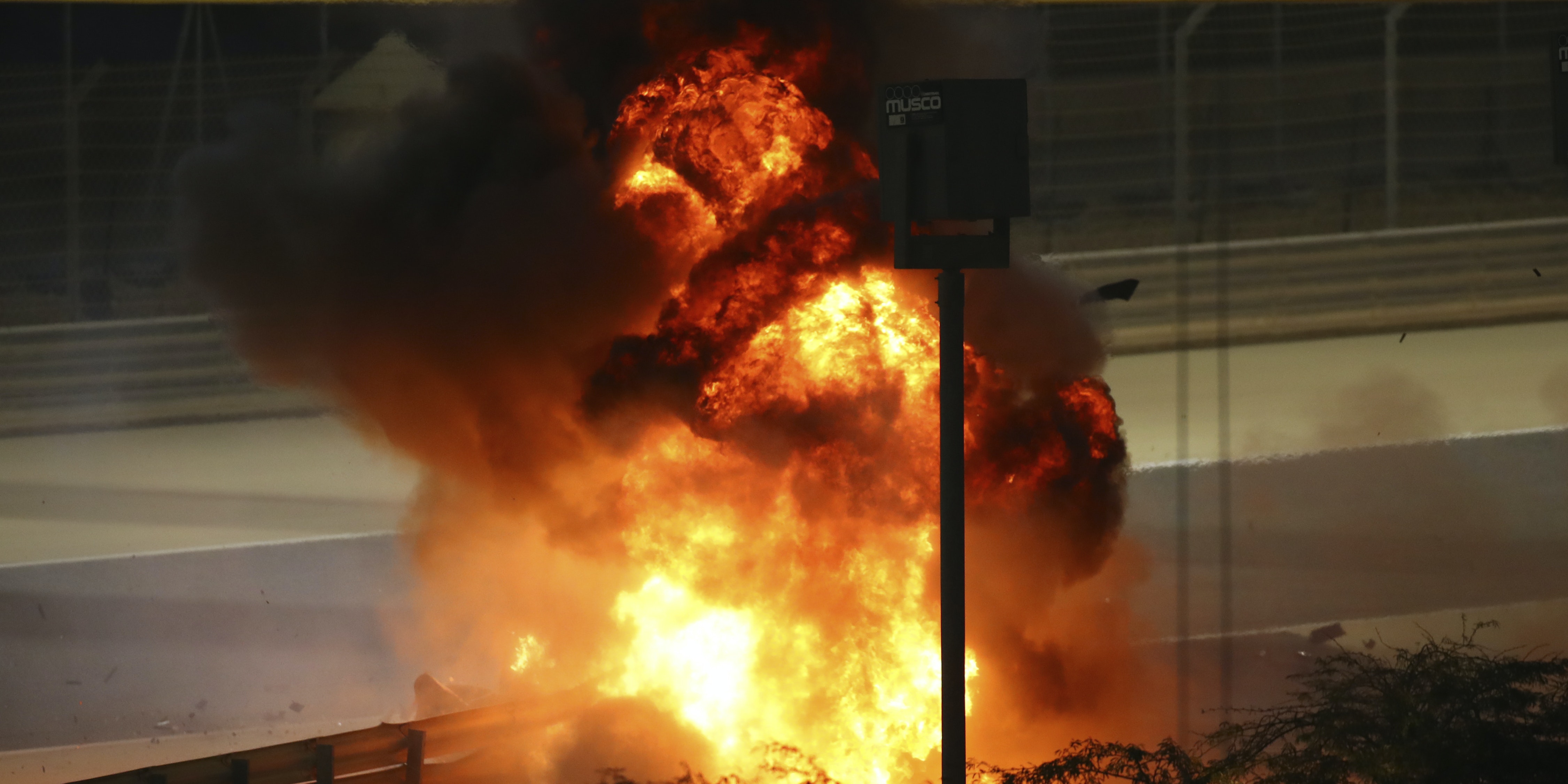 Formula 1 boss, Ross Brawn, has promised a "deep investigation" into the fiery crash.
"It's shocking for everyone in F1 to see an accident of that severity," Brawn said. "We're not used to that, fire being involved as well.
"But I think it's a tribute to the work that the FIA and the teams have done over the years. I think we remember the controversy of the halo when it was introduced. And I have to give credit to Jean Todt, because he insisted that it should come through.
"And I think today, we might be looking at a different situation that we didn't have the halo. And for me, that's what prised, and managed to keep the barrier apart, when the car went through it.
"But I'm sure we'll have a deep investigation to understand what we can learn from it. Because seeing a barrier split like that is clearly not what we want to see."
Follow us on Twitter @Planet_F1, like our Facebook page and join us on Instagram!