Vettel: Ferrari troubles a big 'pile of s**t'
Sebastian Vettel has blamed Max Verstappen for their Japanese GP coming together, the clash that may have put the final nail in his championship coffin.
Starting eighth after a disappointing qualifying in the race, Vettel quickly began to make up positions.
He was elevated to P4 when his team-mate Kimi Raikkonen traded paint earning the Red Bull driver a five-second time penalty.
However, rather than wait for Verstappen to take the penalty, Vettel locked horns with the Dutchman and came off second best.
He tried to overtake Verstappen at Spoon, the two made contact and Vettel spun off the track. He fell to 16th place.
From Vettel's view pic.twitter.com/UqzsGnGmcT

— iGP Manager (@iGPManager) October 7, 2018
Neither driver was penalised for the incident but Vettel firmly believes Verstappen was in the wrong.
Asked if he would think twice about tackling Verstappen in the future, he said: "I mean, I was obviously pushing to get past but I wasn't desperate to get past. I knew he had a penalty but I also felt that we were faster.
"And then he was clipping on that straight with the battery and I was catching and I got a good exit. Obviously the Safety Car helped us to be closer, and then the gap was there but as soon as he saw me, he defended.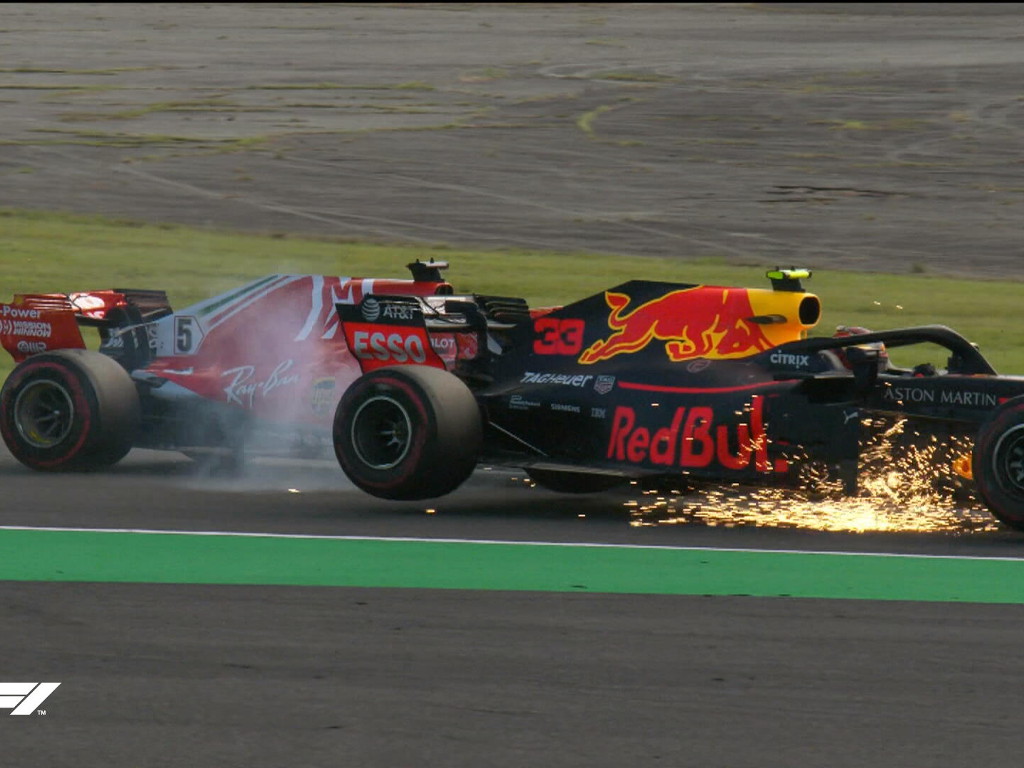 "I had the inside, but as soon as he realises that somebody is close or next to him he, in my opinion, tries to push when he shouldn't push anymore.
"I mean, look at [the] Kimi [incident], he is off the track and comes back and if Kimi just drives on they collide but it is not always right that the other guy has to move.
"I think we are all racing, the race is long. The gap was there, otherwise I don't do it. I think I got through the whole field without any trouble, sometimes closer, sometimes with more margin. It is normal that sometimes it gets close but you always leave a space and in that case I couldn't go anywhere, but then we touched.
"Do you ask him if he should think twice when he defends?
"In the end we are all racing. This is part of racing, don't get me wrong. I don't regret the move, but obviously with that outcome, you would do different.
"With hindsight it is always easy, but inside the car, the gap was there and his battery was clipping. I was boosting, I saved my battery, I had more speed, I made the corner, I was side-by-side and then he didn't give enough room and then we touched."
The German recovered to finish P6 on the day but lost further ground to Lewis Hamilton in the title race. He trails the Mercedes driver by 67 points with 100 still in play.
Vettel insists that despite Ferrari's recently troubles, billed as their "pile of shit", everyone is in the garage is as motivated as ever.
"It is about everybody and I think it is probably toughest.. I don't know. I find it quite inspirational. You walk in the garage and the guys are all fired up so that has certainly helped.
"It has not been an easy couple of weeks, this spirit in the team, considering how tough the past couple of weeks have been, is unbroken.
"It seems difficult from where we are but what do we have to lose? We give it everything we can.
"I think there are still some important things to understand and learn about the car. Obviously if races go like this then it is a bit of a handover but you know, I think we are trying our utmost to fight and resist and lets see what the next races bring.
"I think we had our pile of s*** so I don't think it can grow any bigger."
Follow us on Twitter @Planet_F1 and like our Facebook page.