Who is Logan Sargeant? All you need to know about F1's newest US driver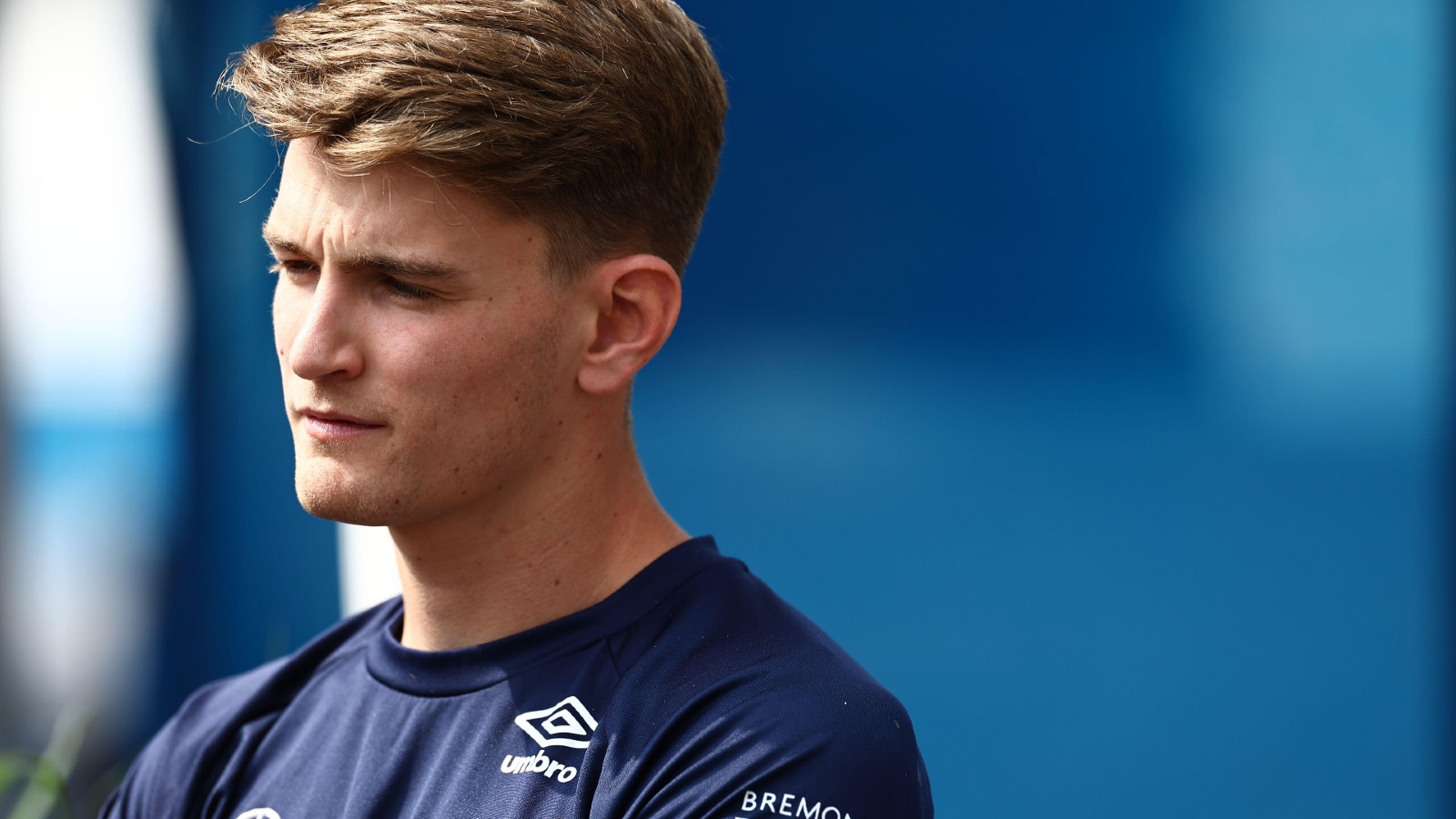 Logan Sargeant will make his Formula 1 debut with Williams in 2023, as a graduate of the Williams' Driver Academy.
Sargeant will be one of three rookies in Formula 1 in 2023, along with AlphaTauri's Nyck de Vries and McLaren's Oscar Piastri.
While De Vries has been around the upper echelons of motorsport for some time, due to his racing with Mercedes en route to a Formula E World Championship, and Piastri grabbed the attention of the world after his 2021 Formula 2 title by going into a contract battle with Alpine and McLaren, Sargeant goes into his rookie season as a relative unknown.
Here's all the key information you need to know about Logan Sargeant ahead of his 2023 Formula 1 debut.
Where is Logan Sargeant from?
Logan Sargeant hails from Boca Raton, near Fort Lauderdale in Florida, making him the only American driver on the grid and following in the footsteps of compatriots Alexander Rossi and Scott Speed – F1's most recent American entrants.
Born in December 2000, Sargeant will be 22 years old when he makes his Formula 1 debut at the 2023 Bahrain Grand Prix, with the last appearance of an American driver in a Grand Prix weekend being Alexander Rossi at the 2015 Brazilian Grand Prix.
Kicking off his motorsport career in karting in Rotax Micro Max, he made an immediate impression by winning the Florida Winter Tour and Rotax Max Challenge USA.
Climbing through the karting ranks over the coming years, Sargeant would have to leave the United States to take up some European championships – a move that paid off as he ended up winning the CIK-FIA World Championship in the KFJ class, the most high-profile championship win of several he racked up that year.
"A moment for me in my career was winning the 2015 World Championship in karting," Sargeant said of his time in karting.
"It was just a good way to sign off on the karting side and head into my formula career. Obviously, that helps you to get into a good team starting off in formulas.
"I was still super young, so a bit more naïve, and I just sort of always expected to win. We all want to win but I think I didn't realise how hard it was to win and now I do, I know to the extent that you need to work to get those wins.
"It's really different in the way that you felt afterwards. I feel much more satisfied now because of how much hard work I put into it."
Logan Sargeant moves into formula racing
In 2016, Sargeant joined Team Motopark for a crack at the Formula 4 UAE Championship. While not scoring any wins, his consistency netted him second place overall.
The F4 UK Championship was his primary focus in 2017, where another consistent year netted him two wins and 10 podiums on his way to third place overall.
Having dabbled in Formula Renault with R-ace GP, he committed to a season with the team for attempts at Formula Renault Eurocup and NEC. Solid campaigns both yielded race victories, securing fourth and fifth places overall respectively.
This was enough to secure a rise into Formula 3 for 2019, racing with Carlin. While this campaign proved difficult, scoring 19th overall, his appearance at the Macau GP showed Sargeant might be one to watch. On the uniquely challenging streets of the Asian city, Sargeant came home in third place.
"Even though I didn't win, it was still probably one of the most successful weekends in my career, considering I was a rookie, and we were able to get on the podium," he said.
"How it changed my career? I'm not 100% sure, but it definitely changed my life. The feeling that you get around there at those speeds is something that is really special and something I hope I get to do again at some point."
Continuing in Formula 3 for 2020, Sargeant's switch to Prema resulted in two race wins amongst six podiums – enough to secure third overall.
But Sargeant's career looked in danger of stalling out due to financial reasons, as he ended up having to stay in Formula 3 for another season in 2021, this time with the little-fancied Charouz squad.
But Sargeant proved a sensation, scoring points at 15 of 21 races, scoring podiums and even securing Charouz's first victory in F3.
"Helping drive a struggling team forward, I think that massively changed my career course because that ultimately ended with me getting into the Williams Driver Academy," Sargeant said of his time with Charouz.
"I knew I was very capable of winning, as I had previously done the year before. So, for me, it was just about really helping them try to get the car as good as we possibly could in the short amount of time that we had together."
Williams sign Logan Sargeant as an F1 driver
Sargeant had a quick look at GT3 racing during 2021 but, before the year was out, Williams announced the American as a new signing to their Driver Academy as new owners Dorilton Capital took control of the team. He took part in the F1 Young Driver Test with Williams in Abu Dhabi at the end of the season.
Sargeant also got a chance to make his Formula 2 debut before season end, a nondescript outing for HWA Racelab, but his upward momentum resulted in a full-time seat with Carlin in F2 for 2022.
During 2022, Sargeant came up as a mooted replacement for the struggling Nicholas Latifi, particularly as Sargeant began to shine in the middle part of the F2 season – taking second place in the feature race in Baku, before wins in the feature races at Silverstone and the Red Bull Ring.
With an F1 Super Licence becoming a possibility due to his strong results, FP1 appearances with Williams in Mexico, the US, and Brazil, and having kept his nose clean through the year, it became F1's worst-kept secret that Sargeant's F1 fate rested on his finishing position in the championship. Fourth place was enough to secure the necessary licence point weighting and, once his Super Licence was confirmed, Williams announced Sargeant as Alex Albon's teammate for 2023.
Sargeant thus follows in the footsteps of Nicholas Latifi and Lance Stroll in getting a chance to make their F1 debuts with Williams after being part of the team's Driver Academy. He's chosen the number 2 as his career number, taking over the number last used by Stoffel Vandoorne in 2018.
"I was told after Monza that the seat would be mine as long as I got my Super Licence," Sargeant revealed in Abu Dhabi.
"I think that was a good thing because that allowed me to sort of mentally come to terms with what was at stake going into Abu Dhabi.
"It gave me the correct direction in terms of preparation for Abu Dhabi, and by the time I got to feeling the pressure, I feel like it was manageable and I didn't let it sort of overcome me at that point."
Sargeant's focus for the winter is now on mentally preparing for his maiden F1 season, as well as getting his body physically ready for the 23-race calendar.
"I've been through the FP1s and I can feel my neck is reacting in a very positive way and getting much stronger," he said in Abu Dhabi, having carried out a day's driving at the post-season test.
"I've been with the team for over a year now. I've met everyone along the way and it didn't feel like I had to transition into the team, if you know what I mean. I felt like I was just returning home, it just felt normal, it felt natural and it was just great to get back to work with them."
Read More: F1 driver numbers: Which numbers will the 20 F1 drivers be using in 2023?