Why Fernando Alonso's age isn't a concern for Aston Martin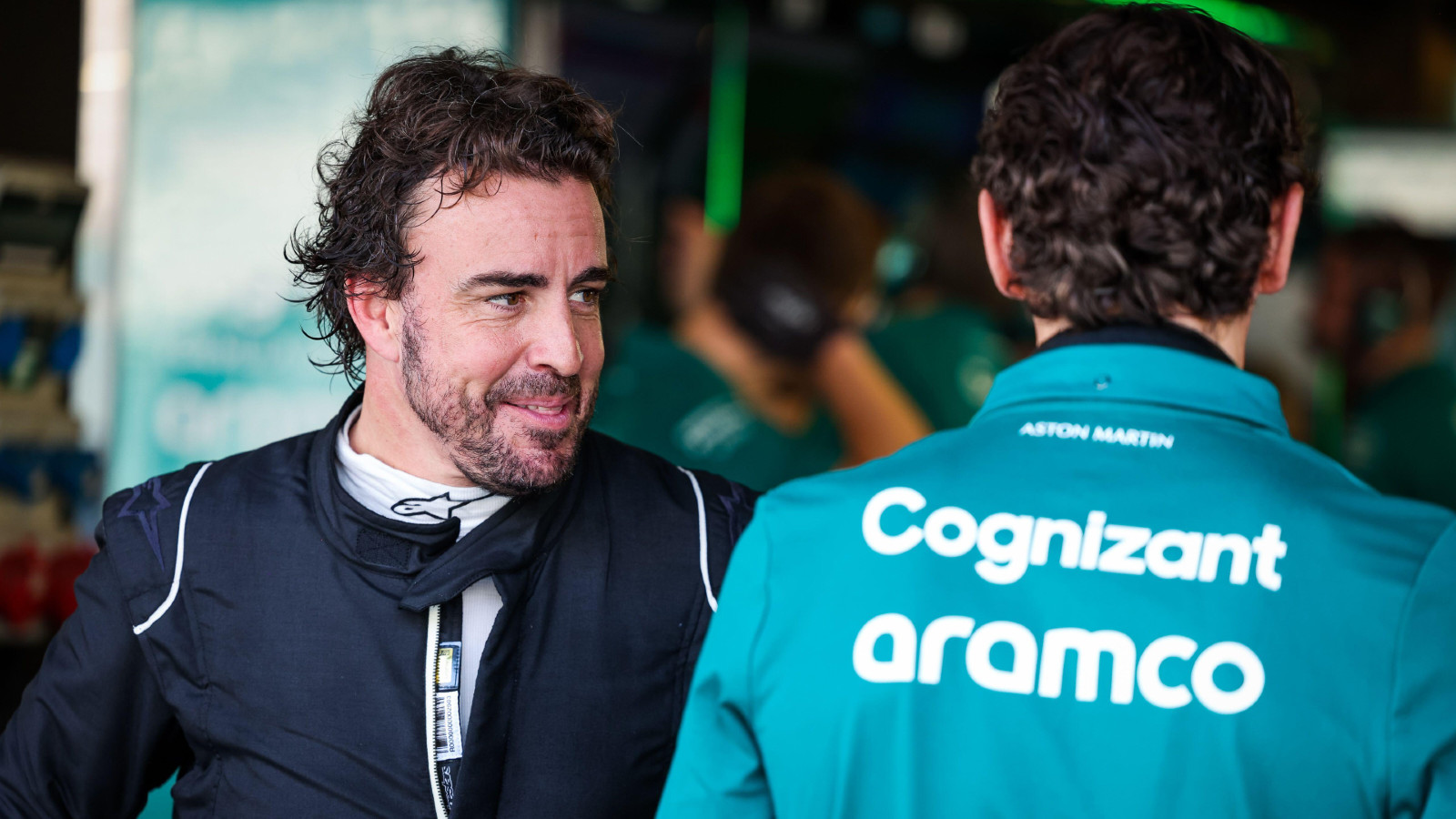 Fernando Alonso's participation in 2023 as Formula 1's oldest driver is of no concern to Aston Martin, Pedro de la Rosa has explained.
Alonso is embarking on a fresh adventure for 2023, as the two-time World Champion has made the switch to Aston Martin as the former Force India/Racing Point outfit continue their fightback from the back of the grid.
Alonso turned 41 years old during the summer and is the eldest driver on the grid by some margin following Kimi Raikkonen's retirement at the conclusion of the 2021 season. The Spaniard is three-and-a-half years older than Lewis Hamilton, with Nico Hulkenberg the third-oldest at 35 – replacing Sebastian Vettel in the position following his compatriot's retirement at the end of '22.
But there are no question marks over Alonso's performances declining in the near future, despite his age, according to Aston Martin ambassador Pedro de la Rosa.
The experienced test driver and former Arrows, Jaguar, McLaren, Sauber, and HRT racer recently became part of the Aston Martin squad, taking an interest in their junior driver programme as well as commercial opportunities.
Pedro de la Rosa reveals how ageing affected his driving
De La Rosa's final season of racing in Formula 1 was in 2012, with HRT, at the same age that Alonso is right now.
Reflecting on that time period and the years prior as he hit his 40s, De La Rosa was asked about whether he could feel the ravages of time affecting him on track.
"I don't think my performance declined," he told media, including PlanetF1, during Abu Dhabi testing.
"I don't feel like I was going any slower. In fact, I felt that experience was giving me that extra so I was a bit more complete.
"Obviously, I retired, or I had to retire because no team wanted me, but this is a different matter. But, what I felt in my last few years was that my eyesight was bad or was getting worse.
"It was not 100%, maybe it was 98 or so… I mean it's not a big deal, but I could feel that that was a factor. But then I raced with lenses, so I don't think that that was a big problem."
Elaborating on his eyesight issues, De La Rosa said that the deterioration would likely have played a bigger role in night-time racing than in daylight.
"At Le Mans, you could argue that it might be a bit more difficult," he said.
"In F1, honestly, I had no problem whatsoever. But the fact that we are talking about 99%, I mean, we're not talking about [me losing] suddenly 10% of my eyesight, you know?
"It was like 'maybe I'm losing a bit of my edge here', so I corrected that. I was racing my last season in 2012 with HRT, I was using contact lenses. That was that, honestly, I had no problems."
Aside from his eyesight, De La Rosa explained that there had never been an issue with physical fitness – as borne out by the strenuous oxygen level tests that drivers constantly undertake.
"Physically, every year you do the VO2 max test, you go through the same type of test that you do normally," he said.
"I was very close to my best, if not sometimes better so, honestly, I didn't feel a decline in my performance. I don't know how long you can go until you start feeling that, but if you feel, I mean, it has to be so, so progressive and gradual.
"I don't think motorsport is like any other sport in the fact that, in tennis or in football, when you start ageing, you suddenly start suffering injuries, and then you cannot test or train, and then you start getting into this circle of destruction. Because if you have to play a game, and you haven't been able to train, you don't perform, you get injured again, blah, blah, blah.
"But, in motor racing, as long as you have been lucky and you haven't had a bad accident, there's no reason to think that if your performance level is not 100% and declining with age, it has to decline at a very slow rate, which is difficult to perceive as well or to detect."
How ageing had an impact on Pedro de la Rosa's preparation and training
While turning 40 appeared to have negligible impact on De La Rosa's on-track abilities, the Spaniard admitted there were other constraints he had to take into consideration in his preparations.
"I was starting to do more cycling, and less running, just to protect the knees and the ankles," he said.
"When I was about 40, I started having a bit more back pain when I was running. So I started to stop running and doing cycling [instead]. So to concentrate on endurance levels, but not too full contact. We are talking about small little details, nothing severe, nothing that hampered myself."
But while De La Rosa felt turning 40 made little difference to him, the intervening 10 years since have made some difference in terms of his racing ability, if not his outright speed.
"If you ask me now, at 51, I can feel that I'm not as quick as I was reacting to a light," he revealed.
"I go karting every week and, when I go with another guy, I can tell that, when he makes a move, I'm not possibly at my best.
"Close, though! I mean, if you look at my lap times…!
"It's just these details that you have to pay a bit more attention to sometimes. I'm 10 years older than Fernando, and I think that the biggest issue for any racing driver, the thing that makes you click and say, 'I need to retire', or 'it's not safe anymore', or 'I don't want, I'm not enjoying it anymore', it is the travelling and never being at home.
"This is the biggest problem for guys like Fernando, myself, you know? Looking at Fernando [at the test], looking at his eyes, speaking with him doing the seat fitting here in the garage, you think 'I don't know how many more years this guy can continue' because he's the same Fernando that did the seat fitting with Minardi 20 years ago, 25!"
Read More: Pedro de la Rosa astonished by Alonso's career longevity: 'Fernando is not normal!'