'Why Fernando Alonso is stronger in his 40s than Michael Schumacher'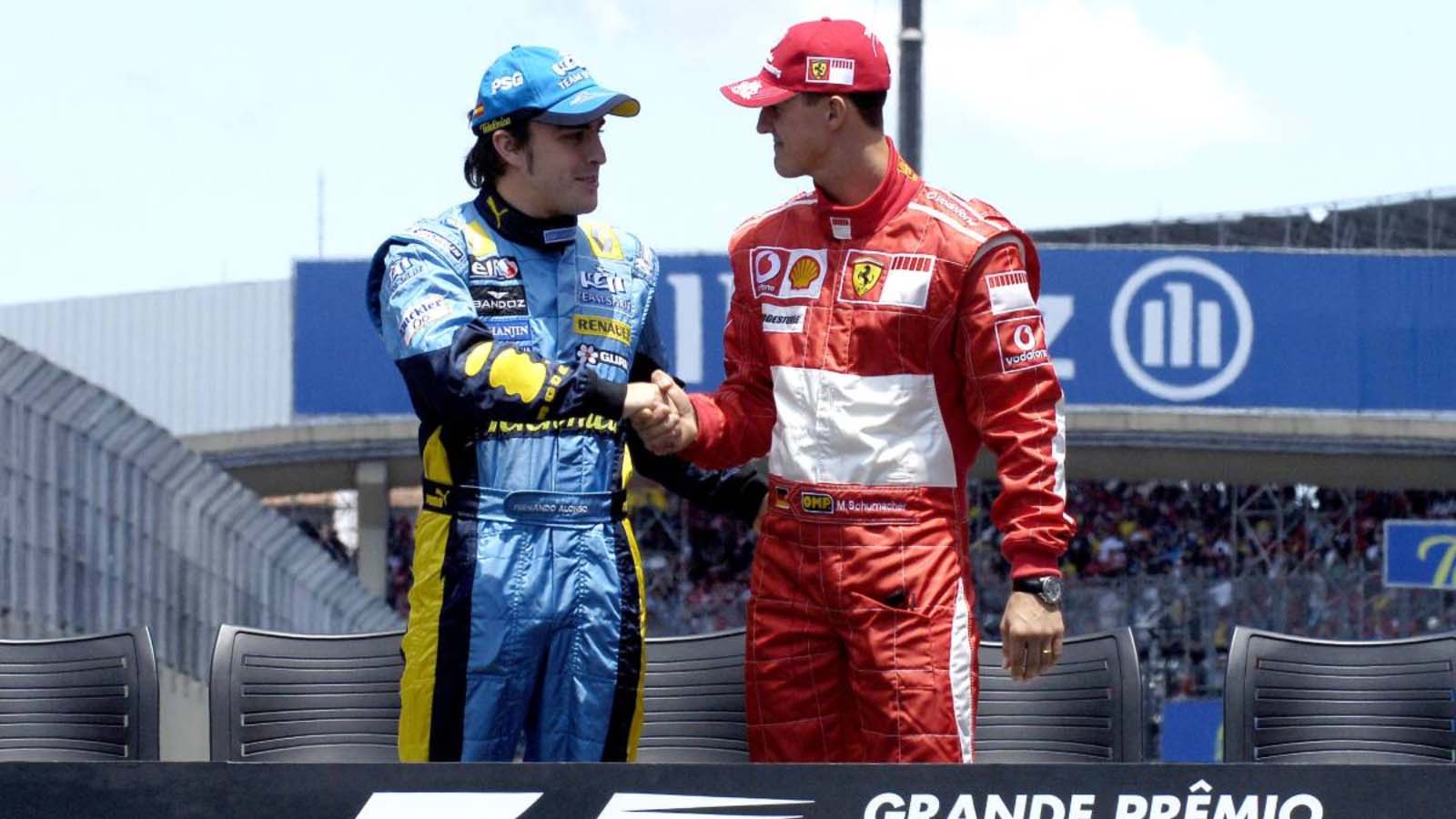 David Coulthard believes there's a key reason why Fernando Alonso lost none of his ability during his time away from F1, unlike Michael Schumacher.
Fernando Alonso has scored four podiums from the first five races in the 2023 season, and lies third in the Drivers' Championship, having made a well-timed move from Alpine to the Aston Martin squad for 2023 as the Silverstone-based squad's form has skyrocketed.
Despite being in his forties, usually the point at which a driver's edge has dulled in F1, Alonso remains as fearsome a competitor as ever, despite having taken two years out of Formula 1 a few seasons ago.
In 2018, following years of frustration with an underperforming McLaren-Honda partnership, Alonso called time on his F1 career but made it clear he viewed his stoppage as a sabbatical rather than retirement.
Two years later, he found a seat with Alpine and used his two years with the Enstone-squad to springboard his way into a seat with Aston Martin, where the Spaniard is re-igniting his career almost two decades on from his world titles with Renault in 2005 and 2006.
David Coulthard sees a key difference between Fernando Alonso and Michael Schumacher
Appearing on the Formula For Success podcast with former team boss Eddie Jordan, F1 race winner David Coulthard compared Alonso's sensational post-sabbatical form to that of Michael Schumacher's.
The seven-time World Champion retired from F1 at the peak of his powers at Ferrari at the end of 2006, but was tempted back to the sport by the burgeoning Mercedes project for the 2010 season. Putting in three seasons at Brackley, Schumacher showed flashes of brilliance but his form was littered with egregious mistakes and errors of judgement that seemed to indicate the waning of Schumacher's outright abilities.
Examples of this included bizarre crashes into the back of Bruno Senna and Jean-Eric Vergne under braking at the 2012 Spanish and Singapore Grands Prix, respectively.
Coulthard compared the two, and said he believed there's a key difference between Alonso and Schumacher's approach that made all the difference in the success of their comeback.
"When Alonso stepped away from Formula 1 the first time, he went straight into sports cars, IndyCar, he did the Dakar, he's got a kart track and you see him out testing his karts at his facility in Spain," Coulthard said.
PlanetF1.com recommends
Eddie Jordan accuses Fernando Alonso of 'chasing the money' in F1 career
How McLaren helped stranded Nyck de Vries after abandoned Faenza visit
"So the uninterrupted being in the mode of being a racing driver, and all of the things that that keeps sharp in your mind. There's the expression, 'Don't let the old man in'.
"If you let the old man or the old woman in that, ultimately, is what you end up becoming. But, if you fight against that and you keep a young spirit for as long as nature will allow…
"I think, in comparison to Michael, who stopped and no longer was racing, then went and played in motorbikes and then had a crash and broke a vertebra, and then came back to Formula 1 three years after he'd originally stopped – he could still do go through the motions. He was still an incredible individual, but he just wasn't as good as he had been before he was in his 40s and the clock had moved.
"So I think it was that uninterrupted nature of Fernando's time away from F1, as we saw with Kimi Raikkonen [who sat out 2010 and '11] as well – he went away rallying."
David Coulthard opens up on his own F1 career end
Coulthard, once a thorn in Michael Schumacher's side as the pair didn't always see eye-to-eye as racing rivals at McLaren and Ferrari respectively, spend his twilight years in F1 at the new Red Bull Racing project.
Still an ambassador for Red Bull all these years later, Coulthard proved instrumental to the team's early successes as he brought experience and a steady hand to the cockpit between 2005 and '07 as well as playing a part in convincing Adrian Newey to switch from McLaren to the Milton Keynes-based squad.
But 2008 saw Coulthard's form fall away, with his career ending with a first-corner retirement at the Brazilian Grand Prix, and the Scot admitted that he knew throughout the season that his time in the sport had come to an end – a state of mind he doesn't see in Alonso just yet.
"I'd run out of time, which basically means my talent was on the wane," he said.
"Arguably, if I could have stopped halfway through the 2008 season, it would have saved me and the team a bit of crash damage because, in my experience, you don't lose the speed as such, but the need – the absolute desire to fight over every thousandth of a second is what suddenly goes.
"I liken it to what I imagine a boxer is like when he or she is young, and they're at the beginning of their career where they get knocked down occasionally – it's part of the sport, isn't it? When they're young and just fully energetic, they get up even when their eyes are spinning, like you know something off a cartoon.
"Then you see them later in their career and they've taken a beating and they go down. You can kind of see their eyes come up and look around the ring and think 'This canvas is quite comfortable. I think I'll just wait here until I hear number 11 and I know the fights over!'
"I think you lose that fighting spirit. I basically crashed out of my last Grand Prix in Brazil 2008 and never regretted that I was no longer a Grand Prix driver. Although the money is not quite as good in podcasting as it is in Formula 1!"