Four reasons why Lewis Hamilton to Ferrari rumours make zero sense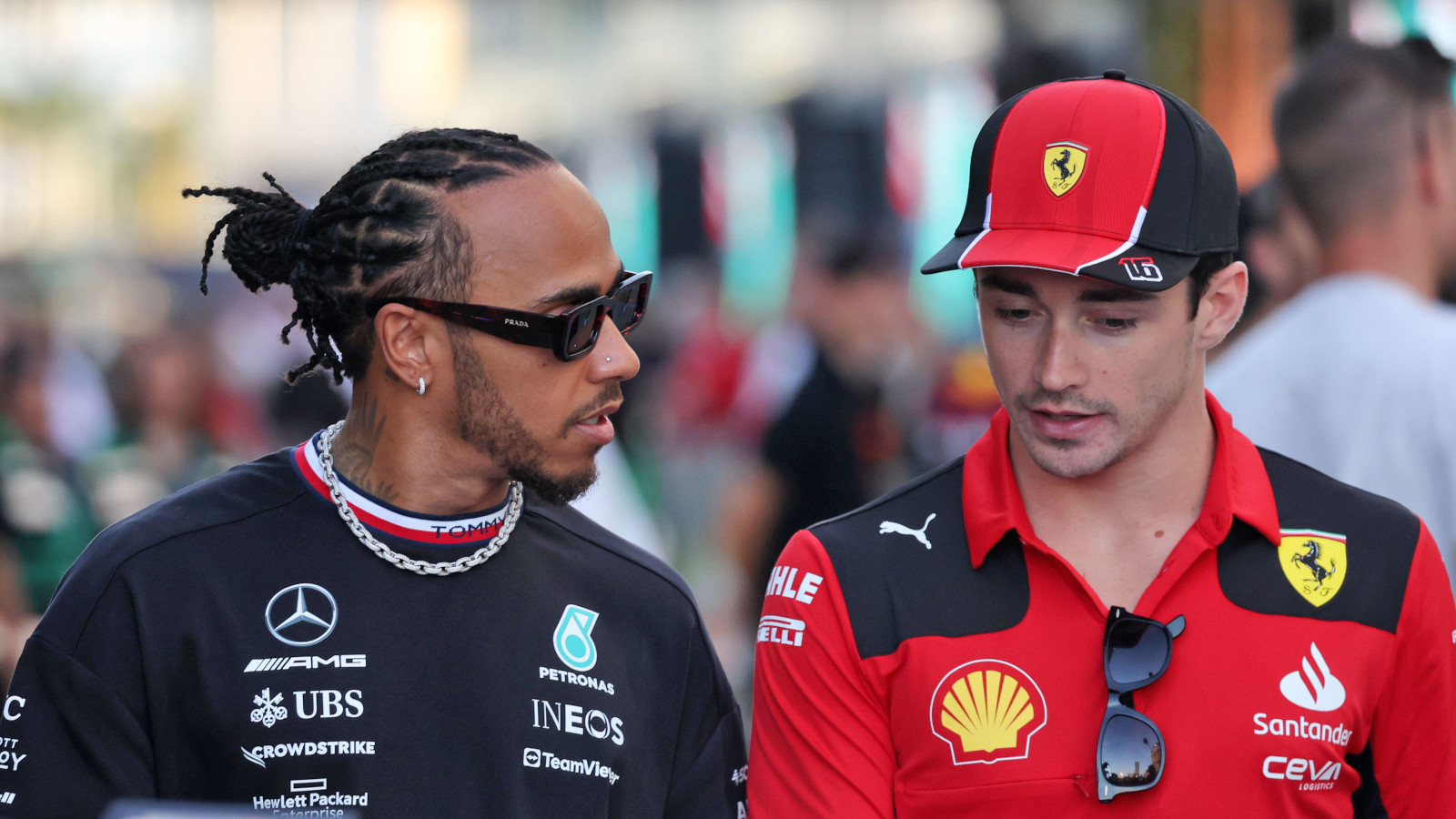 Lewis Hamilton has again been linked with a switch to Ferrari but it is a move that would make little sense for either party.
Hamilton's contract has been one of the most talked about off-track topics of the season with the Brit still to put pen to paper on a deal that would see him race for the Silver Arrows beyond the 2023 season.
Heading into the new year, there was every anticipation that an extension on the deal he signed in July 2021 was just a formality with Hamilton not ready to hang up his gloves just yet.
But almost six months into 2023 and still Hamilton's future remains in doubt with just 17 races left on his current deal.
From the outside, it would appear Hamilton is waiting to see how competitive the car can be in the future with Mercedes bringing major upgrades to the Monaco Grand Prix, but a report on Sunday linked Hamilton with a move away from Brackley and to Maranello – and not for the first time.
Mail Sport claim Ferrari are preparing a £40 million deal to entice Hamilton away from Mercedes and seek his eighth World Championship, but would that move be a wise one?
Here are the four reasons why Lewis Hamilton to Ferrari rumours make zero sense.
Lewis Hamilton's salary poses problems for Ferrari
To kick things off, let's take a look at the numbers. According to Forbes, Hamilton is earning a base salary of $55 million a year on his current contract which translates to roughly £44 million. Therefore, if the Mail's numbers are correct then Hamilton would be taking a pay cut to move across to Maranello.
Hamilton had suggested in the past it was a dream to race for Ferrari but as to whether he would be willing to take a hit in his wallet to fulfil that dream remains to be seen.
But it is not Hamilton's view on the salary that would be detrimental to the team, but instead Charles Leclerc's.
The Mail reports that Ferrari intends to pair Leclerc with Hamilton and even if the Monégasque has already seen off a former multiple World Champion in the form of Sebastian Vettel, how would the 25-year-old feel about his partner earning just under four times the amount he does? Which brings us onto our second reason.
Lewis Hamilton's arrival poses a risk of upsetting Charles Leclerc
The temptation to bring in a seven-time World Champion and the most famous name on the grid is obvious but Ferrari need to ask themselves, at what cost?
Leclerc and Hamilton are separated by 13 years of age meaning it is pretty obvious the future is with the former. The five-time race winner is already growing a little frustrated at not being named outright number one driver against Carlos Sainz and those frustrations would increase ten-fold should Hamilton move across.
Sure, Hamilton would be a great person for someone like Leclerc to learn from, but he will not be as willing to play the student role as he was when he first moved to Ferrari and partnered Vettel.
Leclerc's contract ends in 2024 and should this hypothetical partnership not hit the ground running, Ferrari may find they have lost their future.
Where does Lewis Hamilton have the better chance of winning?
At 38 years of age, it is clear to see what motivates Hamilton to continue in the sport – winning. Having come so close in 2021, Hamilton is on a mission to move past Schumacher and take the record for the most World Drivers' Championships.
The question then becomes, does Hamilton have a better chance of doing that at Mercedes or Ferrari? Since the start of 2022, Ferrari have won four races to Mercedes' one and enjoyed three more podiums but neither team were realistically close to challenging for either title.
In terms of the future, it is not yet clear which horse would be the best to bet on. Ferrari seem to have the current speed advantage but the situation at Maranello includes a staff exodus, interference from higher-ups and a new team principal who seemingly does not yet have his feet fully under the table, making it a less-than-ideal working environment.
Meanwhile at Mercedes, yes they may have issues with the W14 but the one thing that they have always been strong with is the staff dynamic. Very rarely is there any talk of discontent within the walls of Brackley and the team are a big believer in the key to long-term success being a happy workforce.
So if you looked at it on paper, you would say there is just as much chance of Mercedes finding success in the future as there is at Ferrari. Not to mention Hamilton would also have a more powerful voice if he stayed in Mercedes whereas he may find himself overruled more often should he switch to Maranello.
Lewis Hamilton risks losing his legacy at Mercedes
The final reason why is the risk Hamilton has of losing his legacy at Mercedes. When Hamilton finally retires, he will be remembered as statistically the most successful driver of all time and he did most of it from the seat of a silver Mercedes.
His association with the Silver Arrows stretches even further back than that for when Hamilton first drove in F1, he did so in a Mercedes-powered McLaren.
He is the driver who has been at the same team for the longest time, just one short of Schumacher's record 11 seasons with Ferrari, and such stints are rare in Formula 1.
Reports earlier in the year suggested that as part of a new deal, Hamilton was seeking a long-term role within Mercedes that would stretch past his driving career, but would such a deal still be on offer if he moved away?
Hamilton has driven 205 races for Mercedes, the most any driver has for one team in history, but there is every chance Max Verstappen, who is on 145 for Red Bull, could overtake him should Hamilton jump ship.
Without the guarantee of immediate success, Hamilton could risk to lose a lasting legacy for nothing.