Robert Kubica reportedly has an offer to race for Williams in 2019 and will make a decision "within a few days".
The Pole, who missed out on the Williams drive in 2018 after the team opted for Sergey Sirotkin, had to settle for a reserve and development role instead.
But, according to Autosport, his dream of returning to Formula 1 grid following his horrific rally crash in 2011 could be realised very soon indeed.
Autosport then tweaked their report to suggest that Kubica was 'in the frame' after Williams confirmed once again that Kubica was on a shortlist.
It does, however, look like Kubica has a decision to make because Ferrari are also interested in making him their development driver next year as Daniil Kvyat is heading back to Toro Rosso.
"I think we are quite close to the decision," Kubica told Autosport.
"From my point of view I'm getting there, and I have a deadline very soon, in my head let's say. It will be within a few days, what I decide, what I want to do, and what I think is the best direction for me.
"I'm in a comfortable situation, and this is what I've been saying for a few weeks. I will be doing something which in one way or another attracts me, and gives me the confidence that I will be doing something that I enjoy.
"But for sure a lot depends on making my mind up on what direction I want to go, if I want to race, and where to race, if I can combine things, and if I can focus only on one thing, as I did this year.
"As I said, I have my deadline, which I will respect, which is in the next few days. Then we will see."
Kubica went on to say that the potential chance to join the Ferrari organisation is something that does appeal to him.
He added: "I said always when you are a small child you dream about F1, then you once you are established as an F1 driver there are two things, either you win championships, or you drive in the red car.
"I was quite close to doing it, it didn't work [out].
"I cannot look behind, I have to look forward. It could be very interesting, but I have to see more about working with a top team on a high level.
"It would be a good opportunity from a professional point of view, but also from an emotional point of view it can be something interesting."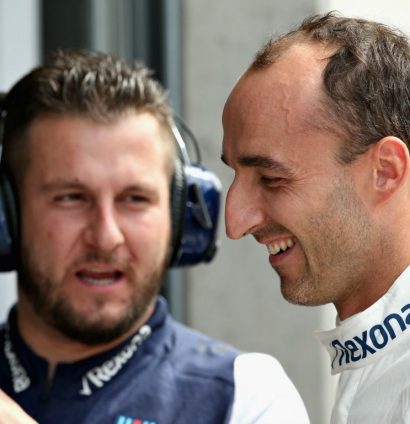 It is understood that the Ferrari reserve role would be on a longer-term deal compared to the Williams drive, but Kubica would not be drawn yet on what sort of contract length would be the most appealing to him.
"It can be, but it can be not," Kubica added when asked if a long-term contract was more important to him.
"Maybe the wish of driving and coming back to F1 is bigger than the wish of a long project. I leave a lot to personal conclusions. But the final conclusion is my one, and I will make it.
"When I'm saying I want to make my mind up, it's also about what I want to do with my future. Definitely I'm not looking only for the next three months, or one year, but what's is my feeling.
"Not everything depends on my feeling, it's not because once I decide everybody is waiting with open arms, there are also things to look at and see how it can work. I have a long flight back from from Brazil, it's good to have last thoughts, and then we'll see."
Williams already have George Russell in place for 2019, but Kubica has now emerged as the serious contender to be his team-mate with Esteban Ocon and Sergey Sirotkin now firm outsiders.
Follow us on Twitter @Planet_F1 and like our Facebook page.