Williams 'able to repair' Albon's upgraded FW44 for Austria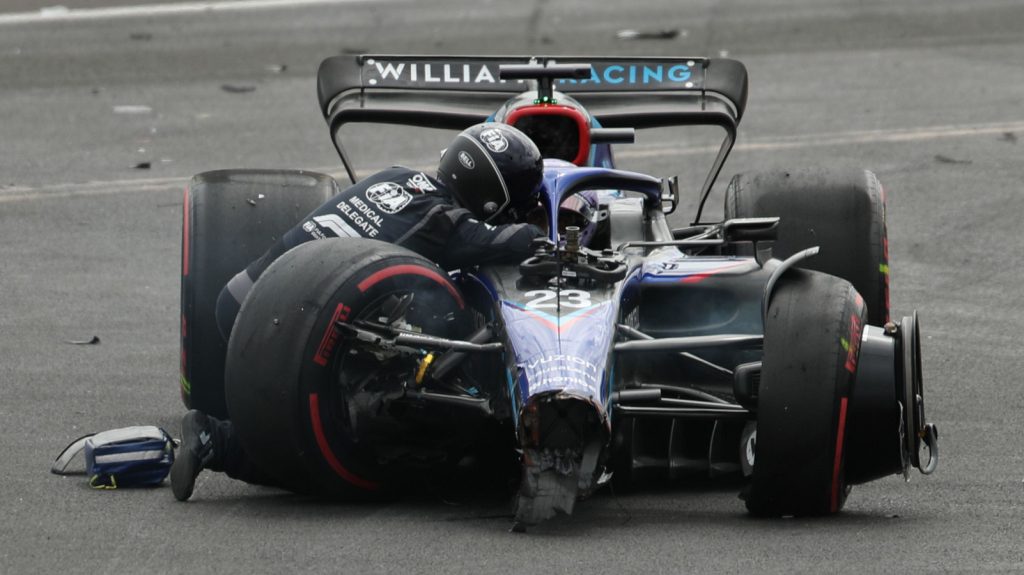 Alex Albon will have a second shot at scoring points in Williams' revised FW44, the team revealing the new parts have all been repaired or replaced in time for Austria.
Debuting Williams' upgraded car at the British Grand Prix, Albon's hopes of coming from the back of the grid to score points were undone on the very first lap.
As a multi-car crash played out involving Zhou Guanyu, George Russell and Pierre Gasly, those behind hit the brakes with Sebastian Vettel tagging Albon.
The angle of the impact sent him 90° into the concrete wall along the pit straight, Albon airlifted to hospital for precautionary checks.
But while the driver was okay, released later that same night, the car took a heavy whack with Williams uncertain as to whether they'd have the time to fix it before heading to Austria for part two of the back-to-back.
They have managed to do so, Williams' head of vehicle engineering Dave Robson confirming Albon will be behind the wheel of the revised car at the Red Bull Ring.
"Having damaged Alex's car at the race start last weekend, coming straight into a sprint event is logistically difficult," Robson said.
"However, we have been able to repair or replace much of Alex's car such that we can continue to understand the updates during FP1 on Friday.
"There is very little time to change the car before it passes into parc ferme at a sprint event and so we will need to be bold going into FP1 if we are to continue to push the performance."
Glad @alex_albon is ok! I'm glad everyone is ok!! That was an insane crash!!! Same with F2. Very scary experience pic.twitter.com/yQh9DEY0s0

— Dwayne Morris (@DrWreckerr) July 3, 2022
As for Albon, the driver is raring to go and has confirmed that he is "fine" after the crash barring a "just a few bumps and bruises".
"I'm pleased to say that after everything that happened at Silverstone, I'm feeling fine," he added as per The Race. "I've had a pretty relaxing few days and have used that time to recover.
"Obviously, Silverstone didn't go quite as planned. It all happened so quickly. I only really saw what actually happened with the crash when I watched the replays back.
"But it was just one of those things, crashes happen, and, luckily, everyone in the crash was OK.
"I'm feeling positive. It's a shame we had that incident as I think we could have scored some points at Silverstone."
He gets to try again this weekend in Spielberg.
"The good thing is that it looks like our aero package is salvageable," Albon added. "The guys are now obviously working really hard to get that fixed and ready for Austria."