'Tiny advantage' for Tsunoda's car due to stature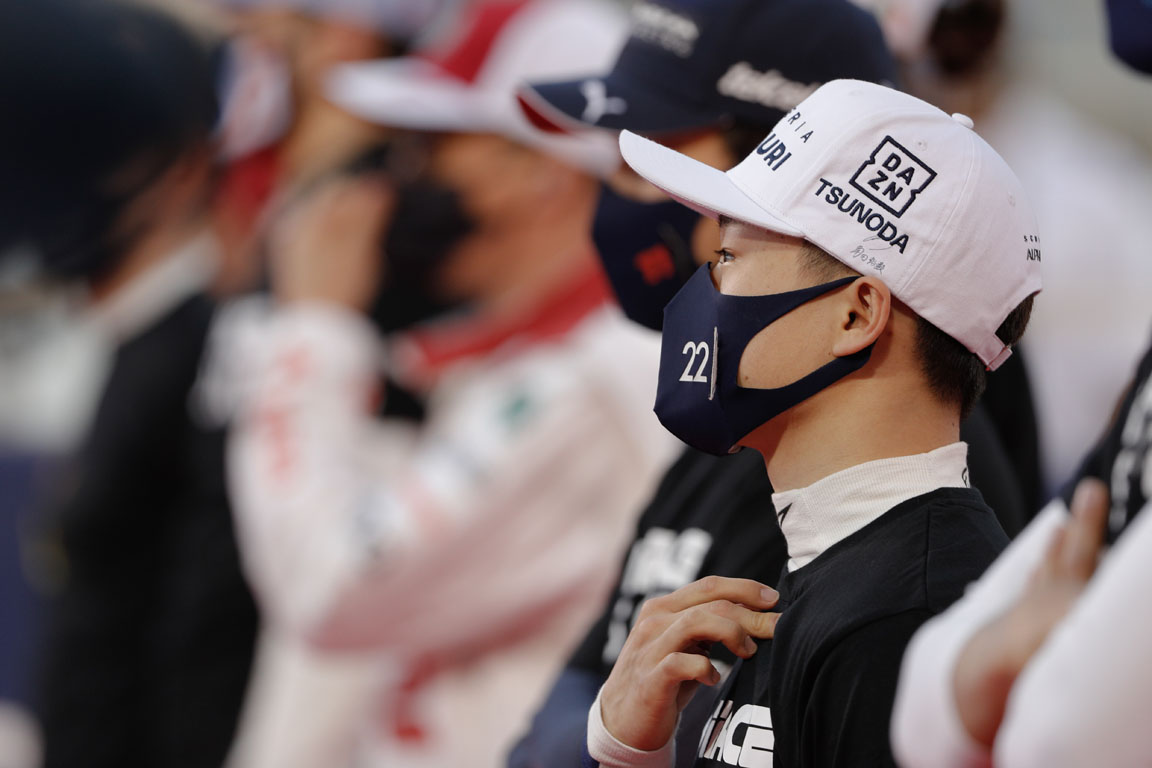 Yuki Tsunoda says he believes there may be a "tiny advantage" to be had because of his shorter stature, with the necessary adjustments being made to his car to accommodate the Japanese driver.
Tsunoda lit up his first weekend in Formula 1, not just for his explosive radio messages being introduced in the top tier of motorsport in his very first practice session, but highlighting his raw ability straight away in his AlphaTauri.
Eyebrows were raised when he put in a rapid lap in Q1 in Bahrain, seeing him behind only Max Verstappen in his first F1 qualifying session.
Prior to the first race of the season, Tsunoda explained what needed to be changed to ensure he was in the right position in the car.
"First, I have to put a lot of foam inside the monocoque to make my seat position higher to see the view clearly," he told Formula1.com.
"Also, we made a quite special pedal case [for me] to reach the pedals."
get comfy and check out @yukitsunoda07's mighty impressive @f1 debut 🚀 pic.twitter.com/3VWmxCVEYX

— Scuderia AlphaTauri (@AlphaTauriF1) April 1, 2021
Check out all the latest AlphaTauri merchandise via the official Formula 1 store
At 5ft 2in, Tsunoda is the shortest driver on the 2021 and potentially one of the shortest ever drivers in the sport, AlphaTauri needed to change the inner workings of the car. And with previous pilots Alex Albon and Daniil Kvyat both being over six feet tall and current team-mate Pierre Gasly coming in at 5ft 10in, there was certainly plenty to be done to the car – including adjusting the weight distribution accordingly.
"We had a lot of work, we put quite a lot of efforts to make the perfect seat, so for me, it isn't much of a big advantage," Tsunoda elaborated.
"I don't see it as a big [advantage] in Formula 1 because FIA decided where you have to have the weight distribution, and you can't choose the place you want to put it, so it meant for weight distribution there's a tiny bit of an advantage but not much.
"And for aerodynamics, for me I don't see much [of a] big difference because in Formula 1 especially now, they're made for [big drivers]."
Tsunoda certainly impressed on his race debut too, with a last-lap overtake on Aston Martin's Lance Stroll earning him a more-than-creditable P9 on his debut, making the 20-year-old the first driver to score points in his first Grand Prix since Stoffel Vandoorne in 2016 – also becoming the first Japanese driver ever to achieve that feat.
Follow us on Twitter @Planet_F1, like our Facebook page and join us on Instagram!