Tsunoda feels 'even stronger' about blaming Stroll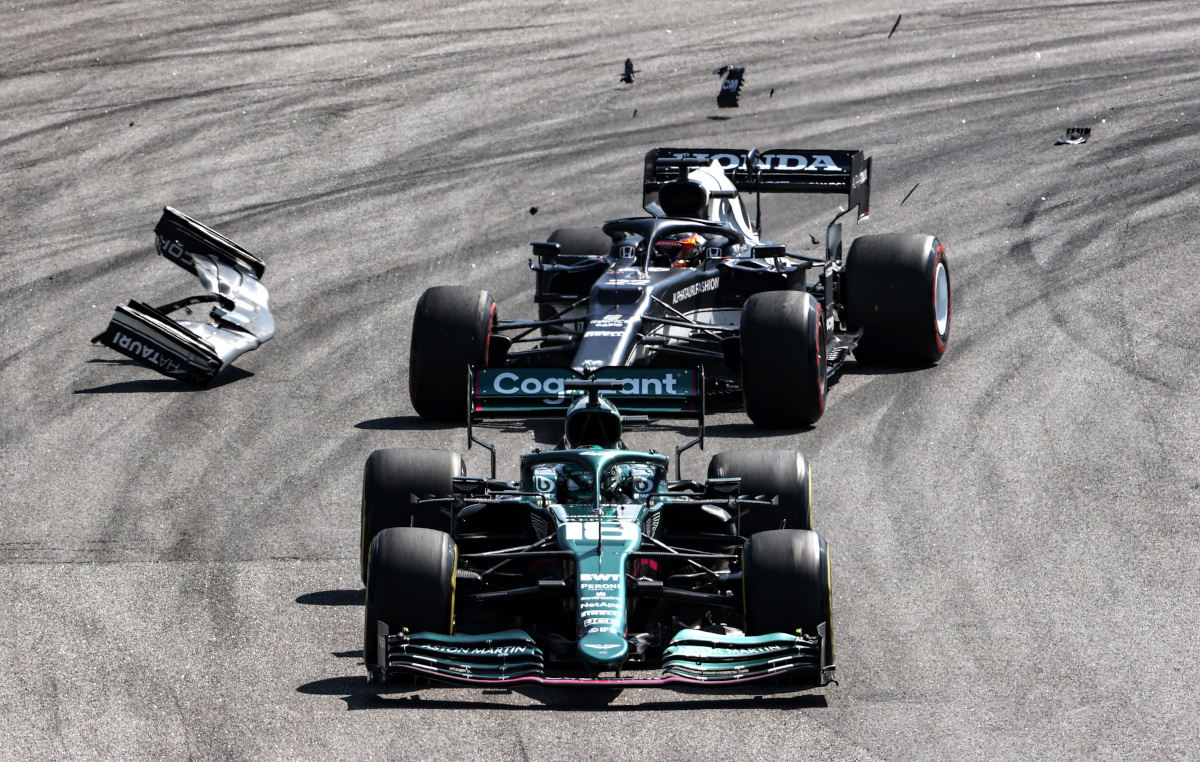 Yuki Tsunoda says he now feels even more strongly about his collision with Lance Stroll at Interlagos, still feeling he could have been given more space.
Tsunoda and Stroll made contact after the AlphaTauri driver made a late lunge from a long way behind the Aston Martin into Turn 1 in Brazil, with the two drivers colliding and causing debris to be strewn across the track.
Tsunoda was given a 10-second penalty after the stewards adjudged him to be at fault, but he did not feel he was to blame in a move Stroll described as being "super-desperate" and "way too optimistic".
The Japanese driver admitted it was a "risky" move on his part, but reviewing the on-board footage in the aftermath of the race only re-affirmed his belief that he was entitled to racing room.
"Yeah still, [it] even makes stronger thinking compared to the interview I did right after the race," the AlphaTauri driver told the official F1 website.
"I gave him a lot of distance, a lot of time for that distance, on the on-board. Clearly I can see I didn't have any lock-up and I was just staying on the kerb as much as possible, and the Aston Martin just closed the door, literally.
"It was a risky move and it was from quite far away, but definitely if he was watching and gave me a little bit more space, we didn't have that collision.
"For me, it was like if Max and Lewis had a collision at Turn 4, definitely that would be similar or [an] even worse situation than me because clearly, Max was over-speed and if Lewis was not watching at all, they just crash [into] each other.
"But it's already finished. It was really harsh, but [I] have to move forward."
On to this weekend and Formula 1 is taking its first ever trip to Qatar to race at the Losail International Circuit. With only Sergio Perez and Nikita Mazepin having had previous experience of driving around the track, which is predominantly used for motorcycle racing, Tsunoda said he is looking forward to getting going on a circuit which is pretty much an unknown to everyone.
"We don't know, we never can expect to know how the pace will be, but we have a consistent car and we are always fast, so I don't have any worries about the car," added the Japanese driver.
"We don't have any experience here, which for me is good, a bit easier for the situation, but I'm still focused for my job and aim for the points."
Alpine and AlphaTauri's fierce fight for P5
AlphaTauri are now joint on points with Alpine in the Constructor's Championship.