Inside look at Tsunoda's debut F1 weekend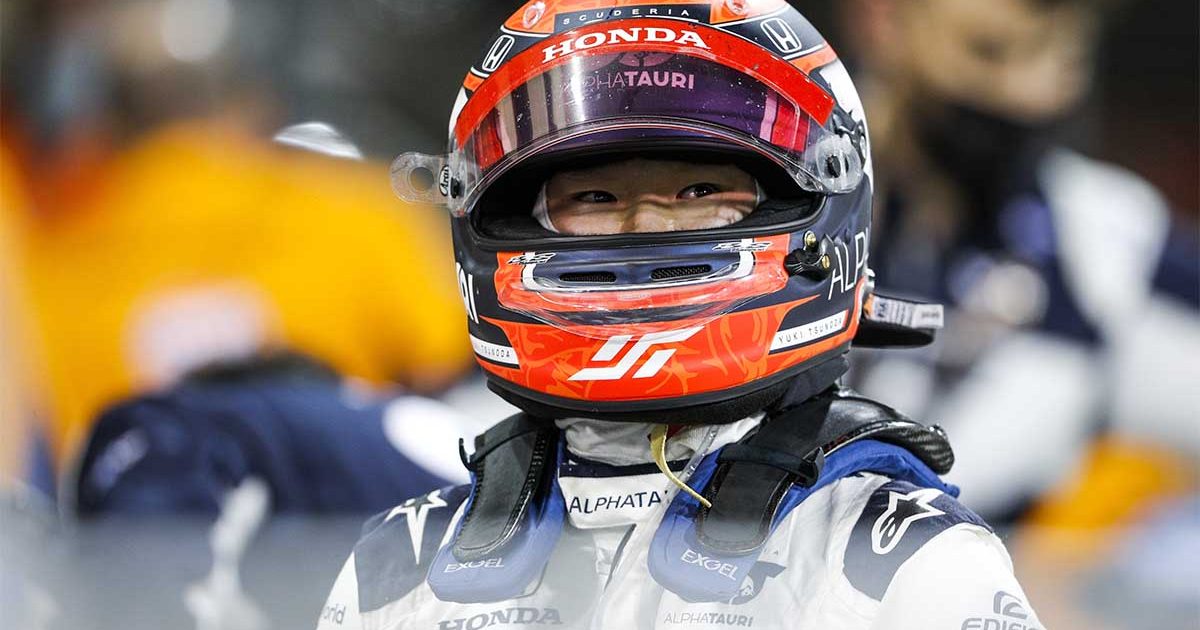 AlphaTauri have shared behind-the-scenes footage of Yuki Tsunoda's first race weekend in Formula 1 – and it is clear to see why he is so well liked.
The 20-year-old arrived in the sport over the winter break fresh out of Formula 2 and enjoyed a fantastic debut race in Bahrain.
He was followed around by cameras all weekend – just what you want on what was no doubt a nervy experience – and he showed his calm, jocular and well-mannered personality.
After a morning of Zoom calls and autograph sessions, Tsunoda was in a world of his own while getting into his race gear, singing along to himself with no worries in the world – until he remembered there was a camera pointed at him and promptly stopped.
Performance on track is always a way to get yourself liked among the F1 fanbase, but his sense of humour will go a long way too.
He was having none of it when he saw Pierre Gasly take a bathroom break during media duties, saying: "Why can he go to the toilet and I can't go to the toilet? I still feel not welcome here. I tried my best in Bahrain and we'll see in Imola."
Next came a kickabout in the paddock and he was probably mortified when the cameras caught him completely miss the football, but he soon shut up those laughing when he began doing keepy-ups with ease. Stop showing off, Yuki.
We next saw the prime example of his class, this time not on the ball but in his mannerisms. In the morning, he made a point of saying hello and giving a fist bump to each and every member of the team. He even stood by and kept his hand out for an ego-damaging 10 seconds, waiting for the recipient to notice him. Respect indeed.
Check out all the latest AlphaTauri merchandise via the official Formula 1 store
After the race had finished and he had put two points on the board, team principal Franz Tost came into the room to pass on his congratulations to Yuki.
Tost: "Hey, Yuki, this was a fantastic race, really congratulations."
Tsunoda: "I was too cautious first lap…"
Tost: "Forget it, we said survive first lap and the rest will come, it's better this way.. you did everything right, congratulations, very good job."
Praise indeed. After then having a debrief with the rest of the team, it was time to get going, so he did just that, saying "goodbye Bahrain" as he walked out of the door.
Cameras then followed him leaving, passing two Ferrari employees playing football, to which Yuki said: "I'm better."
He shared a story about him posting a video of his skills on Instagram and tagging Spanish giants Barcelona.
"I posted that on Instagram and said I'm always waiting for your invite, Barcelona," he said. "I tagged it [but] I haven't got any messages from them yet…must be an error or something."
After being so nearly fooled into thinking he was having to go into training early the next day – something which Yuki certainly did not seem excited about – his trainer asked him his highlights of the day and he answered: "Not much."
A Formula 1 debut, a last-lap overtake and a P9 finish. But no, no memorable moments to take from Bahrain.
Oh, and then we saw at the end that he is not all that great at golf, so maybe it's best to stick to Formula 1, Yuki.
Follow us on Twitter @Planet_F1, like our Facebook page and join us on Instagram!