Tsunoda: Engineers agreed I couldn't do anything more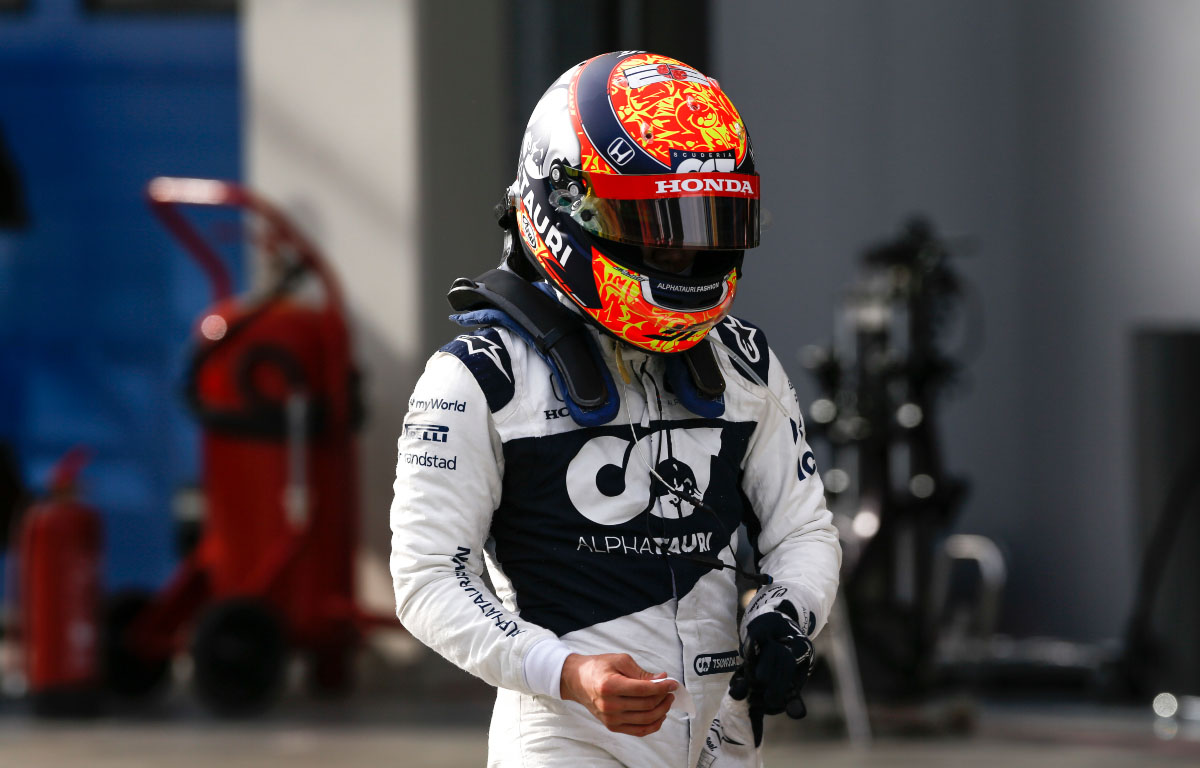 Yuki Tsunoda had a "good chat" with Red Bull after the Mexican GP, both parties clearing the air after the latter blamed him for their qualifying woes.
Red Bull were expected to dominate qualifying at the Autodromo Hermanos Rodriguez only to be pipped by Mercedes in Q3.
The Brackley squad lockied out the front of the grid after the Red Bull drivers tripped over Tsunoda on their final hot laps.
The Japanese rookie was out on track to give his team-mate Pierre Gasly the tow when he was told that Sergio Perez was four seconds behind him and closing fast.
Tsunoda not only moved off the racing line but off the track to clear a path for Perez. However, that distracted the Mexican driver who made a mistake of his own, his team-mate Max Verstappen slowing as a result.
Red Bull team boss Christian Horner blamed Tsunoda, telling the media that his drivers had been "Tsunoda'ed" while Perez said the AlphaTauri driver was in his "way" and Verstappen called him a "dumb idiot".
But while Red Bull were angry with the driver, his team boss Franz Tost was quick to defend him, saying the only one at fault was Perez.
Things did not go according to plan for Red Bull in qualifying 😕#MexicoGP 🇲🇽 #F1 pic.twitter.com/tGZSk2AtKU

— Formula 1 (@F1) November 7, 2021
Tsunoda, saying in the immediate aftermath that he was "worried" about having to speak with Red Bull, has since done so, clearing the air the Milton Keynes squad.
"Yeah, we spoke lots of times about the Q3," Tsunoda said as per Motorsport.com.
"The engineers agree that I couldn't do anything more than really that in that situation. But also at the same time, we can clearly see that there's room that we have to learn about radio conversation.
"I think we have more information before that or if I'm asking for more information, I think we couldn't have that situation as well. It was just a really unfortunate situation.
"Also I spoke with Red Bull as well the day after and we had a good chat and I also heard that from their perspective about their Q3.
"So it was just unfortunate and we just have to learn from it and try not to do the same thing next time."
Looking ahead to this weekend's Brazilian GP, Tsunoda is hoping to bounce back from his Mexican DNF with a strong points performance.
"We know that especially from the second half of the season, we have a quicker car and we have confidence, and especially in Mexico we showed a good performance," Tsunoda said.
"Scoring good consistent points definitely helps for the team, and of course we are aiming for fifth in the championship as well.
"To achieve that every single race is going to count and definitely I need to help the team for that to be achieved."
Brazilian Grand Prix preview
As F1 heads to Brazil, will Lewis Hamilton close the gap to Max Verstappen and can McLaren take back P3?