Tsunoda reacts to introduction of psychologist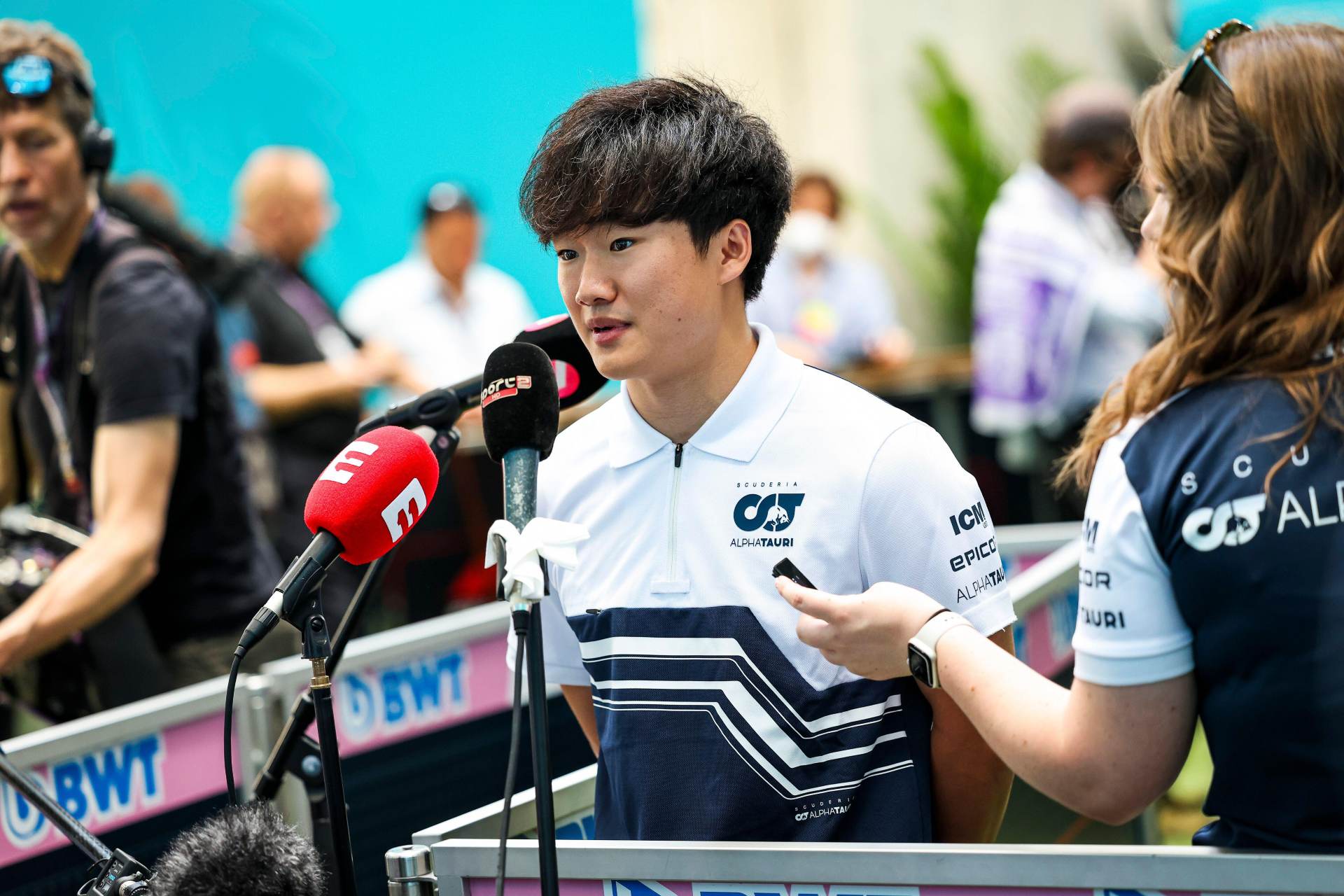 Yuki Tsunoda has said he is still waiting to see results after AlphaTauri hired a new psychologist to work with him.
Helmut Marko revealed this week the team had brought in the services of a psychologist to help with "problem child" Tsunoda who developed a reputation as a hot head during his rookie season.
As he got to grips with both the car and the sport, Tsunoda was heard firing off expletive-filled rants over the team radio which included telling his own race engineer to shut up and telling his Red Bull colleague Sergio Perez to "f*** off."
Speaking to the media ahead of the Austrian Grand Prix, Tsunoda revealed he had worked with a psychologist before and that it helped him settle into life as a Formula 1 driver.
"I was already working with an outside trainer psychologist," the 22-year-old said. "I'm really happy. I was really happy working with him and also he was part of the reason [why I was] able to step up to Formula 1. He [was] able to help me to develop my performance with consistency."
Tsunoda then said that a new trainer had been hired but he was currently unsure if it was working or not.
"They hired [a] new psychologist trainer, I will say, four races before [Austria]. I mean I don't know currently [if it] is working well [or] not. If it's working well I think I didn't have a crash [in Canada] but I have to take a bit more time.
"Because you know, he had to understand more about myself and also I had to understand what direction we have to take. But yeah, I think definitely one of the limitations in that first year was [getting] quite overheated, especially my brain in the car.
"But I know that I have to improve myself, those parts, to have more consistency. So hopefully training will work well and we can work well for the future."
Tsunoda was sat alongside Max Verstappen who also had a reputation as a hot head in his early days and while his outbursts may have become less frequent in recent years, the Dutchman said that if he ever lost that anger then he believes he will have lost interest in the sport.
AlphaTauri have enlisted a psychologist to help Yuki Tsunoda.#F1https://t.co/RuKfPJBVF5

— PlanetF1 (@Planet_F1) July 6, 2022
"I didn't work with with anyone but of course over the years you look back at what you can do better and I don't think it helps the whole team if you come in really upset in a practice session or whatever," the reigning World Champion said.
"Because then everyone starts to be a bit nervous and I think that doesn't help the overall performance but also still I sometimes get a bit upset on the radio. I don't think it influences my performance but it's more about if things don't go well, if something is badly executed or I have a problem.
"I think if the day comes that I'm not going to be upset about these things anymore, then I'm not interested in the sport anymore. So for me it's also because I care about my result and I care about what I'm delivering or performing at the weekend that I sometimes get upset about these things, but it's not influencing my performance during the race.
"But of course the way you work throughout the weekend, you try and be as calm as you can and some people are a bit more calm, some people are a bit more explosive. That's that's how it works but you can always work on these things."
Torquing Point: Reviewing a classic British GP
Henry Valantine is joined by Jon Wilde and Oliver Harden to dissect an incredibly dramatic British Grand Prix.