Brown's Mercedes view 'opinion, not prediction'
Zak Brown has tried to clarify his comments about Mercedes' driver line-up for 2022 that sparked a controversial response from Toto Wolff.
The Mercedes co-owner and team principal said the McLaren CEO had "spread sh*t" by suggesting Max Verstappen and George Russell would race for Mercedes next year – which was later interpreted by the World Champions as "giving sh*t" to Red Bull boss Christian Horner.
Brown has now stated that what he said about Mercedes – who supply his McLaren outfit with their engines – having an all-new driver line-up next season, in place of Sir Lewis Hamilton and Valtteri Bottas, was an "opinion" rather than a "prediction"…although the difference between the two appears subtle to say the least.
"I don't necessarily think it [will happen]," said Brown.
"Someone just asked me 'what do you think the driver market will look like next year?' I believe George [Russell] is out of contract and obviously has a Mercedes relationship and did a great job in Bahrain [at the 2020 Sakhir Grand Prix, when he deputised for Hamilton at Mercedes].
"Max, I've never seen his contract but I understand there's probably a possibility for him to drive elsewhere, and Mercedes and Toto are able to attract an awesome driver line-up.
"So if those two guys are floating around, depending on what Toto decides with his current driver line-up, you could see that happening. I was asked the question – it wasn't a prediction, it was an opinion."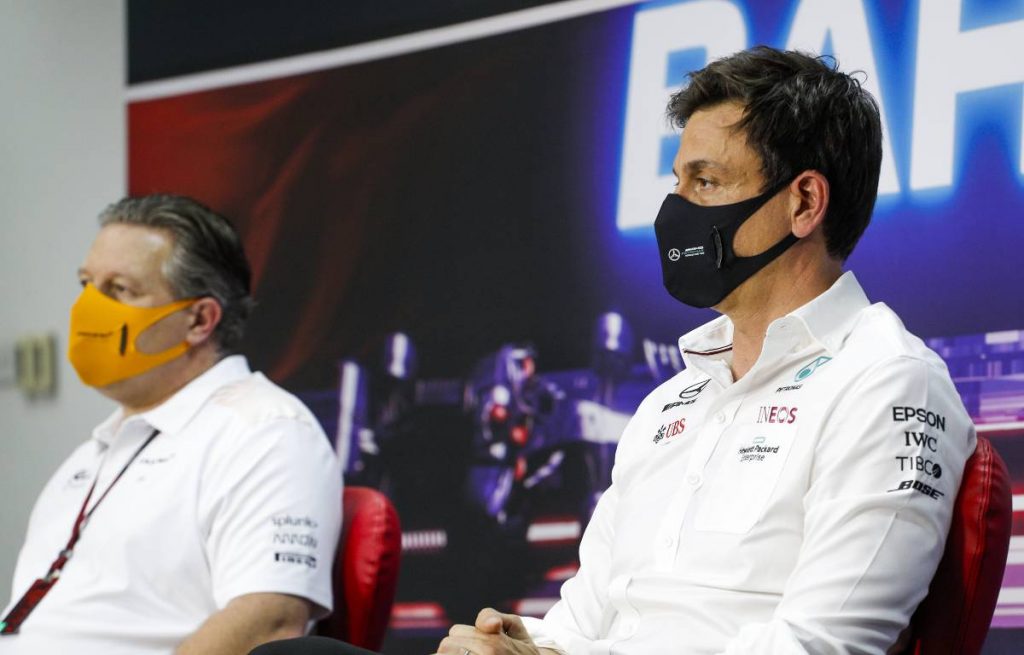 Stand out from the crowd with McLaren merchandise via the official Formula 1 store
Wolff, meanwhile, insisted it will not be January, as it was this year, when Mercedes confirm their 2022 line-up.
Hamilton's one-year contract was not agreed until a matter of weeks before pre-season testing, with circumstances having prevented negotiations from being finalised earlier.
Bottas' latest one-year deal had been signed, like his previous three, during the course of the season.
"We don't want to leave it until January to confirm the two drivers," said Wolff.
"Valtteri was pretty regular during the summer, this is when it should happen. Also, to give the driver peace of mind or be able to concentrate on the job.
"And obviously for next year there's lots of balls in the air and we will always try to do the best for the team long term, while also giving total loyalty to our current driver line-up.
"We are not doubting either Valtteri or Lewis but discussions obviously will happen – but not in January next year."
Follow us on Twitter @Planet_F1 and like our Facebook page