Brown: Monza 1-2 doesn't seal the deal for P3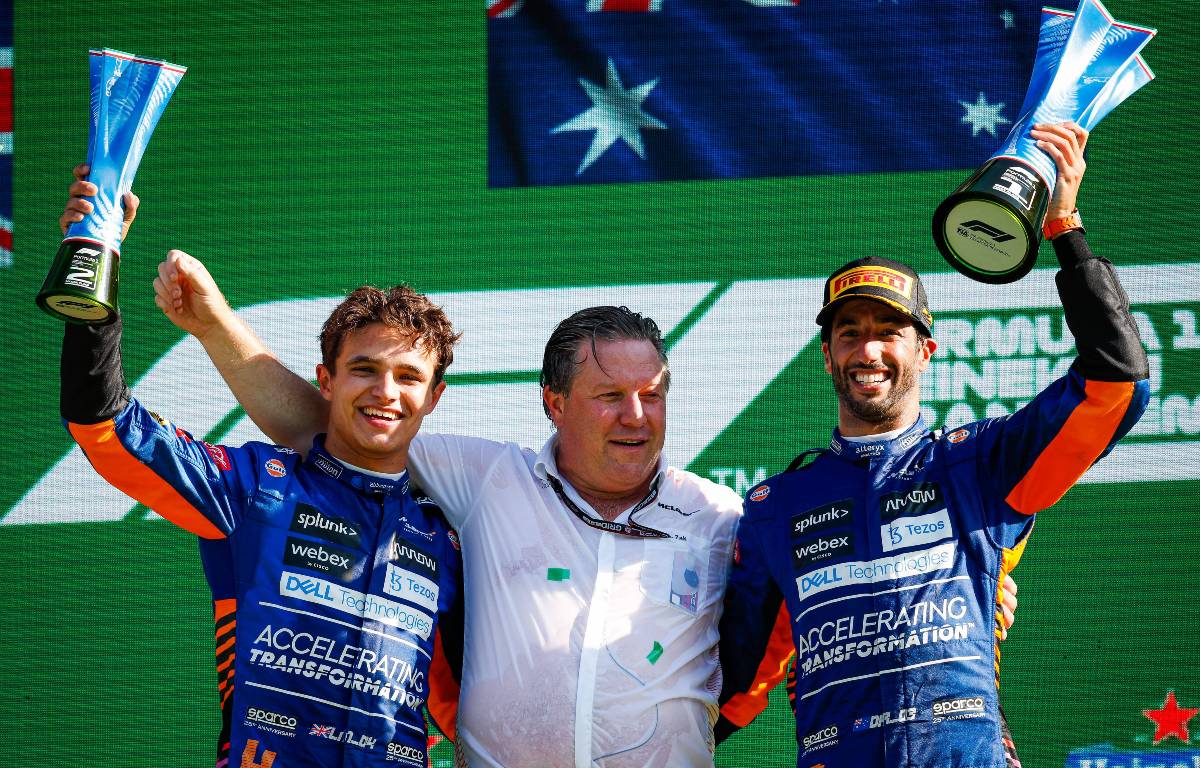 Zak Brown will not get carried away by thinking McLaren's shock Monza one-two has sealed the deal in their season-long battle with Ferrari.
Rather like the World Championship battle itself, the chase for third position in the Constructors' standings became a head-to-head fight at an early stage.
Daniel Ricciardo and Lando Norris found the Italian Grand Prix weekend playing to their car's strengths and as Mercedes and Red Bull suffered a series of setbacks, they gave the Woking-based squad their first one-two finish for 11 years.
But there was significant damage limitation on Ferrari's part as their drivers, Charles Leclerc and Carlos Sainz, were classified fourth and sixth respectively, which meant McLaren's maximum haul of 44 points was only enough to put them 13.5 ahead of the Scuderia.
That means there very much remains all to play for over the remaining eight races of the season – and Brown, the McLaren CEO, will not allow himself to think otherwise.
Stand out from the crowd with McLaren merchandise via the official Formula 1 store
What a team 🧡#ItalianGP 🇮🇹 @McLarenF1 pic.twitter.com/bgvBmZQpWZ

— Formula 1 (@F1) September 12, 2021
"Ferrari didn't have too bad a weekend, we just had a better weekend, they weren't far behind," said Brown, quoted by Motorsport Week. "That battle will carry on race to race.
"I think some tracks suit your car better than others. Last year we were very quick at Monza and we knew Zandvoort wasn't a circuit that plays to our strengths.
"If we look to the next seven to eight races we see some there that will fall our way, some that will fall Ferrari's way.
"We've always been good at Monza, so we need to recognise we will continue to have those ups and downs while progressing up the grid."
As well as being McLaren's first one-two since the 2010 Canadian Grand Prix, it was also their first victory for nine seasons – the previous one having been provided in Brazil by Jenson Button, who had finished second to his team-mate Lewis Hamilton in Montreal two years earlier.
"It meant a lot to all of us," said Brown of the popular success for Ricciardo. "First, I think all at McLaren who have been working so hard the last five years, but I know it goes back 20, 30, 40 years for some.
"It was a big victory for the team and our sponsor partners. A lot of them joined us when we were just making promises and now [we have been] able to start fulfilling on some of those.
"We need to keep our feet on the ground. It was a great weekend but we still have a way to go."
Planet F1 verdict
McLaren v Ferrari - who will come out on top?
The battle for P3 in championship could come down to Ferrari's new engine upgrade and its reliability.