Zak Brown stands by his 'cheating' letter, calls for review of minor breach's 5%
Zak Brown did not back down in the face of Christian Horner's ire, the McLaren CEO standing by the letter he wrote to the FIA in which he said a cost cap breach is "cheating".
With the FIA have announced Red Bull committed a 'Minor Overspend Breach' in relation to last year's budget cap, rival teams are up in arms.
Motorsport's governing body has not released any of the finer details other than to say Red Bull overspent by less than five per cent.
That means it could be anything up to $7.25m, a hefty sum when it comes to car development as other team bosses have revealed their in-season development spend is from $2-$3 million.
Teams and pundits alike have called for the FIA to be transparent in their findings, some voicing concerns about back room dealings.
As such Brown wrote to the FIA, a letter in which he said a cost cap breach amounts to "cheating" and called for both financial and sporting penalties.
Asked why he felt the need to write to the FIA, the American replied: "Because all the teams have opinions, and some speak about it vocally, others don't necessarily always bring forward some specific views.
"So, I thought it was important from a transparency standpoint, we all sit around the table, there's a lot of times we discuss things openly and then there's a lot of back-channelling, and I thought I would just lay it out there – not knowing the facts of the case.
"It was more of a response of 'if these types of things have happened'.
"It's not for McLaren to decide they have or haven't, but to put forward now that we understand the ramifications if you go over, what some of those benefits can be and how we should address them.
"It's the same conversation, I think, we would have had when we came up with the cap, we just never really spoke about what would be some of the potential consequences and, like all the teams do, suggest to the FIA some solutions for them to take onboard – but ultimately for them to decide."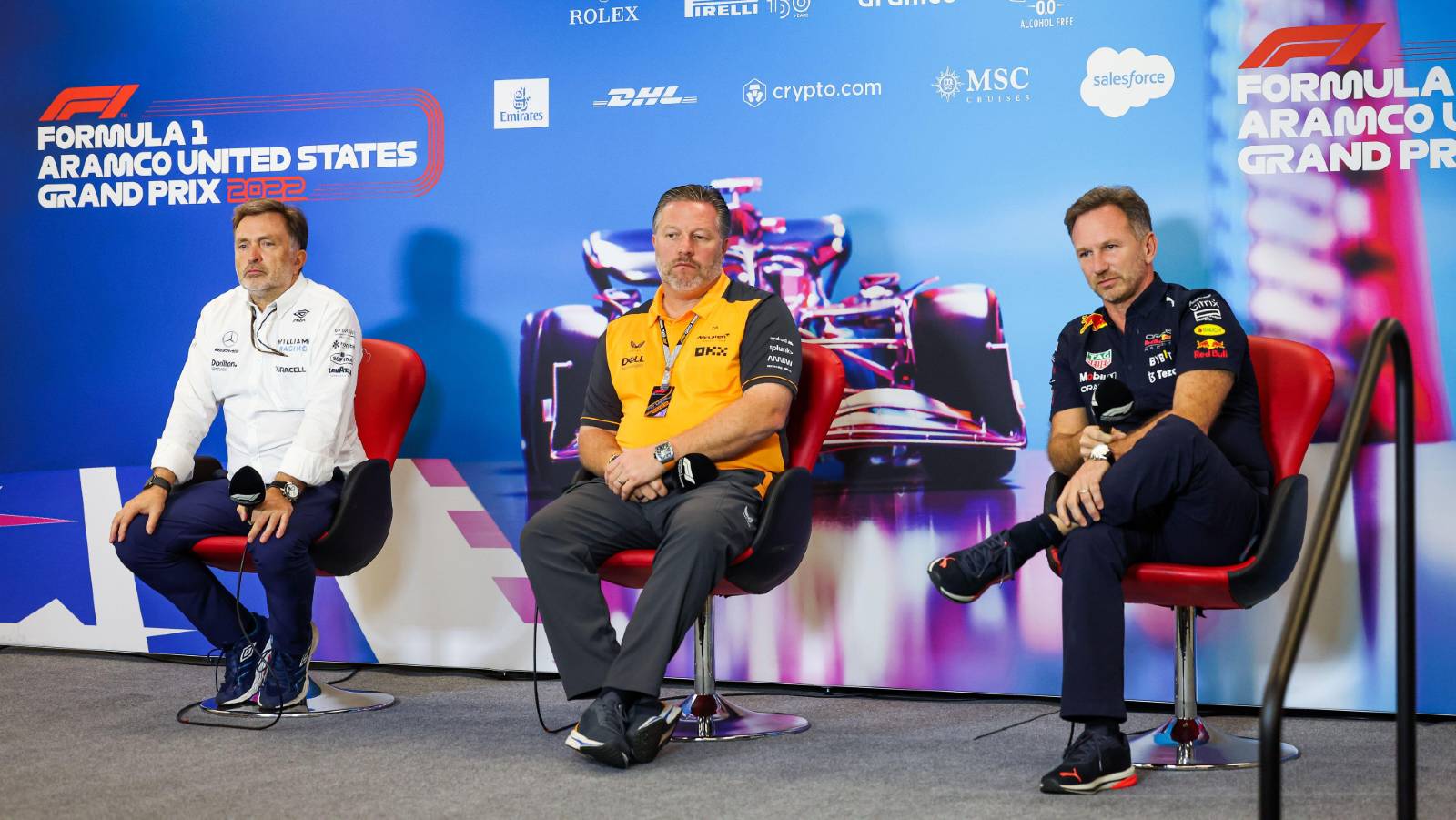 Horner accuses rivals of causing mental health issues
Sitting side-by-side with Horner, Brown was on the receiving end of the Red Bull team boss's anger, Horner saying rivals' accusations are causing mental health issues amongst his team.
He even went as far as to say "we're getting kids that are being bullied in playgrounds that are employee's children" and that's "not right, through fictitious allegations from other teams".
Asked if he wanted to comment on that, Brown said: "No, well, I guess yes, because I will comment.
"Look, my letter set out that I think if someone – a team – spends more than the cap, they're going to get an advantage. And the cap is a rule, no different than the technical rules in the sport.
"We're not taking a view whether they did or didn't.
"My letter was: if someone has, then here are the things that we think should be addressed. No different than if a ride height is incorrect, or a flexi wing, or whatever the case may be. So I didn't mention any teams. It was a general response.
"Now that we are into the cost cap era, if someone breaches that, here's what we think some of the ramifications are. I have no idea what the number is, I know none of the details.
"If we had more money to spend, that would put us in a better light and performance, more people, more upgrades, whatever the case may be. So, we feel it's a performance benefit if someone has spent more than the allocated cost cap, that is up to the FIA to determine whether they have or haven't."
It was quite the press conference as Christian Horner spoke publicly for the first time since the team was accused of breaching the budget cap.

Here's every word the Red Bull boss said:#F1 https://t.co/q7w6VLpI2t

— Sam Cooper (@samcooper_) October 22, 2022
Zak Brown calls for review of the five per cent figure
The McLaren team boss also called for a discussion over the five per cent that makes up a 'Minor Overspend Breach'.
Brown reckons that is a "substantial amount" for what could be a small punishment.
"I think in hindsight, the five per cent is way too high," he said. "It's something all the teams discussed and agreed upon.
"So I think that's something coming out of this that we need to look at, because five per cent is a very substantial amount of money in percentage basis to things like car development, or people to hire, or wherever you may choose to spend the money.
"So I think that definitely needs to be reviewed."
Read more: Toto Wolff accuses Christian Horner of 'reverse psychology' over budget cap defence