Brown tattoo prompts Abiteboul to 'lock in' date for his own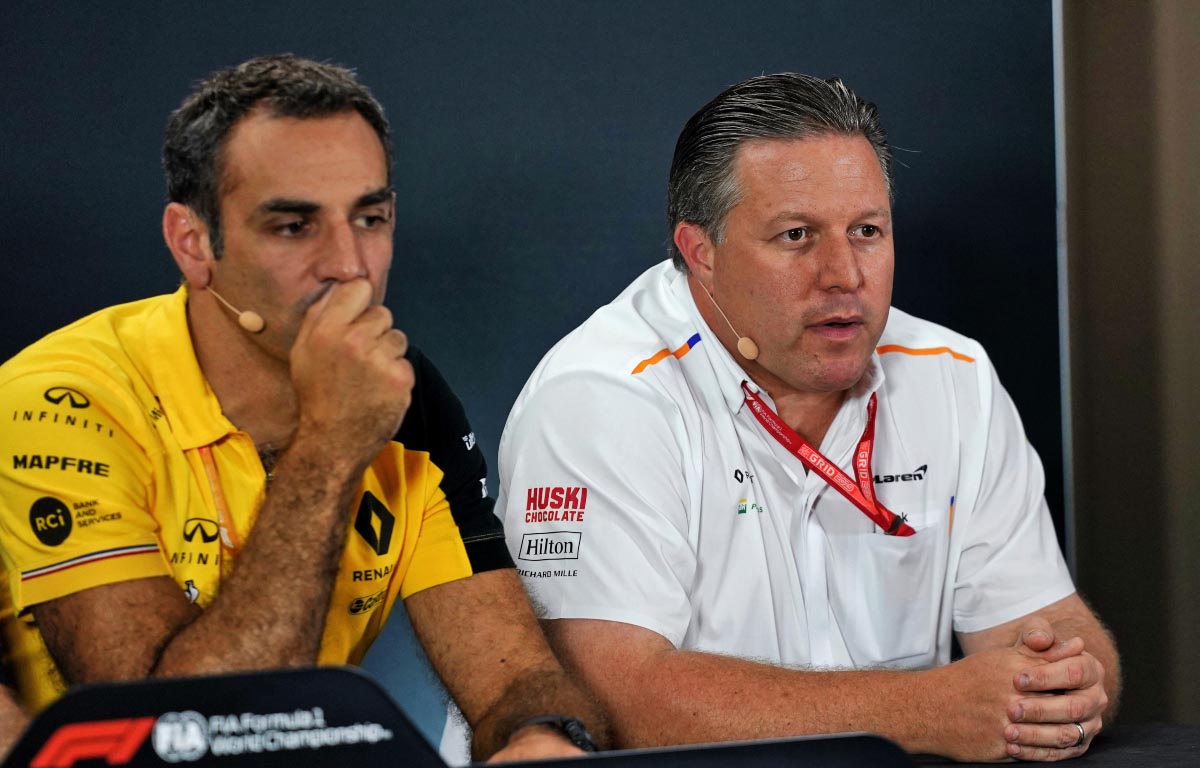 Seeing Zak Brown get a tattoo of Monza after Daniel Ricciardo won there has prompted Cyril Abiteboul to do the same, says the Australian.
Ricciardo had made a bet with his former boss at Renault that when he scored his first podium with the team, he would get a tattoo to mark the occasion.
Before his departure for McLaren, the Australian managed to make it onto the podium twice in 2020 – but the bet has yet to be cashed in.
McLaren CEO Brown honoured a podium wager of his own when he allowed Ricciardo to drive the car of his hero, Dale Earnhardt, with a lap around Austin in his iconic 1984 Chevrolet Monte Carlo.
Ricciardo was present at the tattoo parlour to watch the action unfold and while he admitted he had not expected his current employer to get tattooed when he was on his way there, he was pleasantly surprised when it happened.
Since then, Ricciardo has been in touch with Abiteboul, and the Italian Grand Prix winner has now proclaimed a provisional date has been set for his former boss to get ink of his own.
Chances of getting a tattoo when Daniel Ricciardo joins your team: 📈

[📸 Zak Brown/Instagram] #F1 pic.twitter.com/7dztZaMz2G

— PlanetF1 (@Planet_F1) October 23, 2021
"I feel a little bad because I had no idea Zak was going to get a tattoo," Ricciardo said, quoted by GPFans. "When we rocked up there, I was like 'why are we here?' He then told me, and it was cool.
"Now Cyril is provisionally locked in. We've booked him in and it's between Qatar and Saudi [Arabia] and unless something changes with schedules, it's going to happen.
"We've been in touch recently. He's very keen and I think after Zak getting it, he will be even more keen to make it happen. It's happening.
"I'll give him another nudge but he's pretty keen for it."
Given that tattoos were on his mind, Ricciardo spoke of the possibility of stretching that challenge even back to his Red Bull days.
"I need to revisit Christian [Horner] and Helmut [Marko] to see if they're interested as well, just go through the whole paddock," he laughed.
"What do you think of Helmut with a face tat? Do you think he could pull it off?"
Brown got his tattoo in aid of the Grand Prix Trust, who provide support to current and former members of Formula 1 staff in times of need.
After Toto Wolff's hot lap with Martin Brundle at COTA, Brown was next in the queue to take part in their 'industry leader challenge' and overcome his fear of needles to commemorate a famous day in his time in motorsport.
Ricciardo recovery continues at McLaren
Daniel Ricciardo raced well to finish fifth in Austin, while McLaren team-mate Lando Norris had a lonely afternoon in P8.