Zak Brown admits 'little bit of teamwork' between McLaren and Ferrari in Singapore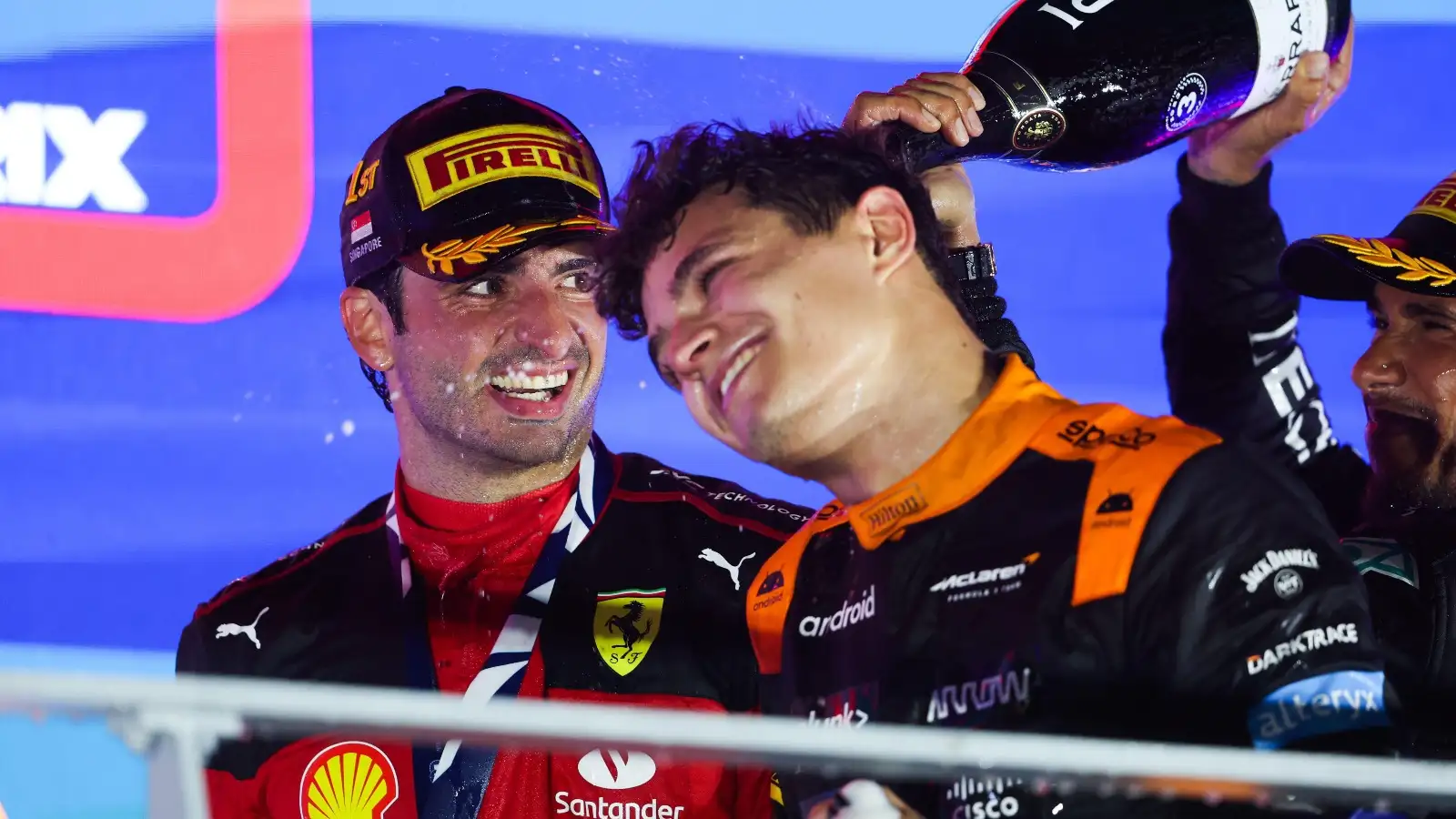 McLaren CEO Zak Brown has admitted there was a "little bit of teamwork" between McLaren and Ferrari that allowed them to hang onto the one-two in Singapore.
Late on in the race and with the two Mercedes car charging behind them, Carlos Sainz actually slowed down to allow Lando Norris to pick up the DRS and keep a buffer between the Ferrari and the Silver Arrows.
In the end, it worked out well for both teams with Sainz keeping hold of the win while Norris scored his third P2 finish of the season.
Zak Brown praises 'teamwork' between McLaren and Ferrari
While direct teamwork between two constructors is not allowed, it was very much a case of you scratch my back and I will scratch yours for the pair in Singapore.
It seemed particularly personal for McLaren with Sainz being their former driver and Brown was happy with the way things worked out.
"It was an exciting race and a little bit of good teamwork [between us and Ferrari]," Brown told Sky Sports F1. "I'm very happy for Carlos, he's such a good guy and just a great day for Formula 1. I think it was a super exciting race."
Of course, Norris would have wished to go one better and win his first race in Formula 1 but Brown said the driver was "right at the limit".
PlanetF1.com recommends
F1 Driver of the Day: Who has won the award in F1 2023?
F1 2023: Head-to-head qualifying and race stats between team-mates
"We were pretty much just cruising around," Brown joked. "No, he was pushing. That was right at the limit there.
"I don't think he had enough for Carlos. I think Carlos drove beautifully, managing the DRS and that took everything we had."
As was the case in Austria, McLaren brought upgrades but only to one car with Oscar Piastri again forced to wait a week. Brown was confident that they would enjoy a strong Japanese Grand Prix when both drivers were on an even keel.
"I think we should continue to be pretty strong," Brown said of the upcoming races. "As soon as we get them [the upgrades] on Oscar's [car] next week, I'm expecting to have a good Japanese Grand Prix."
Read more: Singapore Grand Prix – Carlos Sainz wins for Ferrari as Red Bull streak ends in inglorious fashion