Zhou 'keener than ever' to get back in the car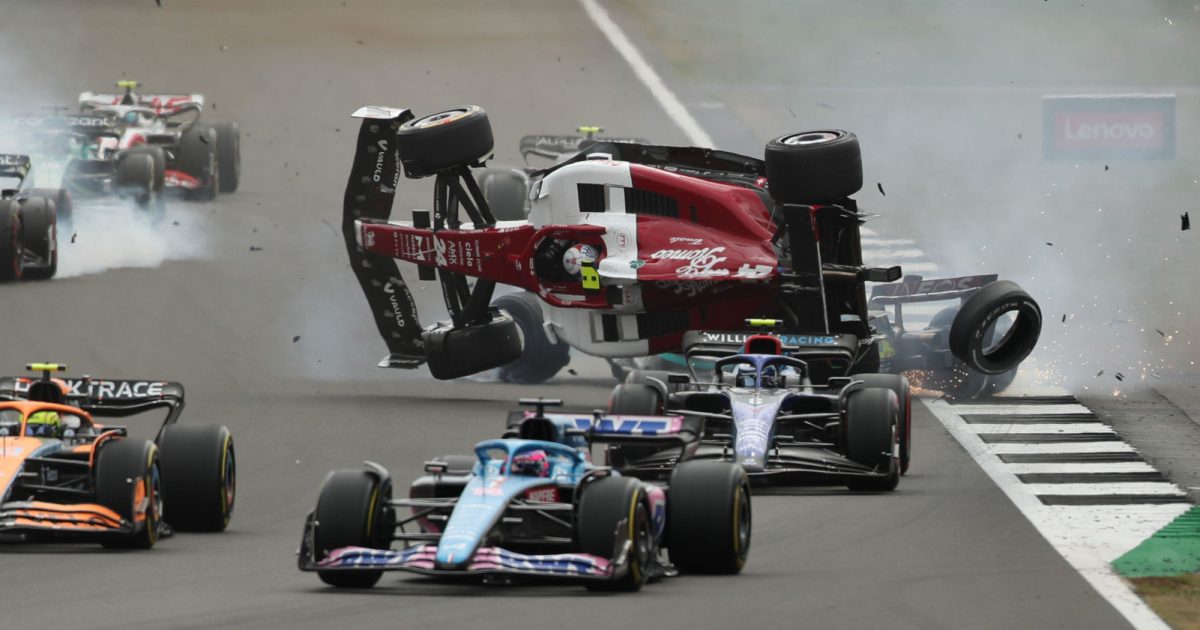 Zhou Guanyu says he owes his thanks to the FIA and F1 for their continued efforts to improve safety, the Alfa Romeo driver unhurt in a massive lap one crash at Silverstone.
Fighting for position at the start of Sunday's British Grand Prix, Zhou was clipped by George Russell.
The angle of the impact flipped the C42, Zhou skidding through the gravel on his roll bar and Halo before his car dug into the gravel and launched him into the air.
Flying over the tyre barrier, he was caught in the catch fencing at Abbey, his car thankfully hitting that with the floor side.
The marshals were quickly on hand, followed by the medical car and Dr Ian Roberts.
While it took some time to extract Zhou from the car, the driver lifted onto a stretcher into the waiting ambulance, checks at the medical centre cleared him.
He was kept for a few hours for observation, Alfa Romeo informing his team-mate Valtteri Bottas that he was "conscious" and had suffered "no fractures".
The Chinese driver later took to social media to say he had been given the "all clear", thanking the Halo at the time for saving his life.
I'm ok, all clear. Halo saved me today. Thanks everyone for your kind messages! pic.twitter.com/OylxoJC4M0

— 周冠宇 | Zhou Guanyu 🇨🇳 (@ZhouGuanyu24) July 3, 2022
"It was a big crash and I'm glad I'm okay," Zhou said via an Alfa Romeo press release.
"The marshals and the medical team at the track were fantastic with their quick response.
"I also owe my thanks to the FIA and Formula 1 for all the work they have done, and they keep doing, to improve the safety of our cars."
He reiterated: "The Halo saved me today and it goes to show every step we take in improving our cars has real, valuable results."
The rookie is confident he will be back in the car on Friday come first practice for the Austrian Grand Prix.
"I'm keener than ever to get back on track and do what I love," he said. "I'm fit and I'm looking forward to Austria."
Highlights from the British Grand Prix
Put simply, it was a quite remarkable British Grand Prix on Sunday.