Zhou explains glitch that caused aborted sprint start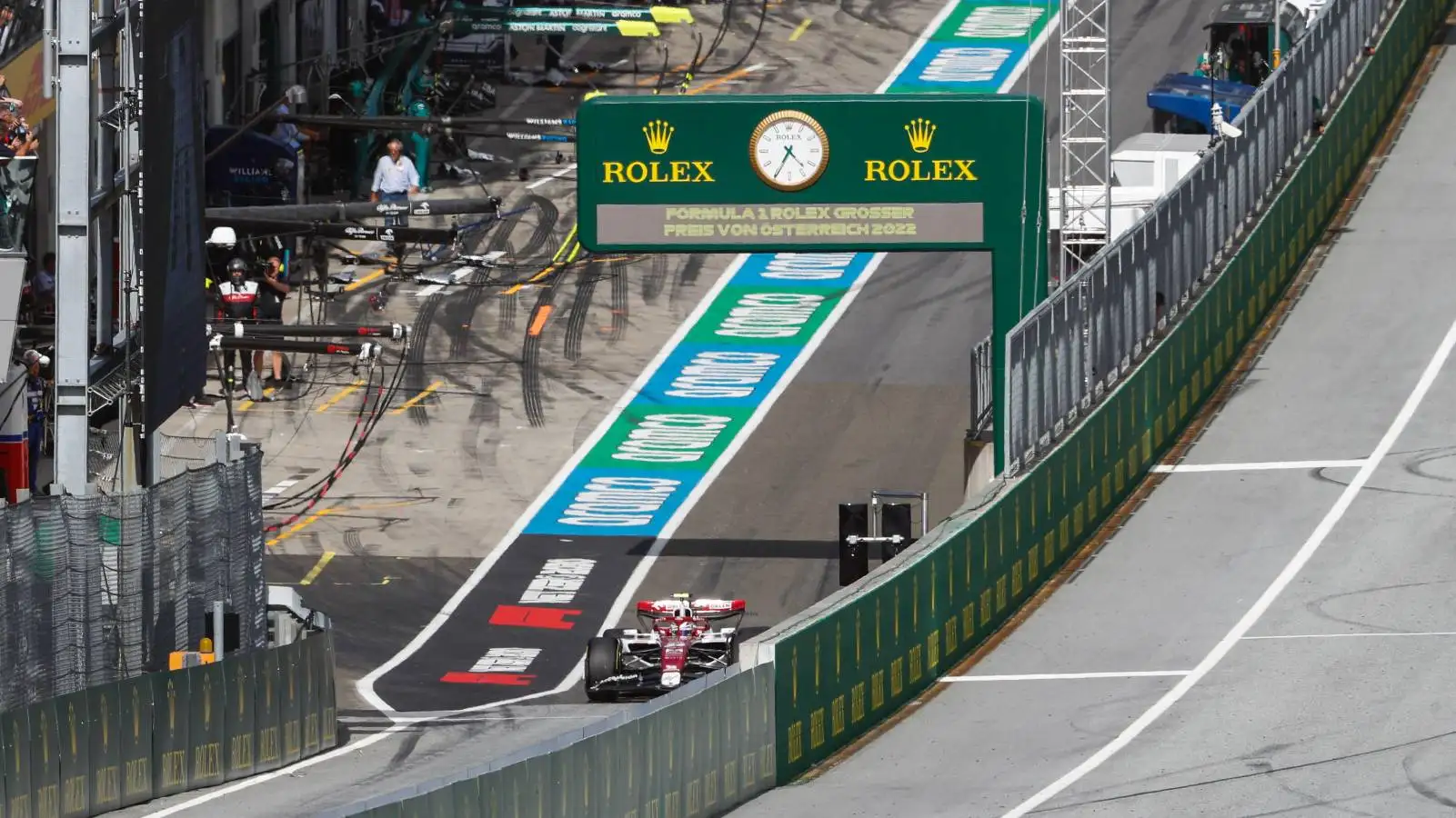 Zhou Guanyu has given his take on the engine glitch in his car that caused an aborted start for the Austrian Grand Prix sprint.
The Chinese driver had been about to launch his Alfa Romeo in racing conditions for the first time since his horrifying crash six days earlier going into the opening corner of the British GP.
But that prospect still awaits him because as he took the final turn towards the grid on the formation lap at the Red Bull Ring, about to start from P18, the engine in the C42 cut out.
He was, however, able to fire it back up himself, which meant he could take part in the sprint but was obliged to head into the pit lane and start from there.
In the meantime, with Zhou's car stationary and all the others on the grid, the intended start was scrapped and another formation lap completed, reducing the number of 'racing' laps to 23 from 24.
"The engine switched off in the last corner so basically I had to restart – I did a quick one to restart the engine," explained Zhou.
"I put the gears in and nothing was happening, so I had to do a whole full switch-off procedure and then luckily it got working.
"I have no idea what's the issue, I'll have to investigate. Pretty frustrating that, but after that I was very enjoying my comeback."
Good recovery from the pitlane today! Really happy with the pace after the issue we had. Full focus on tomorrow. 💪🏼#AustrianGP #TeamZHOU pic.twitter.com/cbHebTIxMu

— 周冠宇 | Zhou Guanyu 🇨🇳 (@ZhouGuanyu24) July 9, 2022
That recovery was indeed quite impressive because the 23-year-old managed to get past both AlphaTauris and both Williams cars, plus Sebastian Vettel who had spun off after a collision with Alex Albon.
Combined with Fernando Alonso's DNS in the sprint and Zhou's own team-mate Valtteri Bottas serving an engine penalty, it all adds up to a highly commendable P13 grid position – right in the middle of the pack again.
It showed again that if they can steer clear of mechanical or technical hitches, Alfa Romeo have a very competitive car.
"I feel confident with our pace and we were able to achieve the target position for tomorrow's start, inside the top 15," said Zhou, who has contributed five of the team's 51 points so far this season, putting them sixth in the Constructors' championship standings.
"So that puts us in a good window for points. But then for me, it's just to make sure the issue we had is not happening again and understanding it and we should be good tomorrow."