Guess the Grid: 1995 Pacific Grand Prix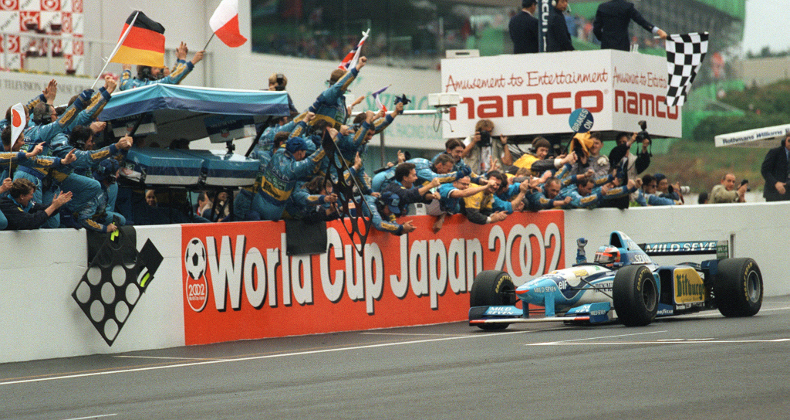 Japan hosted two races in the 1994 and 1995 seasons. For this F1 quiz, you must name the starters for the 1995 Pacific Grand Prix.
Of course, we all know the Japanese Grand Prix held at the Suzuka Circuit, but how many people remember the Pacific Grand Prix?
In the 1994 and 95 seasons, Formula 1 visited Japan twice for two separate races. First the Pacific GP, then the Japanese GP.
The Pacific Grand Prix was contested at the then-TI Circuit in Aida, Japan, and only ran for those two seasons.
Both years, the race was won by the same driver, who would also go on to win his first two championships in back-to-back seasons.
In 1994, the Pacific GP was held early in the season. But for 1995, it was moved.
The 1995 Pacific and Japanese Grand Prix's were held as double-headers towards the end of the year.
While the Suzuka Circuit of the Japanese GP is very used to witnessing that season's champion crowned there, this year was different.
The Pacific GP was the place that the 1995 championship was secured, and this would be the circuits last dance in Formula 1.
A short-lived stay on the calendar, the race was discontinued mainly for the TI Circuit's remote location.
Nevertheless, it holds the distinction as being the track which hosted the youngest double World Champion at the time.
Your challenge today with this F1 quiz is to name the top 14 starters for the 1995 Pacific Grand Prix.
It was a fairly populated grid with many recognisable names and two World Champions, so it shouldn't be too tall an order.
If this wasn't enough of a challenge for you, why not try yesterday's Guess the Grid: 1976 Belgian Grand Prix starters.
And there is the daily Sportword to try, Planet Sport's own word guessing game, which gives you a different F1-themed word to guess in six tries.
Good luck!