Pit Chat: Spare a thought for Valtteri Bottachello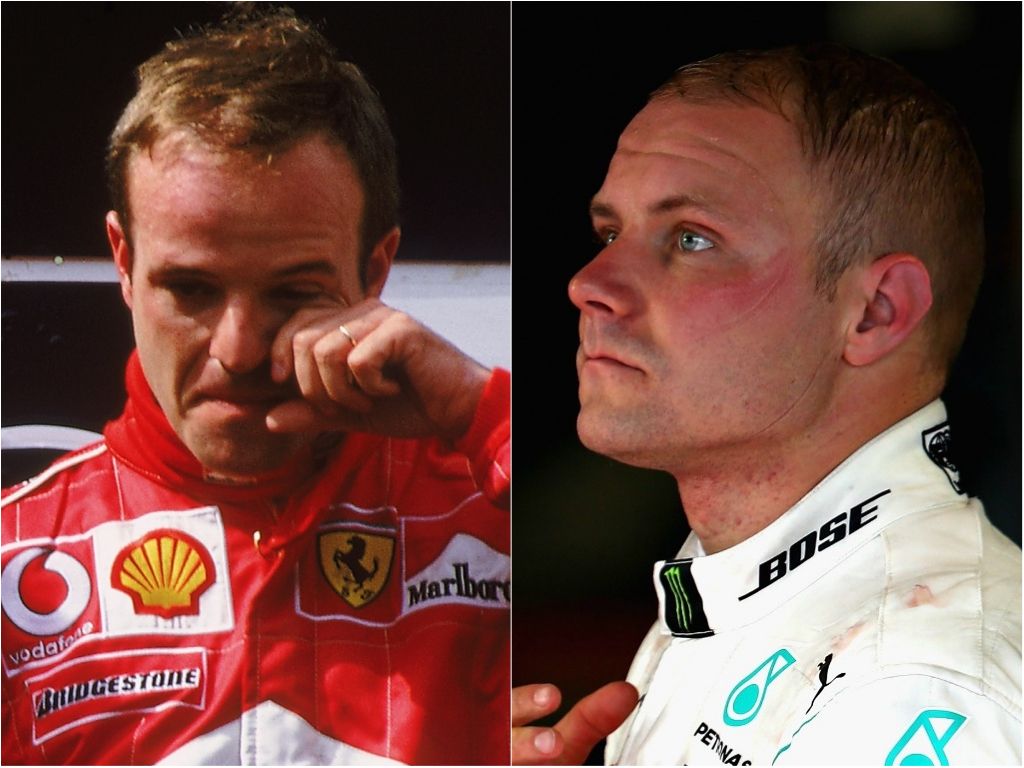 There were shades of Austria 2002 as Mercedes activated wingman mode in Russia. Here's a look back at the worst, and best bits, from the Sochi Autodrom.
But first…
Start as you mean to go on
Williams set the tone for another poor weekend with an early Twitter gaffe. Sometimes audience engagement isn't a good thing.
Cue the replies of calling him a rich w***er before the tweet got deleted.
But not everyone is a Lance Stroll hater, not even the guy who is going to have his seat taken by him at Force India next season.
A classy post from a classy driver.
I'm a two-time World Champion, get me out of here!
While Ocon is desperate to stay in Formula 1, one Fernando Alonso is desperate to get the hell out of here.
When asked how he would improve the Sochi Autodrom track, this is what he drew…
His drawing/boredom skills also extended to the autograph session. What Pierre Gasly started off in Singapore, Alonso continued in Russia…
Well, @alo_oficial finally got his hands on a signed @Svandoorne poster and… 🤷‍♂️

These two! 😅 #RussianGP pic.twitter.com/N2I73vmQyU

— McLaren (@McLarenF1) September 27, 2018
Even though Alonso is definitely, definitely leaving Formula 1 at the end of the season, we nearly got caught out by this tweet, which just turned out to be confirmation of his grid penalty…
Alonso joins Red Bull, Toro Rosso drivers at back of grid #F1https://t.co/mJdWoMLzRC

— Motorsport.com (@Motorsport) September 28, 2018
And we can't move on from Alonso without mentioning this wonderful video that did the rounds on social media this weekend. The ending in particular is superb.
Fernando Alonso cuando llega al Paddock:
(Alguien tenía que hacerlo) pic.twitter.com/brl42Ixmbk

— Magic #GraciasFernando (@GuauMagic) September 29, 2018
Swede dreams aren't made of this
Love him, like him, or loathe him, you have to feel at least a little bit sorry for Marcus Ericsson, who had quite the few days in the lead-up to Sochi.
Saturday, September 22 – "I feel that I stepped it up the last five or six weekends," Ericsson said.
"I scored more points than Charles, and Charles has signed a contract with Ferrari for a few years.
"I think that says quite a bit," he added. "If I can keep doing that, or even better, that's what I need to do."
Tuesday, September 25 – Antonio Giovinazzi to join Kimi Raikkonen at Sauber in 2019, Ericsson demoted to third driver.
Ouch.
Red Bull v Renault round 397
These two are going to keep taking shots at each other forever, aren't they? It's unusual to see Christian Horner take a back seat this time, but he would have been proud of his driver, Max Verstappen, with this retort.
Cyril Abiteboul: We have a very demanding user in the person of Max. Not very quiet, also. I think he should focus on the car.
Max Verstappen: Well if he focused as much on his own team than bothering me all the time they'd have been world champion already.
Verstappen also had to be quick off the mark when team-mate Daniel Ricciardo tried to put him in a world of trouble when mentioning that Max was out of breath answering his phone…
Playing with fire
We were half-expecting Ricciardo to fall mysteriously ill in Russia, especially after this particular comment made to the press:
"I'm quietly hoping everyone in front of me gets positive drug tests or something and I can win by default. That's my only hope now. USADA, where are you? No, WADA…" – @danielricciardo

Hell of a joke to make in Sochi! #F1 #RussianGP

— Keith Collantine (@keithcollantine) September 27, 2018
But, if you are not having much fun on the track, may as well have some fun off it.
And, judging by these pics, Ricciardo was pretty much spent by Saturday morning.
A quiet morning for Daniel Ricciardo as he watches his beloved @WestCoastEagles 😂 pic.twitter.com/RBtwzG6QAr

— Planet F1 (@Planet_F1) September 29, 2018
Look at the state of you
Time for Kimi Raikkonen to provide a succinct review of what on earth is going on with Ferrari.
Exhibit A:
Ferrari sending Kimi out but time was up

Kimi: we're gonna miss the…
Ferrari: stop the car Kimi
Kimi: The fuck?
Kimi in finnish: What a fucking mess#Kimi7 #RussianGP pic.twitter.com/8PZo1DIlz3

— Kimi Räikkönen Fans (@iceman7news) September 29, 2018
Exhibit B:
Amazing radio exchange at Ferrari earlier.

Ferrari: "Kimi, do the opposite to Hamilton please."

Kimi: [perplexed] "But I cannot even see him?"

— Nate Saunders (@natesaundersF1) September 30, 2018
When we wanted to see Sebastian Vettel keep pushing, this is not what we had in mind.
Speaking of messes, what an absolute shambles the 'battle' for the top 10 shoot-out was.
Out in Q2:

Verstappen – no time set
Ricciardo – no time set
Gasly – no time set
Sainz – no time set
Hulkenberg – no time set

Thrilling stuff.#RussianGP 🇷🇺 #F1

— Planet F1 (@Planet_F1) September 29, 2018
Valtteri Bottachello
But the biggest mess of all came courtesy of Mercedes, who managed to make a 1-2 in Sochi have the sombre atmosphere of a funeral.
The face of a broken man.
Lewis Hamilton was so uncomfortable on the top step of the podium, he even tried to give Valtteri his winners' trophy.
Hamilton wanted to change the trophies with Bottas!!#hamilton #bottas #RussianGP #f1 pic.twitter.com/IXZDqWsWjY

— Dennis Gerritsen (@Dennboss) September 30, 2018
Of course, this isn't the first time Valtteri Bottas has been on the end of some unfair treatment.
Bottas was told to move for Hamilton in Bahrain 2017

He was left out long in Spain to hold up Vettel

He was told to not race Hamilton in Germany 2018

He was used to hold up Vettel in Hungary

He was called a wingman by Toto Wolff

He's been told to move over again today

— David 🌐 (@CRL_Stone) September 30, 2018
And how can you forget that in-race close-up shot of Toto Wolff's finger hovering over the dreaded button.
Crime can't crack itself
The reason Mercedes gave for orchestrating team orders was concern over Hamilton's blistering left rear tyre, which attracted plenty of attention post-race.
Sebastian Vettel swapped helmet for fedora…
Inspector Sebastian Vettel 005 😂👀🔎

🎥 RTL #RussianGP 🇷🇺 #Seb5 pic.twitter.com/AESVkBGWYv

— Sebastian Vettel #5 (@sebvettelnews) September 30, 2018
And Bottas was straight over for a look as well…
Any other business
On the weekend of his 21st birthday, Max Verstappen's voice finally breaks. The reply from the engineer is golden.
He's 21 on Sunday, and @Max33Verstappen's voice has finally decided to break 😉#RussianGP 🇷🇺 #F1 pic.twitter.com/02DJksFgWj

— Formula 1 (@F1) September 29, 2018
Here's a nine-second clip to show why Brendon Hartley is making it very hard for himself to be hired for 2019.
The Torpedo is back!
Kvyat walking into the #F1 paddock in 2019 like: pic.twitter.com/2VFXEASII2

— Aarav | Veloce aarava (@_aarava) September 29, 2018
And Sebastian Vettel sparks off a new camera cover-up controversy.
Last word
Can't be anything else, can it?
Bottas: "How are we going to end race?"
Mercedes: "Positions stay as they are"
Next up, Japan…
Follow us on Twitter @Planet_F1 and like our Facebook page.