Pit Chat: Can you pass the salt, Ferrari?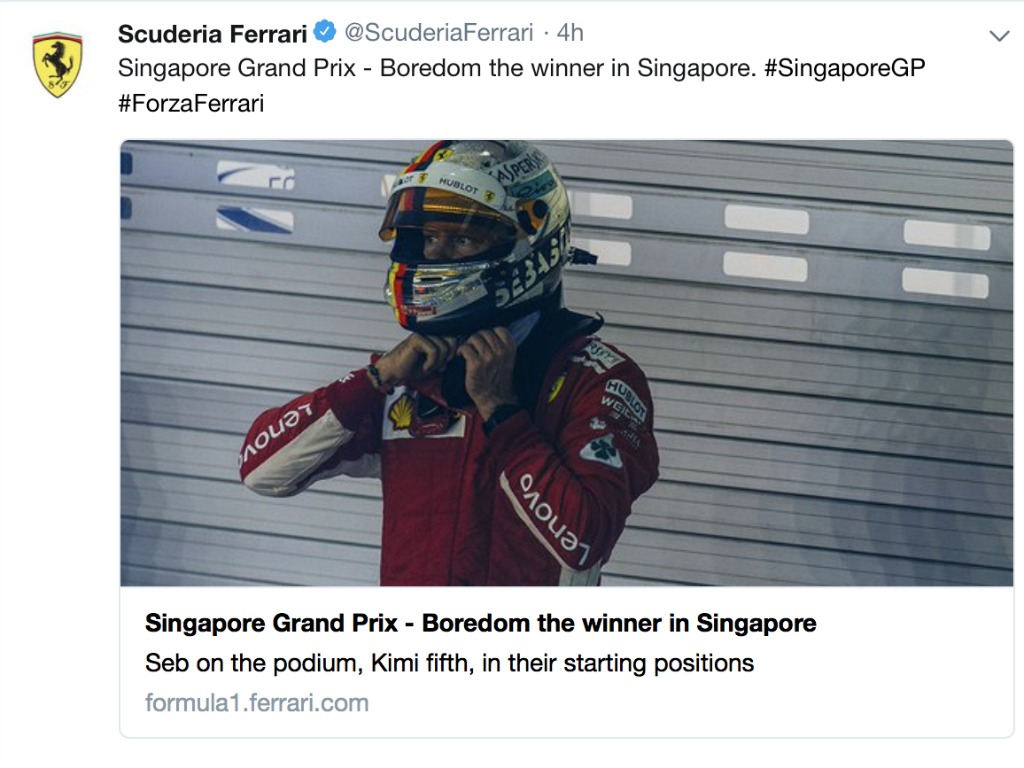 Ferrari's bitterness shines through in Singapore, while the Bernie Ecclestone era continues to live on.
It's time to look at the best bits of the Singapore Grand Prix with Pit Chat, but first…
Sleepless in Singapore
When the Singapore Grand Prix comes around, it is Pit Chat tradition to start off by reminding you of an absolute classic of a YouTube clip, where one poor soul got a whole lot more than he bargained for…
Time to say goodbye
Kimi Raikkonen is leaving Ferrari at the end of the season and has a two-year deal with Sauber. The information within that sentence still hasn't fully sunk in yet.
The media wanted answers, a deeper insight into the decision-making process. Were we going to get that? Absolutely not.
Think we can all agree that another two years of this is a good thing 😍🤣#SingaporeGP 🇸🇬 #F1 pic.twitter.com/OEFelFViFm

— Formula 1 (@F1) September 13, 2018
He didn't finish there…
Will you help Vettel to win the championship this year?
"I can only drive one car obviously." #SkyF1 #F1 # SingaporeGP pic.twitter.com/24vaFG1beF

— Sky Sports F1 🏎 (@SkySportsF1) September 13, 2018
Anything else anyone wants to ask?
Reporter: Kimi, why Sauber?
Raikkonen: Why not?
And the sign-off from Kimi after answering these questions was perfect.
Reporter: Thanks for the insight, Kimi.
Kimi: No worries.
Judging by these pics, Kimi's son, Robin, is well on the way to following in his footsteps.
Awesome! 😍Like father,like son 💙 pic.twitter.com/4NSROp0kNV

— Kimi Räikkönen #bwoah (@Kimi7iceman) September 14, 2018
And it seems those Formula 1 genes run even deeper…
😍😍😍

Minttu's IG story pic.twitter.com/UFzYTou5dP

— Kimi Räikkönen #bwoah (@Kimi7iceman) September 15, 2018
There were plenty of hot takes on the Raikkonen to Sauber news, including from ex-F1 driver turned Five Live reporter Jolyon Palmer, who definitely didn't continue to take up a seat on the grid by consistently underperforming.
One thing the news did bring was another opportunity to look through some of Raikkonen's best bits at Ferrari. Oh go on then, one more watch can't hurt.
Comic Kimi – the @ScuderiaFerrari edition…

😄😂🤣#F1 pic.twitter.com/15FoGT2JRK

— Formula 1 (@F1) September 11, 2018
The Bernie era lives on
Prior to the weekend's action, we got our first proper glimpse of what the 2021 cars may look like via three concepts unveiled by Formula 1.
Just remember to take the old logo off the images before publishing next time…
We can hear Bernie cackling from here.
But it would have been assuring to hear that one of the top drivers liked what they saw from 2021 concept.
Nope, wait a second…
Are we nearly there yet?
Whilst we are in amongst negative vibes, it appears some have already reached breaking point with six races still to go.
Someone at Motorsport.com really hated the unrepresentative conditions of FP1 in Singapore…
And talk about the BBC's commentary coverage escalating quickly…
Sorry you're leaving
Let's spare a moment for poor Stoffel Vandoorne, shall we? Axed by McLaren, not on any other team's radar for 2019 and is now unable to leave with any dignity thanks to Pierre Gasly.
5000 RT and he does it! 😂😂😂@svandoorne pic.twitter.com/wyG2S6IZ44

— Pierre Gasly 🇫🇷 (@PierreGASLY) September 13, 2018
Speaking of departing drivers, we're going to miss the dynamic duo of Ricciardo and Verstappen at Red Bull.
Dr Helmut Marko has said Ricciardo will be excluded from all meetings about 2019 now that he is off to Renault. He didn't tell us that he made Ricciardo become a chauffeur as well…
It's good to see they are still spending some quality time together, though.
Things are heating up in the ice bath… 😉 #SingaporeGP 🇸🇬 #F1 pic.twitter.com/gkhUBC5zru

— Red Bull Racing (@redbullracing) September 15, 2018
Ice, ice baby
With very hot and humid conditions to work under, there was plenty of ice bath-related content which turned into a who had the best ice bath competition.
Ice Man by name…
Carlos Sainz went one better by introducing a rubber duckie…
But anything Carlos can do…
Pass the salt
Oh Ferrari, what are we going to do with you? This World Championship was yours for the taking and you are letting it slip away.
Not only are the pit wall not getting it right, neither are the PR department. There are certain ways to react to a defeat, this is not one of them…
Perhaps it wouldn't have been boring if you had found a better gap for Sebastian Vettel to pit and also put him on the right tyres as well. Just a thought…
If you're interested in joining the Twitter team…
How to make a Ferrari twitter account pic.twitter.com/0T8vun7nXH

— iGP Manager (@iGPManager) September 16, 2018
If they do want a lesson in grace and professionalism, then Force India can show them what to do when they get it wrong.
We deleted that when we saw the replay. We were wrong and we apologise.

— Racing Point Force India F1 (@ForceIndiaF1) September 16, 2018
Any other business
Sky Sports' Ted Kravitz provides an emphatic response to the question: Can you cook an egg on an F1 tyre?
Can you cook an egg on an F1 tyre? One thing is for certain, @TedKravitz is not a chef! 😂#SkyF1 #F1 #SingaporeGP pic.twitter.com/oPiTmzNqz6

— Sky Sports F1 🏎 (@SkySportsF1) September 15, 2018
Was the Singapore Grand Prix weekend really that boring to lead to content like this? No, don't answer that actually.
Moving swiftly on, we're still not completely sure who on earth Max Verstappen could be referring to here. Any ideas?
Lewis Hamilton and Formula 1 still have some way to go it seems to achieve global recognition…
Fernando Alonso inadvertently describes his whole Formula 1 career when reflecting on his 2017 Singapore Grand Prix in McLaren's race preview…
While the McLaren-Honda partnership still lives on in some (broken) hearts.
Meanwhile, there was a clear winner in Motorsport Week's caption competition…
Put Ocon in the Haas, you Arrivabellend! https://t.co/390QwkIbve

— Chain Bear F1 (@chainbearf1) September 16, 2018
And Lawrence Stroll is not throwing absolutely all his money at Force India. Not when a perfectly good sticker can hide an old Kingfisher logo.
Last word
Is there a better gif that can perfectly sum up how the 2018 season is probably going to play out? We don't think so.
You've all seen *that* Hamilton-Vettel action from Monza…

But have you seen this alternate angle? 😉 #F1 pic.twitter.com/x3blDxYa1V

— Formula 1 (@F1) September 13, 2018
Follow us on Twitter @Planet_F1 and like our Facebook page.