And then there were three…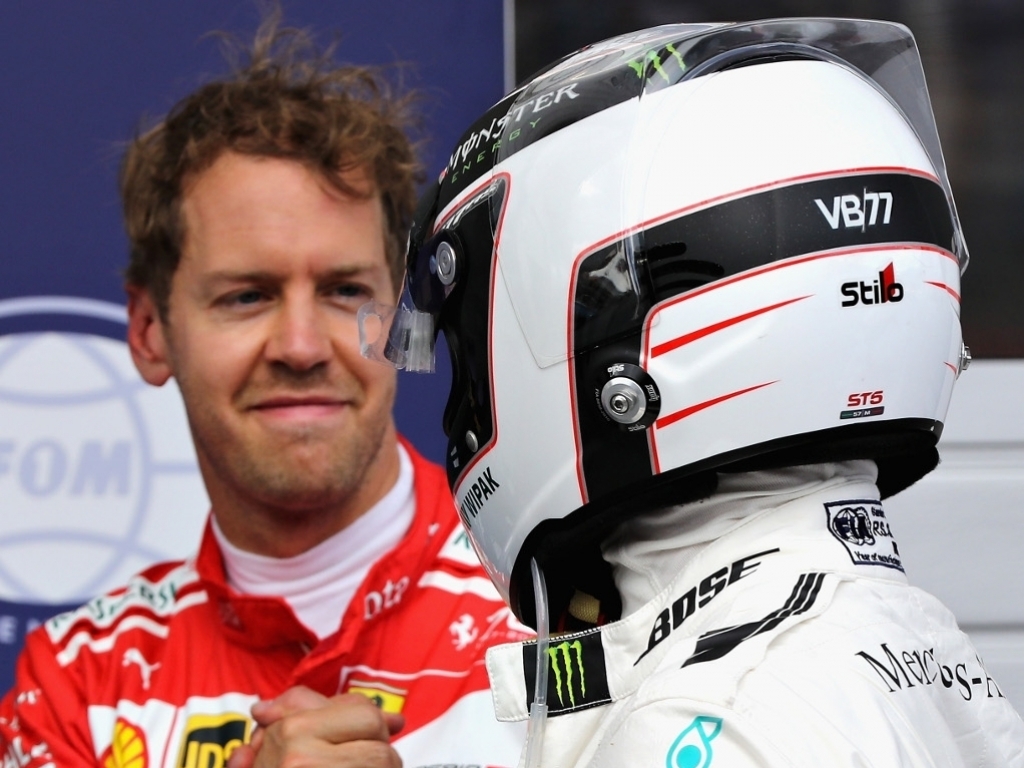 With 20 points separating Sebastian Vettel and Lewis Hamilton and 15 between the Brit and his Mercedes team-mate, Formula 1's title race has just become a three-driver tussle.
After the drama of Baku, during which Vettel and Hamilton clashed on the track, last weekend's Austrian Grand Prix was an anti-climax.
Instead of fisticuffs and retaliations, or at least a bit of paint swapping, Vettel and Hamilton never once even came close to each other on the track as the Mercedes driver suffered a gearbox penalty and started P8. He finished fourth to Vettel's runner-up result.
That, though, did pave the way for Valtteri Bottas to enter the title fray as he recorded the second victory of his Formula 1 career to close the gap to Hamilton to 15 points.
And while this weekend's British Grand Prix is by no means a title-decider, a bad result for any of the three could alter the dynamics – so too could a good result.
That's what Hamilton will be vying for as the Mercedes driver chases his fifth Silverstone win, and his fourth in succession.
He has been the dominant force at the Northamptonshire circuit in recent years, winning every British GP that he has contested in a Silver Arrows.
Throw in Nico Rosberg's 2013 win and Mercedes are aiming for their fifth on the trot. Not a bad record.
The Brackley squad, though, have been up and down of late with issues costing Hamilton such as the headrest problem in Baku and the gearbox in Austria. Added to that, they've also struggled with their tyres, the W08 not always able to get the most out of the Pirelli rubber.
That doesn't seem to affect Bottas as much as his team-mate with the Finn racing to the victory in Austria, leading from lights to flag. He'll want more of the same as he looks to upset Hamilton's home coming on Sunday.
"I got the start of my life."

Valtteri Bottas reflects on his second win of the season.https://t.co/ubxTOpC0p4#F1 pic.twitter.com/AygW5iYUkC

— Planet F1 (@Planet_F1) July 9, 2017
But while Silverstone may have belonged to Mercedes in recent times, this year's championship has already shown that yesterday's results don't dictate today's pace as Ferrari have returned to the front.
The Scuderia last won in England back in 2011 when Fernando Alonso took the chequered flag ahead of Vettel. With 15 British P1s on the board, Ferrari may be the most successful team at Silverstone but it hasn't been a happy hunting ground of late with just two wins in the last decade.
With the home crowd firmly behind Hamilton, Vettel could face a hostile greeting this Sunday, however, has downplayed that saying he expects a "fair crowd" and one that "appreciates" good results – even if they aren't in favour of their own driver.
Over at Red Bull, Daniel Ricciardo is chasing a sixth successive podium finish while Max Verstappen just wants to finish. Such has been the Dutchman's bad luck that he has been overhauled by Force India's Sergio Perez in the Drivers' standings. And while the Mexican is having the "best" season of his career, Verstappen – linked to a move to rivals Ferrari – feels he is having one of the worst.
It can't, though, get worse than McLaren where Fernando Alonso faces further grid penalties as Honda have once again changed elements of his engine. At a high-speed fast-paced Silverstone, points may be a horsepower or two too far away for McLaren.
But one of the big questions is can Jolyon Palmer get it right at home. The master of P11, he needs to a top-ten result to even consider a future in Formula 1 – and even then it may be too little too late for the Brit.
Michelle Foster