A look at the best and worst that 2017 had to offer from the Azerbaijan Grand Prix to Jolyon Palmer.
Grand Prix
Best: Azerbaijan GP
Formula 1 did so much right in Baku this season and who would have thought it possible after 2016's borefest.
One of the most intense and exciting races, Daniel Ricciardo claimed the victory ahead of Valtteri Bottas while Lance Stroll secured his first – and to date only – F1 podium.
The race saw Sebastian Vettel receive a controversial 10-second stop-go penalty for deliberately swerving into title rival Lewis Hamilton, who he felt brake tested him under one of three Safety Cars.
Oh, there was also a red-flag stoppage, contact between the Force India team-mates and Fernando Alonso raced from P19 to P9.
Worst: Abu Dhabi GP
If Formula 1 wanted to pump up the fans and get us on tenterhooks waiting for the new season, Abu Dhabi was not the way to go about it.
Let's have a look at the highlights so far from the Abu Dhabi Grand Prix #F1 pic.twitter.com/P5ngMqofNg

— Planet F1 (@Planet_F1) November 26, 2017
There was absolutely no excitement on offer at the season-ending race and barely any passing. So much so that the cameraman focused on Lance Stroll and Romain Grosjean's battle for P13 in the first half of the grand prix while Kevin Magnussen, Pascal Wehrlein and Brendon Hartley's tussle was the drama in the second half.
Qualy top ten:
1 Valtteri Bottas Mercedes
2 Lewis Hamilton Mercedes
3 Sebastian Vettel Ferrari
4 Daniel Ricciardo Red Bull
5 Kimi Raikkonen Ferrari
6 Max Verstappen Red Bull
7 Nico Hulkenberg Renault Sport
8 Sergio Perez Force India
9 Esteban Ocon Force India
10 Felipe Massa Williams
Race top ten:
1 Valtteri Bottas Mercedes
2 Lewis Hamilton Mercedes
3 Sebastian Vettel Ferrari
4 Kimi Raikkonen Ferrari
5 Max Verstappen Red Bull
6 Nico Hulkenberg Renault Sport
7 Sergio Perez Force India
8 Esteban Ocon Force India
9 Fernando Alonso McLaren
10 Felipe Massa Williams
Decision
Best: Sacking Palmer for Sainz
After months of speculation about his future, Renault and Jolyon Palmer finally parted ways ahead of the United States Grand Prix. It was the end of a near point-less endevour with the Brit scoring just twice in two years.
Instead Renault brought in Carlos Sainz, who was P7 on his debut, scoring six points for the team.
Take his six points out of the equation in the Constructors' Championship and Renault would have finished behind Toro Rosso thus losing out on an estimated 7 million.
Worst: Vettel swerve in Baku
Brain fade, a moment of insanity, or a chink in the armour?
Whatever it was, it was arguably Sebastian Vettel's worst mistake of the 2017 season – and that is including his Singapore opening lap.
Running 1-2 with Hamilton leading Vettel behind the third Safety Car of the day, the Mercedes driver – at least according to Vettel – applied the brakes and he ran into the back of him.
"He brake tested me," said the Ferrari driver, who responded by pulling alongside Hamilton and deliberately hitting him.
Yip, he swerved right into him!
The matter was investigated by the stewards who declared that Vettel was at fault – "dangerous driving" – and handed him a 10-second stop-go.
Vettel still finished the grand prix in fourth place, one position ahead of Hamilton, however, the cracks in the facade were clear to everyone – especially Hamilton.
The German later admitted that it was his worst mistake of the season.
"I think Baku was worse [than Singapore]," he told Autosport. "I felt I let the team down, because something that I did obviously cost a race win potentially."
Driver
Best: Max Verstappen
The F1 gods lined up against Max Verstappen in the first half of 2017 as he recorded five retirements in the first 11 grands prix – and often while racing in a strong position.
It must have felt like it just wasn't his season.
And yet Verstappen continued on with his youthful exuberance to conclude his season with a run of six points-scoring results including wins in Malaysia and Mexico.
His ballsy move against Vettel in Mexico at the start in which he kept his foot flat around the outside was one of the best passes of the season. And it set him up for the win.
From "I can't believe this" to "yes, yes" for the double race winner, Verstappen showed in 2017 why he's the one bringing in the fans.
Worst: Marcus Ericsson
Marcus Ericsson came up short against Pascal Wehrlein in qualifying, points, and – one could say – talent and yet he's the man that Sauber have kept on board for next season.
Although the gap between the team-mates was just 0.05s on Saturday afternoons, Ericsson didn't score a single point for Sauber with his best results 11th-placed finishes in Spain and Baku.
It was anything but a good season – not even a mediocre one – for the Swedish driver, who has now recorded back-to-back seasons without a point.
Blame the year-old Ferrari engine and the underwhelming Sauber updates, but the fact is Wehrlein scored – twice.
Battle
Best: Toto Wolff v the table
Sebastian Vettel took the lead and the table got it from Toto…
Worst: Romain Grosjean and his brakes
Romain Grosjean struggled with his brakes throughout this year's championship, often resulting in amusing radio complaints – sorry constructive criticism – from the Frenchman.
From Brembo to Carbon Industrie, his long-standing brake issues caught the attention of the FOM crew. And Grosjean wasn't happy about it.
"I'm very fed up with it," he said. "Everyone is saying things [on team radio], and when I'm saying things, it's just for the team, it's not for the outside world.
"It's our internal business if I have rear locking and front locking, or whatever.
"I've been broadcast much more than others and I'm pretty sure others have been swearing and not being happy sometimes. I just feel that they have been a bit unfair and I'm tired [of it]."
Overtake
Best: Ricciardo's Baku hat-trick
Daniel Ricciardo pulled off one of the biggest surprises of 2017 when he won the Azerbaijan Grand Prix from P10 on the grid, and did so by making the pass of the season.
Following a red flag, the race resumed with Ricciardo eager to continue his charge up the order.
On lap 24, with the field bunched up, the Aussie dived down the inside at Turn One to pass Nico Hulkenberg, Felipe Massa and Lance Stroll in one go.
That put him up into third place after which he benefitted from the argy-bargy involving Lewis Hamilton and Sebastian Vettel.
Worst: Verstappen on Raikkonen
A last lap pass is always going to get the crowd going, unfortunately for Max Verstappen it also got the stewards going.
Verstappen overtook Kimi Raikkonen at the United States GP, a last lap move that put the Red Bull racer up onto the podium.
However, his celebrations were short-lived as he lost P3 when the stewards slapped him with a penalty for passing Raikkonen with all four wheels off the track.
The pic says it all…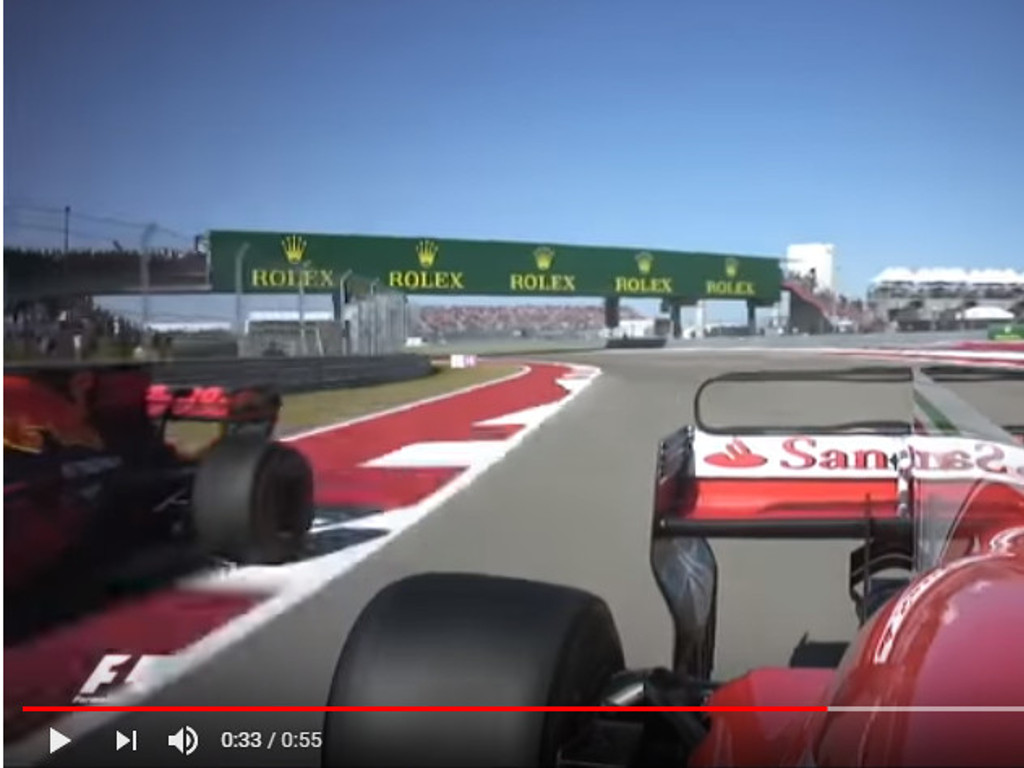 Michelle Foster