The second part of the best of Pit Chat sees Fernando Alonso dust off the deckchair, Kevin Magnussen and Nico Hulkenberg's slanging match and Kimi Raikkonen uninviting himself to a rave.
Hungarian Grand Prix
Not one, but two highlights of the season came at the Hungarian Grand Prix. First there was the iconic images Fernando Alonso provided as he fully embraced the deckchair meme.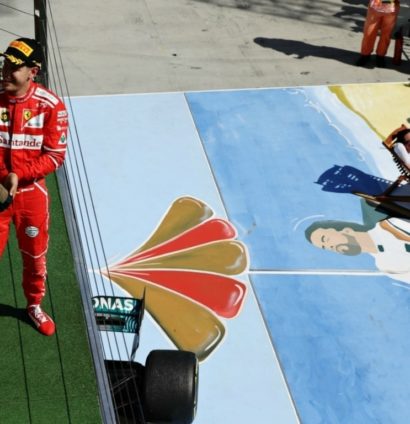 Then Kevin Magnussen and Nico Hulkenberg had a nice, friendly catch-up in the paddock.
Belgian Grand Prix
Spa gave us this gif to use forever more…
And, after Fernando Alonso's latest retirement, it led to this…
Meanwhile at Eau Rouge. #BelgianGP #F1 pic.twitter.com/RzONGWVTsy

— Giedo van der Garde (@GvanderGarde) August 27, 2017
Honda also officially became a complete parody of themselves.
As Fernando Alonso desperately tried to drag the MCL32 into the top-ten shoot-out, he was inevitably prevented from doing so by a complete lack of power.
The reason this time? The Honda system got confused with Alonso taking Pouhon flat out.
Standards had dropped at McLaren, too, it seemed, but at least they were embracing it…
Fernando returns to the box. Chewie, our rear jack man is ready as ever. 💪 #BelgianGP pic.twitter.com/ljwB3y41BL

— McLaren (@McLarenF1) August 26, 2017
But it was nice to see so many McLaren fans sticking by the team through thin and thinner. Great to see at Spa.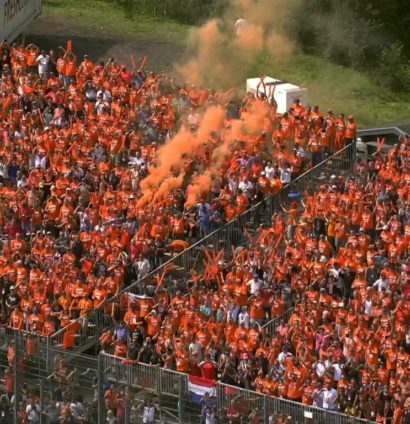 Italian Grand Prix
Sebastian Vettel went from trouble-maker in Baku…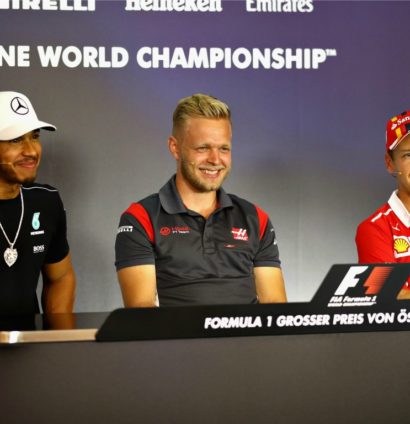 to peace-maker in Italy…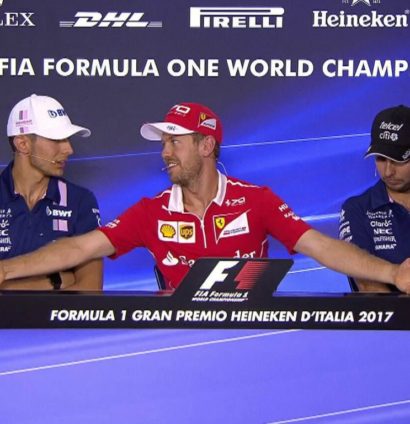 A near three-hour rain relay was enough to put anyone at their wit's end. Thankfully with so much time to fill it led to some little moments of joy.
There were Niki Lauda's unfortunate choice of words to describe the weather…
And the unexpected savagery from Dr Helmut Marko as he blamed Grosjean's latest 'fall-off' for the reason why Race Control were so reluctant to send the cars back out in qualifying.
Singapore Grand Prix
Ricciardo and Max Verstappen unfortunately found time to try out the revolting durian fruit, inadvertently providing the perfect symbols of their respective seasons at the time.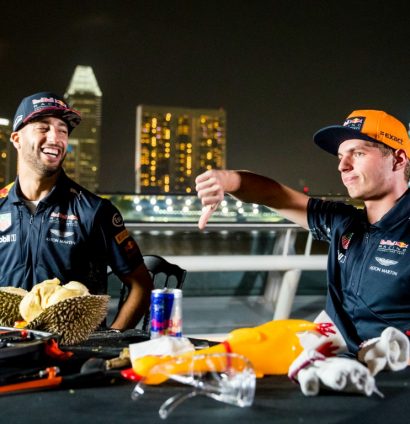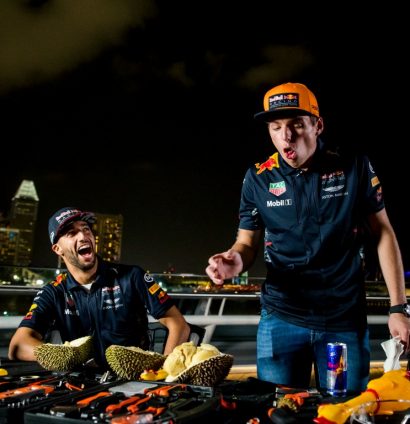 Kimi Raikkonen and Fernando Alonso further established themselves as particular favourites of Pit Chat, given that they also produce the goods in one way at least.
This season we saw Kimi become a master of disguise, a world-class spy, a health and safety officer, and now he has developed the power to mutate.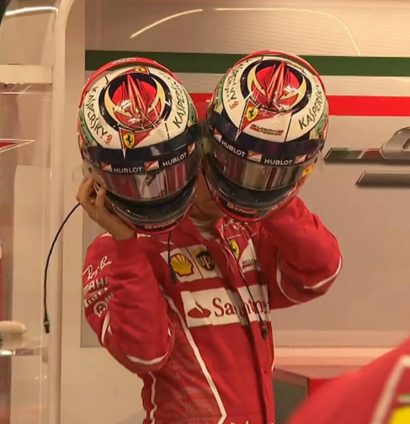 Alonso, meanwhile, provided some more radio gold…
It was also the weekend that saw Renault announce they would be ditching Jolyon Palmer in favour of Carlos Sainz. Palmer, though, responded in the perfect way by clinching his maiden Formula 1 win.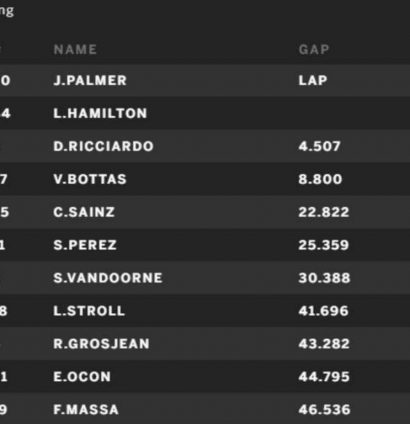 Malaysia Grand Prix
Schoolboy antics were on show once again as we got another wonderful glimpse of the FIA Drivers' Briefing. Felipe Massa grassed up Sergio Perez for corner cutting in Singapore and the Mexican stayed behind after class to explain himself.
Just when we thought it could not get any better than that…
End of a great day, I'll leave you with this from the Drivers' Briefing in Malaysia. Editted by Phineasfogg on the @reddit F1 page, it is absolutely brilliant. Enjoy. https://t.co/1jDcbI2RZZ

— Will Buxton (@thebuxtonblog) October 1, 2017
In the race (or should we say after the race) Sebastian Vettel ordered a [Sa]uber following a weird crash with Lance Stroll on the in-lap.
And it was good to see the folks at McLaren-Honda getting on so well after deciding to split.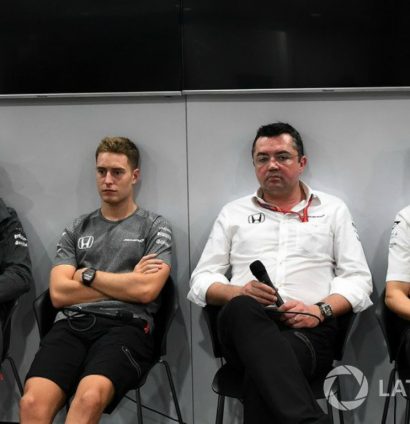 Japanese Grand Prix
Japan was all about the antics of Ricciardo and Verstappen, who were just having the time of their lives.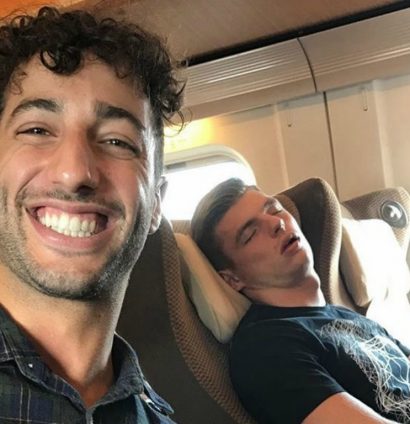 But, of course, it was Ricciardo who stole the show when he spotted Lewis Hamilton's unlocked phone on the podium. His eyes must have lit up.
And here's another clip for good measure…
Ricciardo and Verstappen were not done there, though…next came the post-race press conference.
And this lovely exchange with Hamilton…
LH: I've never seen drivers such good friends
MV: You should see us at home
LH: Do you guys share a room?
MV: We actually share a bed
DR: The team is like 'Do you want a front wing or your own hotel room?'
United States Grand Prix
Those driver introductions were really something, weren't they? What a rollercoaster of emotions.
1. Stoffel Vandoorne missed his cue
2. Will Buxton's mic was kept live throughout as he tried to interview the drivers
3. The driver video packages ended up out of sync
4. Daniil Kvyat being introduced as 'The Torpedo'. Poor b*stard.
5. Lance 'The Heartbreaker' Stroll. WTF?! 'The Carbreaker' would have been more apt.
6. The "always smiling" Kimi Raikkonen. Okay, that one's pretty good.
7. Daniel Ricciardo being referred to as 'Ricky Rocket' and 'Honey Badger'. Again, excellent work.
8. Michael Buffer fluffing Sebastian Vettel's intro. Toe-curling.
Our overall verdict…
And just when you thought the United States Grand Prix couldn't be more American if it tried. Along came an eagle…
Mexico Grand Prix
Never mind Hamilton winning title, we'll mostly remember Kimi's reaction to the podium celebrations being turned into a rave that the 'Ice Man' immediately uninvited himself to.
But Hamilton's celebrations did cause this epic collision on track…
Brazil Grand Prix
Daniel Ricciardo was in his usual good form and got the weekend off to a strong start with this brilliant response after practice.
WATCH: "We bought some new mattresses…had a slumber party" 😂

What on earth is Daniel Ricciardo on about? #SkyF1 #F1 #BrazilGP pic.twitter.com/iVcEpZemfw

— Sky Sports F1 🏎 (@SkySportsF1) November 10, 2017
Then there was a great exchange between him and Christian Horner on team radio as patiently waited at the end of the pit lane.
Ricciardo: "Can you sing me a song or something?"
Horner: "You could always sing knock, knock, knocking on Renault's door Daniel."
SSF1: https://t.co/BNikV8W5jq
Blog: https://t.co/W4Jk8Z66xd #SkyF1 #BrazilGP #F1 pic.twitter.com/2iP2WIG4Ms

— Sky Sports F1 🏎 (@SkySportsF1) November 10, 2017
But his best answer came when Martin Brundle, facing an uphill battle on his grid walk, asked the following:
Brundle: "Who are you listening to, Daniel?"
Ricciardo: "You wouldn't know mate. You're not down with the kids."
There was also a great story involving Bernie Ecclestone (yes, really), Sebastian Vettel and a bet over who could swim the fastest.
Sky F1's Ted Kravitz also got in very early with the puns about Hamilton being involved in the Paradise Papers leak…
Cheeky dig at @LewisHamilton by @tedkravitz 👏 #seewhatyoudidthere #BrazilGP pic.twitter.com/sBlkLv0jEi

— Team Mates (@Teammatestoon) November 9, 2017
But his live broadcasts would not continue to go that smoothly. Look what happened when he used his phone to explain why Brendon Hartley had chosen to race with the number 28.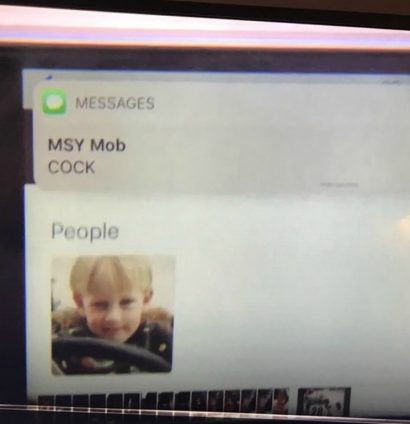 Whoever 'MSY Mob' is, we salute you.
Abu Dhabi Grand Prix
The less said about that race, the better.
Let's have a look at the highlights so far from the Abu Dhabi Grand Prix #F1 pic.twitter.com/P5ngMqofNg

— Planet F1 (@Planet_F1) November 26, 2017
Until next season…