The 2017 season is in the books and it has provided plenty of memorable moments. Warning: the following contains a lot of Kimi Raikkonen.
Australian Grand Prix
Move along, nothing to see here. It was far, far too early in the morning and there was no laughing to be had over this weekend, just tears.
Chinese Grand Prix
It can sometimes take a little while for people to get used to change, as Valtteri Bottas found out in his very early days at Mercedes…
Smog, fog, or a combination of the two, meant that FP1 and FP2 largely became a battle of stifling yawns. But at least we will always be able to re-live the great drama that was 'The Case of the Missing L'.
The story of FP2… pic.twitter.com/4x1qDPBMe8

— Planet F1 (@Planet_F1) April 7, 2017
Bahrain Grand Prix
Bahrain brought us Kimi Raikkonen inadvertantly starring in his own Western…
There's a new sheriff in town 🤠 😂

(🔊 Turn up your sound)#BahrainGP 🇧🇭 pic.twitter.com/0GS4TWyoQT

— Formula 1 (@F1) April 14, 2017
Russian Grand Prix
But it was in Sochi where we would reach peak Kimi, with a series of wonderful events.
Followed by this excellent exchange in the race…
Engineer: "We are 9.5 behind Bottas and 8 tenths a lap quicker"
Raikkonen: "What do you mean, we are behind Bottas?"
Engineer: "Confirmed, we are behind Bottas"
Raikkonen: "How did we end up behind him and why we didn't stop earlier?"
Engineer: "He was leading the race Kimi"
Raikkonen: "Ah okay. I thought that they were the other way around."
And not forgetting his disappearing act as he went undercover…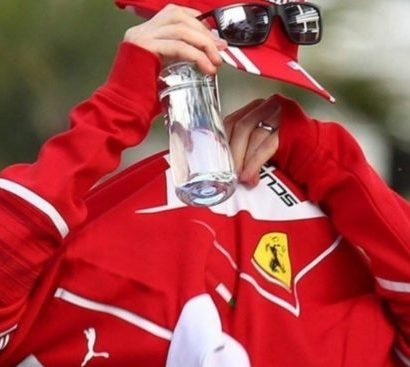 Spanish Grand Prix
Spain started with McLaren-Honda continuing to take the p*ss…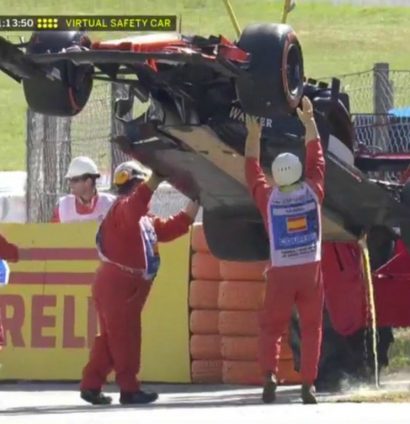 But of course the race will be most remembered for the young Ferrari fan who had the day he will never forget…
Remember the kid crying at the start after Kimi's early exit? He's now met the iceman LIVE: https://t.co/QeM8TCAJqt #SkyF1 #F1 #SpanishGP pic.twitter.com/x0zpGbeBeU

— Sky Sports F1 🏎 (@SkySportsF1) May 14, 2017
And Kimi being Kimi, taking his stealth missions to the next level as he tried to get a closer look at the Mercedes.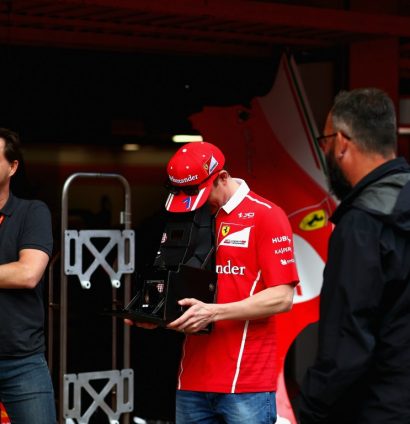 Monaco Grand Prix
We absolutely loved Kimi going full pre-season in Barcelona mode when discussing the small matter of the birth of his baby daughter.
Reporter: Congratulations, Kimi, with your second kid now at home. So what's like with two girls and your wife?
Raikkonen: Thank you, it's all good. Everyone is healthy, obviously it's very early days so it doesn't change too much.
All that was missing? "Well it's the same for everyone."
Meanwhile, Marcus Ericsson somehow managed to crash trying to overtake the Safety Car…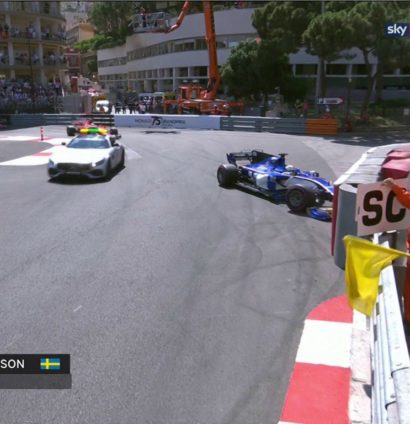 Some bloke called Jenson Button returned with Fernando Alonso gallivanting off to the Indy 500, giving us this lovely radio message…
Listen in: Fernando and Jenson go transatlantic with some, er, light relief#F1 #MonacoGP pic.twitter.com/WE406GVnII

— Formula 1 (@F1) May 29, 2017
Daniil Kvyat (remember him?) launched an epic rant against Sergio Perez.
"I think I was just doing my job today, it was as simple as that.

"I was doing a good race, very calm, bringing the car within the points, and you always find that one guy who f***s your whole day, and it's Perez.

"I knew he was going to try. I saw what he did to Vandoorne and I thought 'this guy is really desperate". So I was just covering my line to be honest, all the time, then he tried to go from really far away I didn't even see him coming.

"What I felt was just a hit and my race was over, so very disappointed, I think it was completely desperate.

"He just tried to lean on me like it was PlayStation. It doesn't work like that."
Canadian Grand Prix
The build-up to Montreal started with Hamilton firing shots at the IndyCar series, questioning the quality of competition.
"I looked at the times and, frankly, for his first ever qualifying for Fernando to be fifth — what does that say about Indy?" the Mercedes driver told France's L'Equipe.
If Hamilton was looking for a reaction, he certainly got one. The best zinger going to Tony Kanaan, who said:
"The guy (Hamilton) competed in a two-car world championship last year and was second, so I don't think he can say much."
Ouch.
And, if that wasn't enough. The Indycar fans at the Texas 600 that weekend had this playful dig…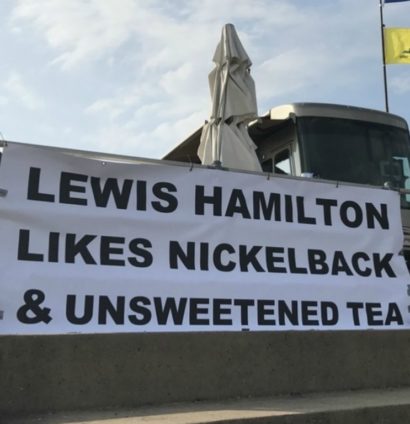 We also got our first look at the Drivers' Briefing, featuring a mischievous Sebastian Vettel sat at the back…
WATCH: For the first time in two decades, we have footage from an @FIA Driver Briefing. Go inside the #MonacoGP briefing here! pic.twitter.com/z7GqShcOjb

— Formula 1 (@F1) June 10, 2017
This feature has already discovered that Kimi Raikkonen would make a great detective and now we can add two more roles to his ever-growing list…
Firstly he picked out the two idiotic photographers who almost certainly had a death wish. Health and Safety officer: tick.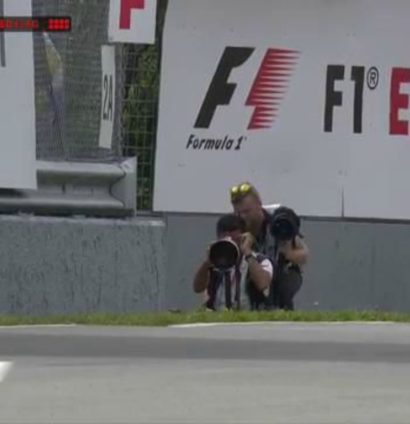 And it turns out Kimi is also a time-traveller, which would explain an awful lot.
And who can forget Sir Patrick Stewart, a knight of the British Empire, doing a shoey?
"Cheers!" @SirPatStew joins @DanielRicciardo in a podium shoey 👞🍾

(A sentence we never thought we'd write)#CanadianGP 🇨🇦 pic.twitter.com/r4y1RmRGBL

— Formula 1 (@F1) June 11, 2017
Azerbaijan Grand Prix
Well done Baku. No, seriously, what a race weekend that was.
Jolyon Palmer was keen to stress how much you have to have your wits about you in Baku…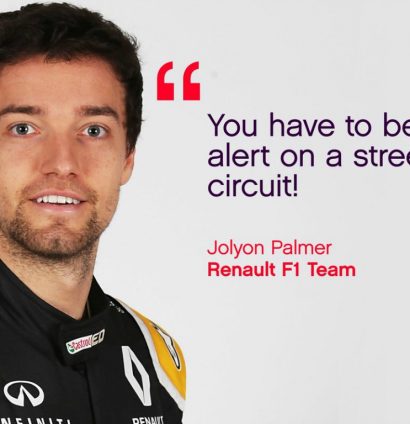 Then Turn 8 in FP2 happened…
Be gentle guys… Jolyon helping the marshals out with the car's recovery.#AzerbaijanGP #FP2 pic.twitter.com/SUZdmEJYsU

— Renault Sport F1 (@RenaultSportF1) June 23, 2017
The run-off at Turn 8 proved very popular all weekend and it's not hard to see why…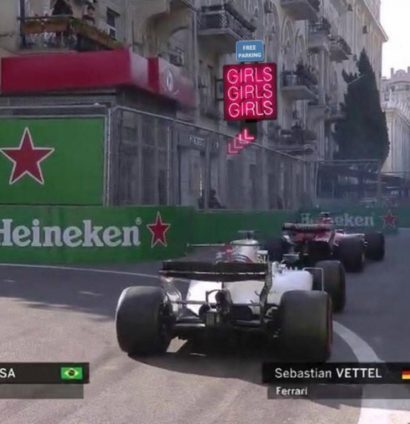 Palmer was not the only one to eat his words.
"Take a picture, pin it on the wall above your bed. That won't happen often," said a moody Dutch commentator as Lance Stroll got himself up as high as P4 during FP2.
He, of course, finished third, becoming the youngest-ever rookie to reach the podium. Oops.
Elsewhere, we had Kimi screaming for a steering wheel…
Lewis Hamilton had an embarrassing interview with Johnny Herbert…
Honestly @LewisHamilton has killed me LOOOOOOL. Herbert really tried it. pic.twitter.com/WFnagKKWne

— Chanté 🇩🇲🇯🇲 (@ChantayyJayy) June 25, 2017
And a lovely Seinfeld spin on that Vettel/Hamilton incident…
"When did I do dangerous driving then?" #F1 #AzerbaijanGP #Vettel #VettelBlackFlag #Hamilton pic.twitter.com/4EveZIKesL

— Tom (@predspread) June 25, 2017
Austrian Grand Prix
It was Vettel's 30th birthday as we led up to the Austrian Grand Prix. We cannot begin to imagine how much Kimi was not looking forward to filming this.
#Kimi7 has made a special gift for his Scuderia Ferrari teammate #Seb5 on his birthday, but has he left it too late? Lucky for him, UPS is faster than ever before…Happy Birthday #Seb5!

Posted by UPS on Monday, 3 July 2017
Daniel Ricciardo also announced his retirement…
And poor Kevin Magnussen was picked to play peacekeeper after Hamilton and Vettel's ding-dong in Baku…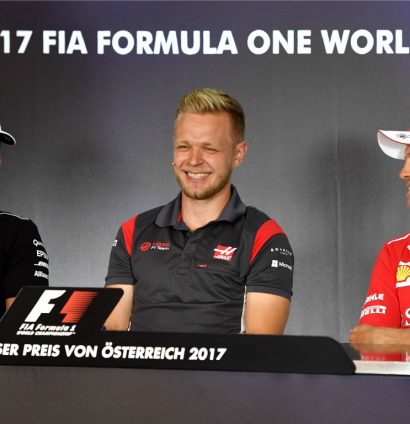 British Grand Prix
The British Grand Prix weekend kicked off with a huge 'F1 Live' event in London as Trafalgar Square and Whitehall was caressed by the sweet sounds of some roaring V8, V10 and V12 engines.
The anticipation and excitement was building all day long, and what better way to keep that going by opening the parade show with the ever-enthusiastic Kimi Raikkonen?
If that event was bad for Kimi, it was not a patch on the weekend itself where he would have felt even more deflated.
Raikkonen was set for a second-place finish behind the dominant Hamilton, but a sudden puncture in the dying moments saw his race unravel very quickly. He only kept his place on the podium due to team-mate Sebastian Vettel suffering the same issue.
You couldn't tell just by looking at him though…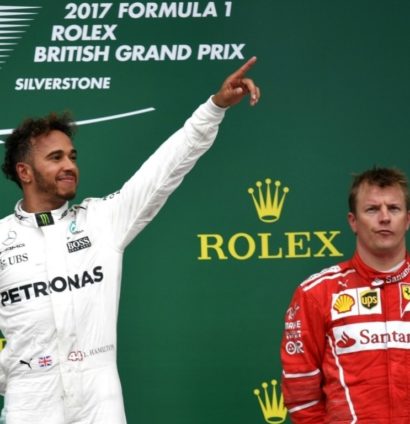 And to make matters worse, he also had a dentist appointment straight after the race. Here he is in the waiting room…
Then, more waiting…
There was also a pretty desperate attempt by the Daily Mail to sh*t-stir after Hamilton decided not to take part in the 'F1 Live' event.
They suggested that Hamilton stayed away from the live event in London because Toto Wolff went to Sebastian Vettel's 30th birthday bash, somehow forgetting that Lewis is no longer a six-year-old child.
It was brought up in the drivers' press conference on the Thursday, but thankfully Ricciardo was on hand first to give that question the response it deserved (Skip to 4.22s)
Until Part Two…